A Taste of Martin Picard's Story!
Nancy Leblanc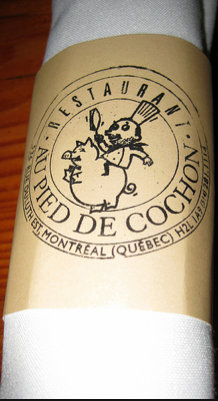 If I tell you the name Martin Picard, does it ring a bell? What if I say that his foie gras' poutine's unique flavor makes people travel just for a bite? Well, if you still don't know Martin Picard, I will introduce you to a great chef with authenticity and passion. Chef Picard is an excellent chef, but due to a lack of interest in culinary art, not all Quebecois people know of him.

In French, there is an expression: "Un prophète n'est jamais reconnu dans sa propre patrie." What this means is that a prophet is never recognized by his people. Picard embodies this expression; he is a world-renown chef and yet not fully recognized in his homeland. Most Quebecois have a hard time believing in their stars and it is time that we show them the real talent emerging from "La Belle Province".
Born in Quebec myself, I only discovered Martin Picard a few years ago when his poutine came up in a heated discussion. My friend had just returned from his restaurant and had to tell us about this extravagant poutine. Intrigued by his way of preparing one of our famous dishes, I decided myself to have a taste! On top of that, when I found out about how important he is to the rest of the world, I discovered how good the Quebecois are when it comes to cuisine.
Owner and chef of the restaurant Au pied de cochon, one of the best restaurants in Montreal, Martin Picard has more than one skill, cooking, in fact, he hunts venison and birds, fishes, and searches for the perfect vegetables.

Image source: Flickr
It looks like Martin Picard has everything figured out. However, there are still some problems to face when you are so popular and popularity doesn't come that easily. His story is one of courage, passion and excellence. Chef Picard deals with controversy every day but remains one of the greatest chefs in the world. Not only does his journey demonstrate hard work, but also his cuisine represents his origins and creativity, which puts him on top.
First of all, Martin Picard built a great reputation throughout the year by working hard. Born in Quebec, Repentigny precisely, on November 20th 1966, Martin Picard had an unusual childhood. He lived in Morocco for three years while his father was teaching mathematics. There, he discovered a new culture and new fragrances as pomegranate and orange trees blossomed in his backyard. Even so, Chef Picard wasn't planning on becoming a chef. As he told a journalist in a French interview when she asked him why he went studying in Paris: " Je ne le sais pas, je devais rentrer à l'université et j'ai décidé sur un coup de tête sans trop savoir d'aller à l'ITHQ (Institut de tourime et d'hôtellerie du Québec) et vraiment j'ai pas de réponse. Je voulais être directeur général du Ritz Carlton! (Cabine C) This means in his head he had to go to university, and on the spot, he decided to register to ITHQ only to become the general manager of the Ritz Carlton.
While studying, he had an internship in France for a restaurant called Pierre Gagnaire. At this moment, his true passion for cooking is revealed. For the first time, he felt comfortable and understood by the rest of the staff. He explained later in the same interview that chefs are misunderstood and introverted, but when they are all together, they blend and feel like they are a part of something.
His journey didn't end here. Martin Picard never graduated. Instead, he went working for an important chef, Chef Normand Laprise, who took him under his wing in Citrus restaurant at the age of 23. Laprise became a "spiritual brother" (Cabine C) as he calls it and his biggest inspiration. He felt connected with him. Chef Laprise taught Chef Picard everything he had to know and Chef Picard improved very quickly. Normand Laprise became the owner of Toqué's restaurant in 1993 and asked Martin Picard to follow. At this moment, Chef Picard started to create his own flavour and he met his second most important inspiration, Elena Faita. She had no technical training but a lot of passion. Picard taught her techniques while she taught him the true Italian passion. There were intimate foodies!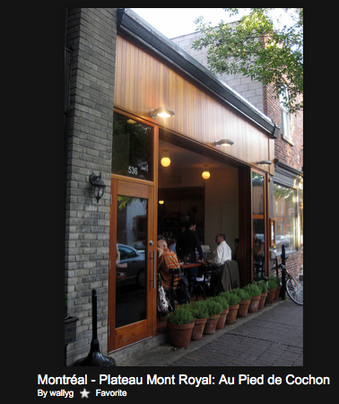 Martin became more confident and decided to make a huge move; he opened his own restaurant in 2001, with the help of Elena and a Jacques Malo who invested in Martin Picard's dream. Chef Picard chose the name Au Pied de Cochon for his restaurant because pork is a major ingredient in Quebec's cuisine. After only three months in business, Chef Picard had a regular guest who put him to the test. In order to keep this customer, Martin Picard created unique flavour every visit to please this important guest.

Image source: Flickr
It is at this exact time that Chef Picard challenged his skills by trying his famous foie gras' poutine. The meal was a success! The customer was more than happy with the dish and so was Martin. From this day, this poutine is Martin's signature dish and still the most popular one. And it paid off! Martin Picard received in 2003 the Étoile de la Gastronomie award on the 11th culinary gala in Charton-Hobbs.
Consequently, his reputation emerged around the world. In 2006, to celebrate the 5th anniversary of the restaurant, Chef Picard decided to create an album of his own recipes with pictures of the staff. The book soon became a best seller and was in demand around the globe. Until now, the album is one of the 10 best-selling cooking books. Chef Picard pushed the limit even more and his reputation allowed him to have his own television show on Radio-Canada, a French station, in 2007. In this show, him and his sous-chef Hugues Dufour go in a journey in "La Belle Province" to introduce people to how pretty it is and what it has to offer. They hunted, fished and prepared the food in front of the camera, explaining every step they were doing. On top of that, they prepared a historical clip about the culinary patrimony of each region they visited. The series was so popular that Food Network decided to put it on air. This fabulous series awarded Martin with a second prize in 2007, which is the Prix Roger-Champoux, given by the Fondation des Amis de l'Art Culinaire in Montreal.
Moreover, in 2007, Guillaume Sylvestre directed a documentary on Martin Picard and Normand Laprise. He followed them for a year and a half and explored the hidden side of the two chefs. Could the next step be a movie? The National Post thought so! Indeed, the National Post wrote an article on whose chef should have their own movie just like the movie Julie & Julia, a true story about chefs Julia Child and Julie Powell, released in 2009. Guess who was on the list? Right, Martin Picard. Until then, Martin Picard continued his journey and in 2009, he opened his own sugar shack called Cabane à sucre Au Pied de Cochon, in Saint-Benoît de Mirabel, an hour away from Montreal. This year, people were on a list just to get a reservation in his sugar shack. Martin Picard is so popular that it took a few hours to book the entire sugar season. It is a fact, Chef Picard has a huge impact in the culinary industry and his name his known around the globe.
With popularity comes controversy; being a chef like Martin Picard implies to be confronted to the judgment of activists every day. Indeed, his signature dish wasn't welcome by organizers of Ottawa's winter festival. As reported by the Globe and Mail, the National Capital Commission (NCC) asked Chef Picard to not serve foie gras on next month's Winterlude's opening gala simply because a small band of animal-rights activists protested. Instead, Martin Picard decided not to participate at all to the event. Many people were frustrated and in order to protest in favor of Martin Picard, several Ottawa restaurants decided to add foie gras to their festival menus.
Additionally, about 20 per cent of $125 tickets that had been purchased were refunded one day after the NCC announced Chef Picard's departure. What a nice move for the charity! Supporting Chef Picard, sous-chef Hugue Dufour commented : "Martin took risks all his life and these organizers don't want to take any." (Globe and Mail) He wasn't the only one. Michael Hay of The Courtyard Restaurant in Ottawa, one of the chefs who added foie gras on his menu, also pleaded in favor of Chef Picard saying: "Martin Picard is associated with foie gras the way that Michael Jordan is associated with basketball. So it's almost insulting to tell somebody of that stature, 'You can't do your thing while you're in our city,'" (Globe and Mail).
In order to understand why the activists were so against Martin Picard's recipes, it is important to explain the foie gras' process. Foie gras comes from the liver of a duck or a goose that has been specially fattened by gavage. The technique of gavage dates as far back as 2500 BC. According to the Ancient Egyptians Veterinary Practices, the ancient Egyptians kept birds for food and deliberately fattened the birds through force-feeding. Nowadays, France is by far the largest producer and consumer of foie gras, though it is produced and consumed worldwide, particularly in other European nations, the United States, and the People's Republic of China. Gavage-based foie gras production is controversial due to the force feeding procedure used. A number of countries and other jurisdictions have laws against force feeding or the sale of foie gras (reshafim).
Luckily for Martin Picard, foie gras is not against the law in Quebec and it brings a unique flavor to his recipes. As he stated to The Toronto Star in an interview: "You know that equation fat plus fat plus fat plus fat equals good." (1) He then refered to the foie gras as an orgasm stomach producer. For Chef Picard, going to the restaurant means to please yourself and that is why he decided to add a little extra to please all his guests. Another reason why Martin Picard felt like foie gras should be in all his recipes stands in traditions. Martin believes in gastronomic culture and foie gras belongs to the heritage of France. Chef Picard uses comforting food and he believes that pork and foie gras are a part of the culture respectively in Quebec and France. This quality of Martin Picard shows that he cares for his past, his customers and himself, which is, I believe, the basics of being a good chef. Nothing comes easily and you need to pay attention to what surrounds you, especially in the gastronomic field.
Most importantly, Chef Picard inspires new chefs to follow his path because of his unique way of cooking. The best way to understand his unique cuisine would be in his television show "The Wild Chef" simply because he explains every step of his recipes starting from catching the prey. Martin feels the need to hunt the meat himself in order to understand it better. He says that if you want to serve good meat, you need to know it and respect the animal, so that you can later treat him and serve him the good way. In the seven episodes of one hour each, Martin finds new ways of cooking and dissects the different aspects of the process. Just to give you a taste, he started with a huge first episode. He visits the Grand Nord and hunts seal, but he doesn't stop there. He also goes scuba diving in order to catch urchins and mussels and finally traps arctic fox and rabbits. The episodes are unique and show a new perspective on how important it is to go back to the root.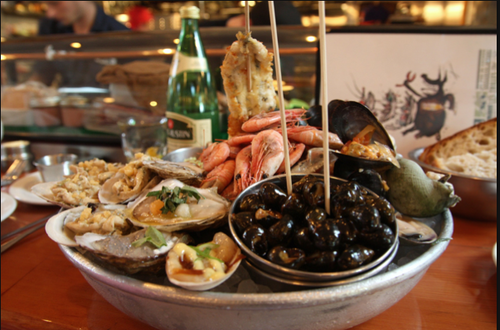 Image source: Seafood Platter
Picard also creates his own instruments. Resourceful, he doesn't feel the need to bring everything on a trip. He needs some challenges. In episode three, he created a smoker in order to prepare an eel. Every week, Martin brings us with him to find a new side of Quebec, and I find that very interesting for us Quebecois who still ignore most of our own province. Furthermore, his show introduces a history clip to improve one's knowledge.
My tribute to Martin Picard would not be authentic and completed if I did not go to the restaurant myself in order to explain the food. Thank god Martin Picard exists! The food in his restaurant is simply amazing. First of all, Au Pied de Cochon stands on its own and is so popular that it doesn't even need a side in front of the restaurant. Really, there is no sign in front of the door to let you know that you are at the right place. I completely understood why when I got in. The restaurant was packed and I had to take a reservation on a Tuesday night. The decor is wild and rustic with moose head and wood tables and walls. I decided to take place in front of the kitchen to observe the way chefs were cooking. Wow! Those chefs are simply superheroes. They cook really fast and never forget an ingredient. I started with the famous foie gras poutine: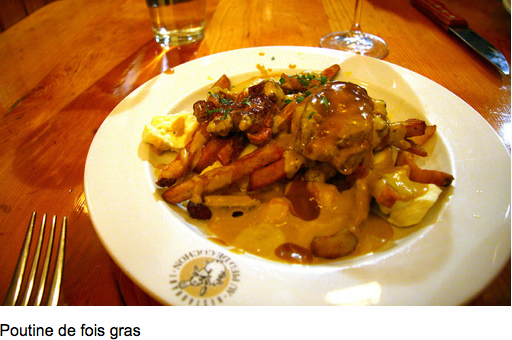 Image source: Flickr
With a sauce made of thirty-five per cent cream and duck fat reduction, with cheese bites so big you can't put one all at once in your mouth, with foie gras so perfectly cooked and seasoned, it melts in your mouth; I can only say that this dish was excellent. Second, I ordered the venison rib. This piece of meat is enormous. You feel like Fred Flinstone when they bring it in front of you. Honestly, I have never eaten anything that tender. The sauce was delicious, the meat even more and the mashed potato are a unique mix of cheese, cream and potato. Un pur délice! Finally, I had the chocolate mousse in a jar with whipped cream and graham crackers, which was delightful as well. After all this, it was hard for me to give up!
Martin Picard has a lot to offer and, in my heart, he is the greatest chef ever. When controversy doesn't bring you down and makes you even stronger, when your journey demonstrates inspiration and passion, when your cuisine represents your true values and brings a unique touch to food; well then you can call yourself a great chef and that is what Martin Picard is. Chef Picard could not have done it without the beautiful resources held in Quebec. Opening all those doors to people in order to make them discover their own province is priceless. Picard inspires more than one, me first. The only disappointment I had was that he didn't took the time to answer my questions and most importantly, his agent didn't even took the time to call me back to let me know; I had to call myself to learn the sad news. However, this doesn't remove any credit to his cuisine, which is unique, creative and delicious!