Photo cred: www.montrealfolkfest.com
Move over Joe Beef! Watch out Burgundy Lion! There's a new name in the Sud-Ouest and Griffintown neighbourhoods: L'Gros Luxe. Now with four locations L'Gros Luxe Sud-Ouest is the new kid on the block, but definitely not new to the Montreal food scene. It's founders, Alex Bastide, Corey Webb, and and Tamir Schlanger, have always promoted continuous innovation when it comes to their drink and food menu. Meaning? They love to change their menu to suit their customers evolving pallets! And, of course, with the Saint-Henri and Atwater bouroughs growing in popularity it comes as no surprise that these young professionals chose rue Notre-Dame Ouest as their newest location.
***
The Drinks
Photo cred: www.lgrosluxe.com
Although L'Gros Luxe likes to keep its menu fresh they do have one staple I just can't resist - the caesars! Whether you're a fan of Jim Bean like me, or prefer an exotic twist of Saké, these caesars each have their own unique alcohol flavouring that's sure to keep you wanting more. Trying to get past each one of their toppings though can prove challenging. Keeping with the restaurant's eclectic style, each drink is dressed with a garnish that compliments its alcohol mixture. Take the Oh Deer God for example. This Jägermeister clamato combo is paired with a mini, beef or veggie burger (for all you non-meat lovers,) which is sure to make your taste buds jump with joy. However, beware the word mini. As you can tell from the photo above what L'Gros Luxe considers mini may be more than you bargained for!
***
The Food
Photo cred: www.shutupandeat.com
Although L'Gros Luxe likes to mix it up some of their dishes seem to have found a permanent home on the menu. Presented on a wooden plank that screams "Take me for what I am!" their baked brie entrée comes with beet crisps and confit, roasted almonds, warm bread, and melted brie cheese. The crunchiness and faint sweetness of the beet chips combined with the earthiness of the almonds and the creaminess of the brie is the perfect ying-yang of sweet and salty.
Photo cred: www.roastedmontreal.com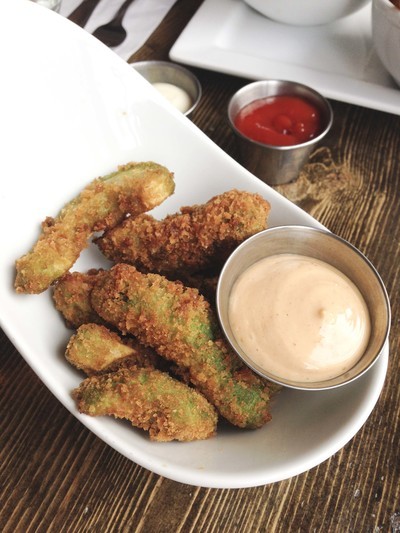 Not a big fan of cheese? Then the deep fried pickles are for you. Crisp on the outside with a tangy, juicy pickle on the inside each bite is delicious - and the portions won't leave you stuffed like a pig. If you're willing to dip the pickles in the Sriracha mayo your mouth will be awakened by a soft heat that both compliments the dill breading and takes this starter to the next level.
If you haven't already noticed L'Gros Luxe loves taking comfort food and transforming it into a high-end bistro star. Their Fish N' Chips poutine, with beer battered Cod, at once reminds us of our Québec roots all the while propelling our stomachs to the eastern seaboard. Not only that, but they make two different kinds of grilled cheese! The classic, which you can customize by adding pulled pork, bacon, chicken, mushrooms, tofu, tomatoes, brie cheese, goat cheese or fried fish, or the poutine grilled cheese which showcases your classic poutine ingredients between two thick slices of sourdough bread. As you can tell this restaurant is not meant for calorie-counters of any kind.
Even if you're watching you weight or dining with a vegetarian, you don't need to be scared of L'Gros Luxe. Their menu is vegetarian friendly. Their kale and brie salad with maple cider vinaigrette, as well as their grain and black bean veggie burger, offers you all the vegetable goodness your lifestyle demands. In fact my favourite dish is their BBQ mushroom sandwich on ciabatta bread. A marriage of braised mushrooms and onions is slathered in L'Gros Luxe homemade (vegetarian) BBQ sauce, goat cheese, and arugala salad. The combination is killer and leaves little room for the small side salad it is accompanied by.
Photo cred: www.facebook.com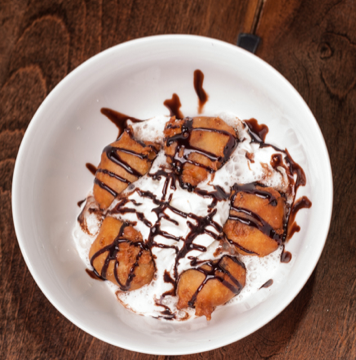 If you're come and tasted the drinks, conquered the entrées and main dishes, then there's aboslutely no reason why you can do the same with dessert! Sure you can order the Earl Grey Crème Brulée or the "Smores" Hot Chocolate, but my top pick is the Deep-Fried Chocolate Chip Cookie Dough. Served to you in a small bowl these delectable dessert tapas are drizzled with Nutella and topped with whipped cream. Bonus; if you're the kind of person who lives off bacon you can add some to your order for a mere $2.
***
The Ambiance

Despite the fact that I haven't seen inside their new Sud-Ouest location I can tell you that L'Gros Luxe's style is both classy and laid back. Now you might be thinking how can those two words work together? Simple. L'Gros Luxe interior is decorated with cool dark colour paint (a beautiful forest green in their Plateau location) and antique wallpaper. They're also big fans of brass for their fixtures and wood for their tables, which are usually meant for sharing. Whether you're alone of with a few friends the bar is big enough to drink and eat without feeling like you're breathing down someone's neck. Last, but certainly not least, their staff are charming, personable, and attentive professional who love to crack jokes with their customers and offer you their top picks off the menu. You can tell from their smiles and attitude that they love what they do.
Photo cred: www.thegoldwatch.wordpress.com
***
Liked my article? This was just a sneak peak into's L'Gros Luxe Sud-Ouest restaurant which opens July 22nd 2015. Come by and visit their new home - Alex and the gang can't wait to serve you.
Looking to learn more about L'Gros Luxe, its roots, and their food? Like and join their Facebook page here!