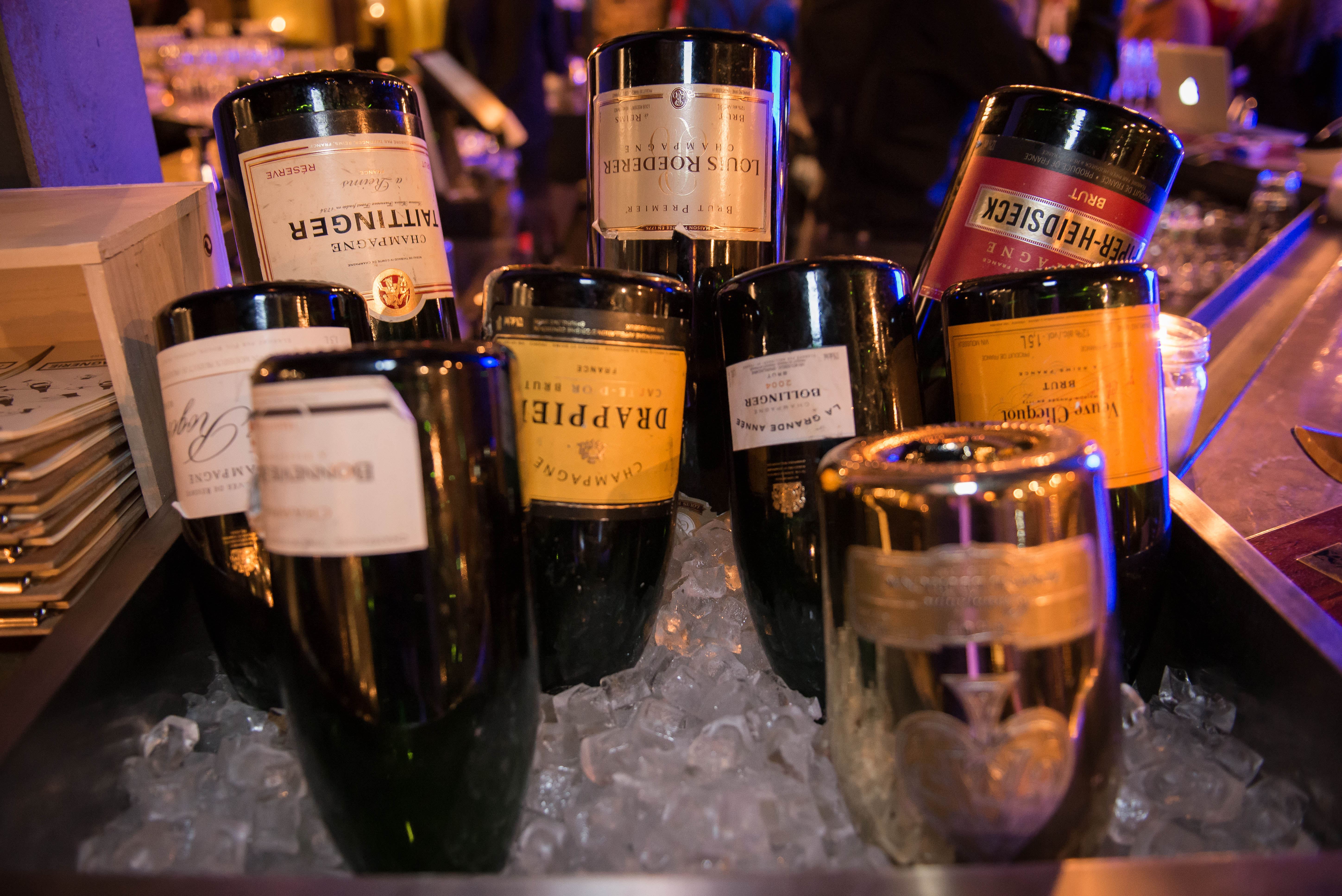 All photos in this post are courtesy of Adam Castonguay Photography
I attended a private event at La Champagnerie on Monday, February 17th as part of the John Molson Undergraduate Case Competition (read more). For those interested in hosting an event there, I would not recommend having over 150 people as we were 160 and it was completely packed. Both restaurant and bar, La Champagnerie is beautifully located on rue Saint-Paul in Old Montreal, literally across the street from Marche Bonsecours. It's a great place to take tourists!
The space itself is very cool. There are two bars and two semi-levels. The main bar is in the centre of the main room and is surrounded by small tables to the side where you can sit in small groups. At the back of the venue, there is a second level with a second bar and large booths that are perfect for getting bottle service with a group of friends. The front end of the restaurant offers little windowed alcoves that are the perfect setting for a romantic date.
La Champagnerie offers plenty to delight the senses. It is Montreal's first and only champagne bar and offers more bubbly options than I knew existed. As I was there for a group event, we were limited to one champagne option but it did not disappoint. Most are only available by the bottle but expect to pay $8-$30 by the glass. If you have a reason to celebrate, I highly recommend throwing on some heels and selecting a bottle of heaven from La Champagnerie's extensive list.
When it comes to food, the theme is French. We had a set menu filled with nice small plates easily edible while standing, all from the regular menu. We tested the delicious beef tartare, mini poutine (pictured), duck magret, salmon tartare, ceviche and arancini. Many menu items, including the two tartares, have champagne incorporated into their recipes. The duck magret was served on skewers with a delightful mix of Asian BBQ sauce, wasabi, lime and galango mayo. I loved the Asian twist on this French classic. The ceviche of crab and scallop was a big hit with me, as any ceviche is want to be. Even the arancini are different from traditional riceballs, as they are "popcorn risotto balls" with goat cheese, pecorino and spicy mayo. These really packed a punch and an explosion of flavour. I'm not sure that I'll be able to return to the traditional Italian arancini.
Though I didn't have a chance to taste them, the main dishes at La Champagnerie sound delicious. They include lobster rolls, pork shoulder sandwich, fish and chips, three mushroom papardelle, and a seafood dish that includes black cod, scallops and tiger shrimp. Everything except the lobster roll contains champagne.... One thing is certain, I'll be back to try these and more with a bottle of bubbly on the side.
All photos in this post are courtesy of Adam Castonguay Photography