Just Eyeball It! creator Jonathan Cote Lahue. Photo taken by Olivia Robinson.
Having a YouTube channel is not new for Jonathan Cote Lahue, who has been experimenting with his cooking channel Just Eyeball It! for two and a half years now. With the success of the channel and the drive to experiment with other genres Jonathan has started four other YouTube channels that focus on everything from gaming to daily events. Being an official YouTuber comes naturally to Jonathan who is upbeat, lively and excitable. Key aspects that any successful YouTuber needs to have.
When I enter Jonathan's cozy two and half apartment I notice how small the kitchen where he films most of his cooking episodes for Just Eyeball It! is. As we make our way in, I notice the huge banner on the back wall with his Just Eyeball It! logo. I am greeted with "Would you like some tea before we start?"
Once the tea is made we seat ourselves at a two person table under a huge brightly lit window. Jonathan' excitement for the interview is mirrored by my own nervousness. After some small talk we get to the interview:
What is your YouTube channel Just Eyeball It! about?
Just Eyeball It! started as a cooking channel where I just go in the kitchen put food together and see what happens. So I don't usually look at recipes. Maybe I'll look at one quickly before I start just to get an idea of what I'm getting myself into. The process is usually ohh this is vaguely how to make this. Ohh merengue pie needs eggs? Who knew! Then I try to do it without the recipe and see what happens. It's all about spontaneity and creativity when it comes to cooking.
How many Just Eyeball It! videos do you make a month?
I try to do one or two a month. I have four other YouTube channels that I am also working on so one or two a month is all I can really do at the moment.
You have some very interesting creations on the channel including, the jelly omelette, dessert pasta, gingerbread pizza, and tomato pancakes. Where did these ideas come from?
Some of them I get from Twitter. I also try to get the audience involved. I ask them to send me an ingredient that I have to use in a recipe no matter how dumb it is. I just put it together and see what I can do with it. For example, for dessert pasta I wanted to turn a normal meal into a dessert (Dessert pasta was food coloured pasta with a sweet raspberry jam sauce). Or similarly I might try to do these like typically breakfast and typically dinner meals and reverse the roles. Sometimes it's just me going into my kitchen and pulling an ingredient out of the cupboard and seeing what I can make with it. It's just a lot of fun.
Watch Jonathan's dessert pasta creation here!
What got you interested in making a cooking focused YouTube channel?
I really liked cooking. I realized this at one point during Cegep. Oh I like this, this is fun. I didn't really realize that I liked doing the video aspect of it at first. I just started taking photos of food for a photo class and the rest went from there.
I was inspired to start a channel after I ended up seeing this video by Hannah Hart. It was for a Stop Online Piracy Act (S.O.P.A). There was this whole online protest thing when Google and Wikipedia blacked out. So she made this song called "Oh Internet". It was basically an ode to the Internet. It was so cool. I wondered, "What if I could have this impact on people online?" Well then ! She had a show where she was cooking food on the Internet. I thought, "Why don't I do this too?"
It seems the first year of your channel was an experiment for yourself in the realm of being a YouTuber. Now you seem to be progressing and really hounding in on Just Eyeball It! and your other channels as a brand. Do you feel like you and your channels are growing each year?
Yes, the first year I created a logo, but I didn't know what to do with it. I was just having fun experimenting. Other people hire people to create their brand and look for them but I do it myself and experiment. I take pictures and put them through Photoshop. There really wasn't any organization with what I was doing. Now I have four other YouTube channels so I would say I'm really focused with what I want to produce. This is a full time job for me so I'm pretty organized.
Are you having any trouble with the brand?
My brand was clear from the get go because it is very in line with who I am. It has always been about just trying to do new things and see what happens. And it's so easy and fun, and for that reason I haven't had trouble with it.
What aspects of vlogging do you enjoy the most?
I guess it depends because I have different kinds of vlogs. I have a daily vlog which is a diary of my life. I could be going Downtown (in Montreal) and pull out my phone and record what I'm doing. I like the diary aspect of it because I can look back at it and see what I have done. But the vlogs on the main channel or on Just Eyeball It! rather are more produced usually.
Are there differences in how you organize and produce your different channels compared to Just Eyeball It!?
Sometimes my other vlogs teach people about things or they talk about certain issues. They are really all over the place, but they let me talk about issues that I'm interested in. Whereas cooking videos don't necessarily let you. Just Eyeball It! doesn't let me cover issues properly when I'm making a video about cooking something. I can make jokes about an issue but it doesn't make sense to start discussing an issue when the video is about how to cook something.
You have created The Little Just Eyeball It! cookbook, what made you want to do that?
The first cookbook actually started as a class project. The theme was "Make Something" so I thought, "I'm going to make something having to do with my YouTube channel." I decided to revolve my project around that. I was filming recipes already, I already built the brand, and I already had all the graphic elements. It made sense to focus my project on that. I took pictures of recipes I made on my videos and really incorporated my brand into the cookbook.
Now you are selling it online right?
Yeah it's not easy.
You are also selling t-shirts and pins. Is the selling of that merchandise going any better?
It's hard to sell stuff. I mean really hard. In hindsight I went about it the wrong way. I started a shop when I only had about 200 subscribers. When you have a small following you can't really create a buzz around it. It would have made more sense to wait when I had more viewers. My priority right now is about gaining subscribers and bringing more people in. Merchandise only makes money when you have a big following.
How about your second cookbook Bake It Off?
The second one was in response to Tayler Swift's song Shake It Off. I made a parody video called Bake It Off. I thought it would be fitting to play off this theme and make a cookbook. So the cookbook is all baking recipes in line with Bake It Off.
Any cool creations in it?
I shot lemon meringue pie yesterday.
How did that go?
The first try was awful. It was so bad. I didn't realize that if you bake a crust in the oven you have to put pie weights. I figured out how to make naan bread the first go instead, but no that was not a pie crust.
So it's really a learning experience with cooking?
Yeah most of the time when I do try putting random ingredients. . . I mean I know more or less. Most of the time it works but sometime it doesn't at all?
Would you say your cookbook is designed for students who don't have a lot of time or money?
It is designed for people who aren't super picky about cooking. It's for the kind of people who would be like, "Oh I'm going to make a pesto sauce. Oh I need pine nuts? What are pine nuts?" I'm just not gonna use them and see what happens.
The Bake It Off cookbook is coming out in the spring?
It's actually on pre order right now. It's coming out in between November and December.
Do you ever get into a rut about what recipe you are going to do next on your YouTube channel?
I don't get in a rut for food stuff. It's easy. When I get in a rut it's usually with my other vlogs. I go and make a cooking video when that happens. I know what I can do. I just pick something out of my pantry or ask Twitter. That's easy.
Do you follow a schedule for making videos?
I do videos Tuesday and Friday. Between my four channels that I am producing content for sometimes the schedule is hard to follow.
Is your following getting bigger?
It is getting bigger. I gain subscribers everyday that's not an issue. Just Eyeball It! is edging close to 1500. But I do have to focus on growth. In the past I focused a lot on the content and not so much on gaining subscribers. Which I realize in hindsight was a mistake. But whenever I do focus on gaining subscribers it works.
What are your strategies for bringing more people in?
Collaborations. That's one thing that works really well. Make videos with lots different people. Doesn't matter if they aren't in the same city. You can do things over Skype. There aren't really any limits. It opens the amount of viewers that could potentially watch your video.
You have visited YouTube conventions, have you met any other foodie YouTubers there? Have any of them given you inspiration?
Food ones are a little bit less common actually. I know a couple of people who do it, but I'm not really in close contact with any of them actually. I was approached by a food YouTube network recently but I don't know if I'm going to go with that. I like doing the food thing on my own. I can control it. It's the other type of channels that I like to grow an audience with.
Why don't you want to work with a food YouTube network?
Just Eyeball It! is that thing that I do differently than other people and I want to keep doing that.
I watched your Bake It Off parody of Taylor Swift's song Shake It Off. What made you come up with this idea?
I thought this could work at getting more viewers and potentially turn into a Buzzfeed article. It had the potential to explode, [in popularity] but it didn't. It was great but the timing was off. Had I made it like 2 or 3 weeks earlier it would have done amazing. I looked at videos that had the same title and tags around that time [when Shake It Off came out] and they had way more views. It was a cool opportunity [and I thought] it might work [to gain more views and subscribers]. It didn't work quite the way I wanted but my second cookbook idea came out of it so that's good.
What would you consider Just Eyeball It! compared to your other channels?
It's kinda my baby. I only put stuff on there that I want to put on there. It's not motivated by anything other than what I want.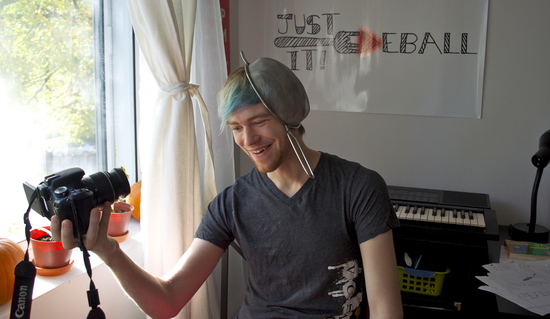 Photo credit: Olivia Robinson
As the interview raps up I can feel the passion that Jonathan has for his YouTube channels. He hands me a pin with a video camera play button on it. It matches his Just Eyeball It! logo. The pride in his work is evident. He brings me into his tiny kitchen and shows me where he keeps his video camera placed precariously on top of the fridge while he films. He brings me over to his Just Eyeball It! poster and prepares for a photo. As the photos are being taken Jonathan hands out some words of wisdom for people who want to start their own YouTube channel, "Make stuff you are proud of." As I am leaving his apartement, I am in awe with the amount of work it takes to produce a YouTube channel and the drive that keeps Jonathan at it every day.

Visit Just Eyeball It!'s website or YouTube channel.