In a 140-year old building that was used as the centre of a vast telegraphic system, an original concept, Atelier and Saveurs, has been in operations since 2008. This building is located in Old Montreal, where activity choices are endless. Horse ride around town? No problem.  Fireworks over the water while enjoying a poutine? Sure. Infinite dining and entertainment options? Old Montreal may be "old" but it is definitely keeping the city young by providing Montrealers with a beautiful area, filled with history to enjoy a night (or day!) out on the town.
Even with the clutter of activity options, Atelier & Saveurs adds something special to the city.  Located on the bottom floor of the historic and award-winning Telegraph building, it provides cooking, cocktails and wine appreciation lessons in a beautifully designed setting.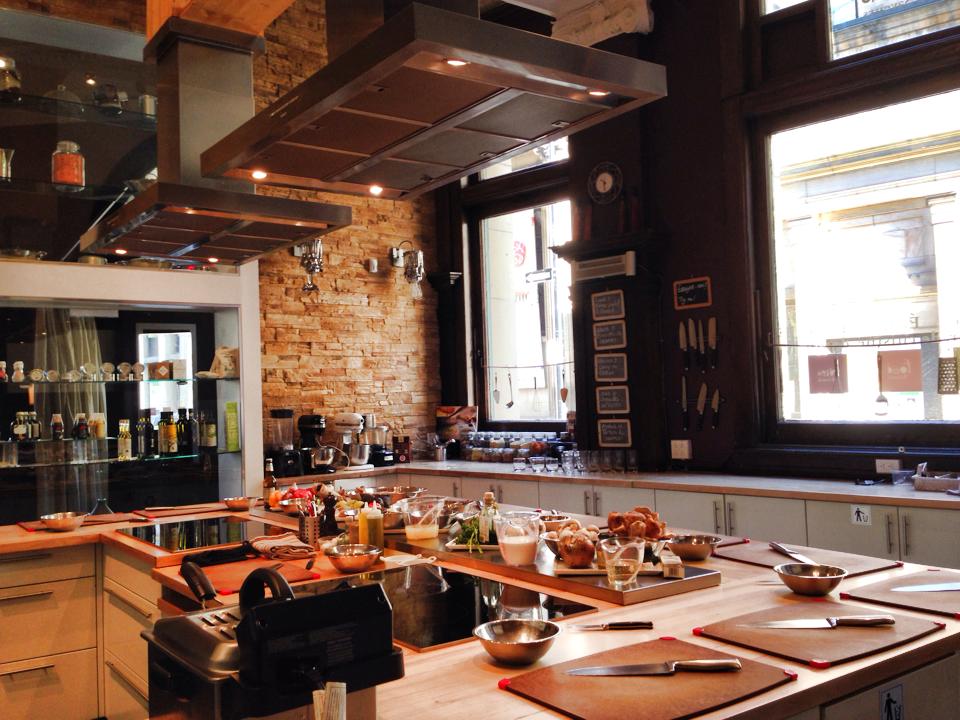 A&S Workshops
Ateliers & Saveurs (A&S) offers a wide range of different workshops that correspond to several levels of expertise. From half-hour sessions for people on a tight schedule ($20) to two-hour elaborate lessons on specialty cuisine ($55-$75), A&S can evidently cater to a diverse group of individuals.
The "Fancy Tapas" Workshop
In the "Fancy Tapas" workshop, students are encouraged to make four types of tapas (small portion entrees) and a unique dessert, all while enjoying a few complimentary glasses of wine. In a group setting of 12, faced by the head chef, all the ingredients come together to create tasty meals.
Following an informational demonstration by the head chef, each student is assigned a specific task to ensure participation by all. The workshop's stages follow the usual steps that take place when preparing a meal from the preparation to the assembly and finally, the tasting.
From simple chopping and marinating, participants' engagement results in an incredibly delicious product: sauté of mushrooms on crispy puff pastry with melting old cheddar, crispy mini-tortillas topped with guacamole and marinated shrimps, Shrimp tempura marinated in spicy mayonnaise and curry pepper salad, beef flank steak and balsamic caramelized onions over country bread toast and for desert, a deconstructed lemon tart.
Restrain from salivating, if possible.
The deconstructed lemon tart
Other note-worthy workshops include:
Follow the Chef...at the market ($95):  Includes a chef-guided tour to the market to educate students on how to pick the best ingredients, followed by a cooking lesson using the ingredients purchased and then a tasting! 
Pastry Delirium ($55): Bake 3-4 popular pastries and take them home to enjoy in a take-out box. 
Private event workshop - Battle of the Chefs: The group is separated into two teams, accompanied by a chef to compete on making the best starter, main course and dessert.  The group then dines together to decide which team cooked up the best meal.
The A&S Team
These innovative and collaborative workshops would not be possible, of course, without the talented A&S team, comprised of renowned chefs, mixologists and sommeliers. Head chef, Marc Bilodeau, received his education from one of the world's most prestigious culinary schools, Cordon Bleu Paris in Ottawa. Not only does he have a highly educated knowledge of food and extensive experience in the industry, but he also has a contagious, dynamic personality. His workshops include delicious, yet simple, recipes and useful cooking tips for every day use such as "Never wash your mushrooms in water because they are like little sponges. Use a brush or damp cloth to remove any dirt."
Although A&S gives you the option to schedule private events, the group workshops are of such an interactive nature that it brings a different dynamic as you cook with people with different cultural backgrounds, that you have just met.

 
A&S clearly has all the elements needed to create an unmatched customer experience with its qualified and dynamic staff, a lovely setting, as well as a long list of workshops that can suit almost anyone, even those not particularly fond of cooking! It is the perfect place to enjoy a fun, interactive activity with friends followed by the chance to indulge in your creations by kicking back in the dining room with a nice glass of wine selected by the sommelier to perfectly match the blend of ingredients. Taste buds exploded.
Recipe for Sauté of Mushrooms on Crispy Puff Pastry with Melting Old Cheddar
(Serves 4 persons)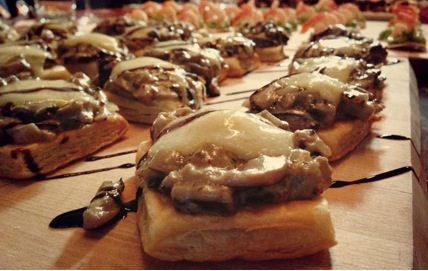 Ingredients for the sauté of mushrooms
150 g      Button mushroom(s)
150 g       Shiitake(s)
1 unit       Onion
1 clove    Garlic
2 sprigs    Thyme
100 ml      White wine
100 ml      Cream 35%
15 ml         Grainy mustard
Ingredients for the crispy puff pastry bites
½ leave     Puff pastry
75 g           Old cheddar
Olive oil
Salt and pepper
Butter
Preparation 
1. General preparation (30 minutes - preheat oven to 400 F°)
Cut the button mushrooms into small dice. Remove the feet and slice shiitake mushrooms. Chop the white onion and garlic. Chop the thyme. Cut cheddar into 12 squares.
2. Crispy puff pastry preparation
Cut circles of puff pastry using a cookie cutter. Place the circles on a baking sheet covered with parchment paper and cover with parchment paper and second baking sheet. Bake for 15 to 20 minutes or until golden brown. 
3. Sauté of mushrooms preparation
In a pan, drizzle some olive oil and add a knob of butter. Sauté the onions and the mushrooms over high heat. Season with salt and pepper. Add the chopped thyme and cook a few minutes, until lightly browned. Add chopped garlic and cook for one minute before deglazing with white wine. Let reduce by half. Stir in cream and mustard. Simmer 3 to 4 until the sauce thickens.
4. To serve
Place the mixture on the circles of puff pastry then cover with a square of cheddar. Bake in the oven for 3-4 minutes to melt the cheese. Serve immediately.