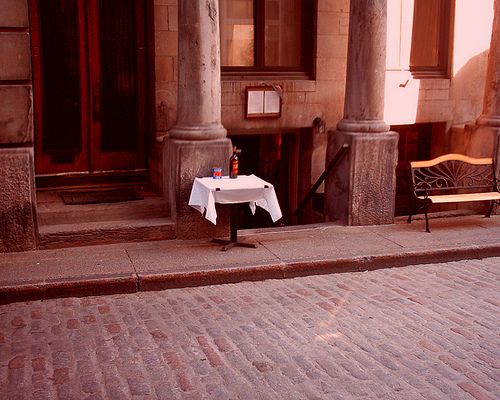 Quote from the movie, Les 400 Coups:
English Teacher: Where is the father?
Rene: Ze fazer...
English Teacher: No. The father.
Rene: Ze fazer.
English Teacher: No, the tip of the tongue between the teeth. As if you had a lisp. Father.
Rene: Fazer.
English Teacher: No.
Rene: But I can't, sir. Not everybody has a tongue like yours.
Rene certainly doesn't have the tongue to pronounce 'Father' correctly like a majority of Montrealers, but most Montrealers do have the palate to enjoy the ever-growing number of restaurants that keep sprouting up like mushrooms. New chefs have Montrealers making reservations to try their signature dish or their take on familiar plates. Interior decorators have their work cut out to come up with something new, something refreshing and something attractive. Because so many restaurants close before even any plates are broken or the new Florence Solid Black Oak floorboards have had the chance to lose their stain, the decorators will often adapt the existing décor with simple ideas to save costs and to reopen as quickly as possible. Most Montrealers know the previous names of many familiar restaurant locales that have reopened under new names or names that can be adapted from existing name signs.
Still, it must be getting harder to come up with names that appeal and also distinguish the cuisine, but owners and chefs have become very imaginative and have pushed the ravioli, per say, to new heights, such as Les Enfants Terribles or Les 400 Coups, which are French movies. Other restaurants also happen to have movie names or close derivatives that just happen to also be a movie, and even more restaurant names that have something to do with movies.

Midnight Express versus Midnight at L'Express
In 1979 two lovers of theatre, food and of each other, had a dream to open a Parisian bistro in Montreal. What an idea. What a dream! Dreams do come true and L'Express opened its doors in 1980 to an immediate success and to this day still a popular restaurant for long time patrons and first timers alike.
Ten years earlier, in Istanbul, two lovers also had a dream but took a different path. Midnight Express tells the true story of a bad idea and a second chance at life and love.
Vinny Gambini versus Vinnie Gambini's
Mona Lisa Vito: [Vinny looks at her funny] What?
Vinny Gambini: Nothing. You stick out like a sore thumb around here.
Mona Lisa Vito: Me? What about you?
Vinny Gambini: I fit in better than you. At least I'm wearing cowboy boots.
Mona Lisa Vito: Oh yeah, you blend.

Vinny certainly didn't know what he was getting himself into when he decided to represent the "yutes" but when Vinnie decided to go straight and open a restaurant the offer was too good to refuse.
...for the Birds
The battle of the birds!
Titanic Struggle
Which one will not sink below the depths?
Terrible Children
400 Blows
Oh Romeo! Romeo!
Juni or Juno