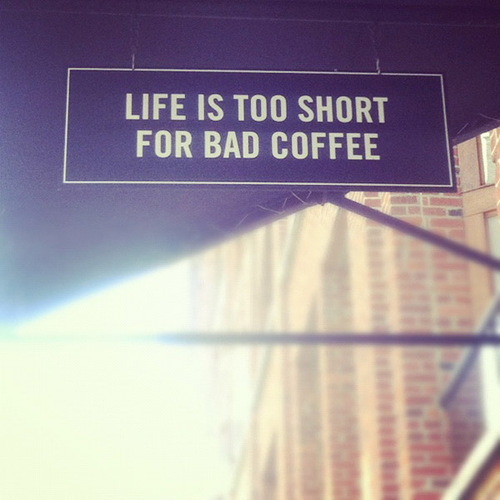 Coffee has become a popular fix in Montreal over the last decade. Tim Hortons has always been a good and cheap cup of brew which many enjoyed, but places like Starbucks gained much popularity in this booming city. Although the cup is pricier, it hasn't stopped business men and women, as well as hundreds of students from rushing in to get a cup, for that early morning meeting or class. However, just like Tim Hortons and Starbucks, both fast food coffee houses, many people are leading faster paced lives, leaving them to chug down that cup of deliciousness, and depriving them of the taste, and the experiences, better and more affordable coffee houses are offering the people of Montreal.
I decided to travel around the city and visit a few of the small and undiscovered coffee shops. Drinking the rich coffees opened my eyes to the appreciation of the java bean the coffee house gems of Montreal, which I am more than happy to share with other coffee lovers out there.
Kafein
First and foremost, in Downtown Montreal on Bishop Street there is one of the most friendly, coffee/resto I have ever been to, Kafein. Although it does bring in many customers from Concordia University, it is just not enough to do it justice. From their healthy sandwiches on focaccia which are always accompanied with a side of chips and coleslaw, to their homemade chili and soups, to the out of this world smoothies, this quiet and hypster coffee house is one that makes it great to chat with friends over a cup of coffee. Kafein is made up of two floors depending what you are in the mood for; while the upstairs is made up of a couple tables and chairs where you can sit quietly and do homework while enjoying their very affordable Latté; the downstairs is more of a lounge where you can have great conversation with the staff and other customers. The service was very good and quick. Kafein is definitely one of the best I have seen in awhile, and is sure to melt the heart of all coffee addicts out there in more ways then one.
Cafe Myriade
Image source: Flickr
Next on my list was Cafe Myriade. I went on a hunt for this quaint coffee shop after reading the many positive reviews. I felt like it was worth a shot, and that it definitely was. Walking in you smell that fresh cup of brewed coffee which completely clouds your mind as you're walking up to the cash. The menu is written on a black board and offers a variety of different choices sure to warm the heart of anyone. Playing music from Radiohead and My Bloody Valentine sets a cool ambiance great for hours of conversation. Cafe Myriade prides itself, from what I could see, mostly on exotic drinks, like chocolate water--water with dark cacao which tastes bitter, but full of flavour. This coffee house is definitely different from Kafein, in the way that it's more intimate, leaving it as a place of discussion more then an area where students can go and do homework.  Now lets get to the coffee, which is a discussion on its own! The cafe has a great variety of beans (Kenyan, Jamaican, American) which are chosen to fit specific types of preparation. While other coffee shops offer you a wide range of choices, you will definitely appreciate the more narrow and focused selection here. More, the diversity of the menu is also reflected with its authentic and rare tea varieties such as the Black one imported from Northern China. This exotic coffee shops will definitely open all coffee lovers to a new flavour of coffee.
Cafe Olympico
Image source: Flickr

Cafe Olympico definitely has to be one of the best italian coffee bar/coffee shops I have ever visited. From the coffee, to the food, to the people and staff, for many Italians it's a piece of home, and for newcoming customers like myself, it's a mini trip to Mile End located on St Viateurs. Definitely busy and always full of noise. Besides the flavourful coffee, what I enjoyed most was the barista with his curly moustache. He made this cafe feel comfortable enough that it could be your home for right now, surrounded by people who no doubt enjoy coffee and company as much as the next person. Cafe Olympico is definitely simple and to the point, which makes it easier for newcomers who walk through the door, confused by all the noise going on around them. The smell though when you walk in definitely gives most a headache, but I enjoyed very much; it is a mixture of the espresso which this entertaining barista has just made, with the fresh desserts. there is nothing fancy in the seating area but the old Italian look of the place definitely gives you this warm and inviting feel. I greatly enjoyed their very cheap...did I say very cheap $2.50 cappuccino and scone. Definitely a Montreal hit. 

Montreal is surrounded by the hyppest undiscovered coffee shops, that I myself am slowly only discovering now, after 22 years. It's a shame that so many people choose brands over quality!