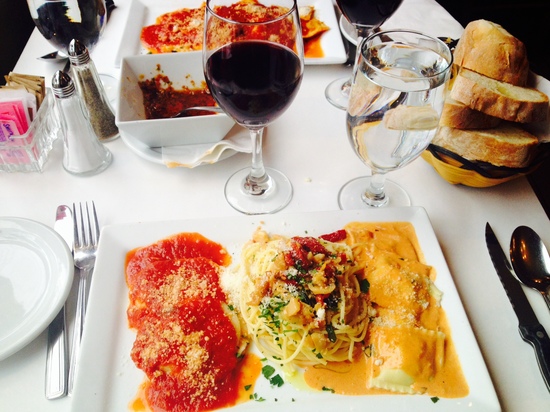 La cucina piccola fal la casa grande.
Having settled comfortably in the Little Italy neighborhood of Montreal, one would have to question the soundness of my mind for even considering pizza delivery when an abundance of quaint and tasty Italian food restaurants seed the neighborhood.
For a homelike traditional Italian atmosphere, you can try out Tre Marie, an out of the way restaurant on Clark Street near the corner of Mozart Street; for many years this traditional Italian restaurant has been the chosen spot for first dates and meetings with old friends or simply for dining alone on a hefty plate of pasta with a delightful glass of red wine and the local Italian newspaper, Il Cittandino Canadese, for companionship.
And if you like to bring your own wine, a fast food Italian restaurant with good taste and good prices to consider is the casual dining atmosphere offered by Trattoria Piatto Pieno on St. Zotique at the corner of De Gaspe. Not only is the pizza pie delicious, the scallops are too die for. Nonetheless, diner beware, Yelp reviews for this restaurant are chaotic.
There is always that special evening, perhaps, it's game night, or the end of a long hectic day when the children are crying for pizza, when it crosses my mind to spread the checkered table cloth on the kitchen table and order in.
Touted as being the most popular pizza delivery option, Pizza Hut offers a combination of Americana chicken wings for game night and the scrumptiousness of a pizza pie in one delivery, in addition, it might just be the most affordable option if you use Pizzahut coupons.