Gaining Experience: From Line Cook to Sous-Chef
| | |
| --- | --- |
| Project genre | Profile of a sous-chef at Montreal's Burger Bar |
| Identify the section of Montrealites where your piece will be published. | The food section |
| Did you use any software or cloud computing tool to produce this work? | no? |
| Identify Individualized learning objectives that you internalized for this project. OR What did you hope to achieve in terms of professional growth as a writer. | I wanted to gain experience on how to research someone as well as how to interview someone in order to get the best out of them as possible. |
| Identify any skills that you refined through this project. | I refined my ability to make smooth transitions between a quote and my own words. I also worked on making sure what I wrote is what my profiled individual meant. In essence, I did not twist his words around to fit what I wanted to say. |
| Describe the most rewarding feature of this project project and describe any future learning goals that emerged from this experience. | Learning how to profile someone. I want to work on profiling other individuals. I want to work on how to have good interview questions. |
| Describe the most challenging feature of this project and identify any issues or problems that you experienced creating this project. | The most challenging feature is trying to interview someone and not have them repeat the same information that you have already received an answer about. |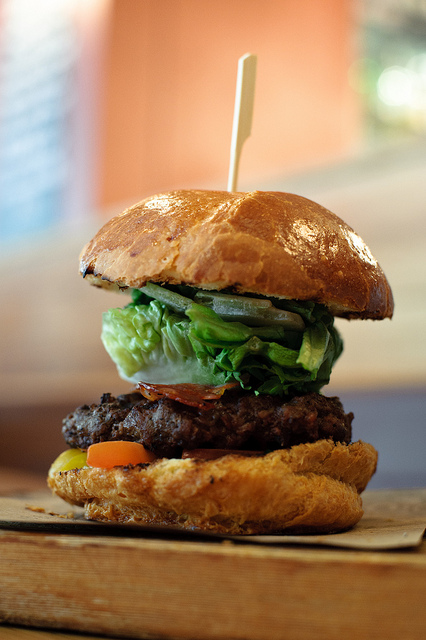 Slicing tomatoes and onions, mixing ground beef with secret spice combos, hand cutting potatoes into perfect French fry slices, and warming handmade buns to perfection: Working at a high end burger joint requires more than just flipping patties. Burger fabrication is an art that only cooking experience can help you with. For 21 year old Wesley, finding new ways to gain experience is how he got to his sous-chef position at Montreal's Burger Bar.
"The interest to start cooking definitely came from Café Inn"
Wesley has had a knack for cooking since the age of 14 when he started working at Café Inn, a café run by his parents, located in Lac Brome, which is about 45 minutes outside of Montreal. The start of any job, even if it is owned by your parents, begins with the lowest of the low in work tasks. Wesley started washing dishes and doing small food preparation jobs before "eventually working on the line with [his] dad." He quickly realized that he was extremely interested in every aspect of the kitchen environment. Years spent working for his parents gave him insight into different cooking mediums and the ins and outs of running a small business.
I remember visiting the café with my elementary school class and having Wesley and his father bring fifteen excited little children down into the cramped basement kitchen where we got to make our own chocolate chip cookies. There was an element of pride in myself, and I am sure in some of the other students as well, of seeing one of our friend's feeling so at home surrounded by his own food creations. As years went by and I would continue to visit the café with my mother, it was always a pleasure to see Wesley come up the stairs from the basement knowing that he had made the food I was enjoying.
After the closure of his parents' café, Wesley had the opportunity to work at another family-run café in the same town. The experience at the new café, Café Floral, "definitely was the bridge between working for my parents and working for real world employers." The new Café taught him to be punctual and to be open to other methods of food preparation. Every restaurant has a unique style that is illustrated through secret house sauces, cutting techniques, and plate arrangements. Having the ability to adapt to those changes has aided Wesley's success at his current job. His experience at his parents' café allowed him to be trusted and given the privilege of working alone in the new café working environment.
"Progressing in the cooking world is next to impossible if you live in a small town"
The lack of promotion in the small town restaurant scene only fueled Wesley's ambition to further his cooking career and move to Montreal. "The opportunities in Montreal are greater and the pay is better. I just felt it was necessary in order to move forward." The move to Montreal introduced Wesley to a new world of restaurant businesses. He was no longer working in a cramped two person kitchen at his mom and dad's café where he could set the rhythm and slack off, if he wanted to, without consequence. Now he was in a highly industrialized kitchen working with three or more staff members as a line cook with clientele rushes that were far superior to ones in Lac Brome, where a full house happens during the summer season only. A line is where the cooking takes place whereby the plate moves down the line with each person in charge of different elements on the plate. A line cook is like a factory line worker making sure the part they are in charge of is done to perfection.
"When you work for your parents there is always a feeling of job security in the back of your mind. When you work for someone completely new the pressure is there not to screw up."
Working in a new environment has its challenges. Instead of just dealing with his father, Wesley had to learn his coworkers' rhythms in the kitchen. Unlike at Café Floral he was no longer in control of the kitchen when the boss was not there. Almost back to where he started when he was 14 years old, Wesley took on the job as line cook. The common worker mantra, 'You have to start at the bottom before you can make your way to the top' certainly came into effect with his new job at Burger Bar.
Eight months as line cook led to Wesley's sous-chef promotion. As sous-chef he "is in charge of the kitchen when the chef isn't around. [He has more] responsibility than the cooks, such as: making sure plating is nice, prep is being done properly and on time, and taking orders from suppliers." The quick promotion can be linked to Wesley's prior experiences. "The more experience [you have] in the cooking world, the easier it is when it comes to applying to kitchens." Gaining experience is a huge factor to success.
Wesley is always looking for new opportunities where he can increase his knowledge and gain new experiences. As sous-chef he is acquiring the ability to run a kitchen when the head chef has a day off. He is being given the opportunity to create and add new weekly specials to the menu. One special that Wesley has taken pride in is a Margherita pizza imitation in burger form. The beef burger contains a vampire warding off amount of garlic, basil, and bocconcini cheese all smothered in a tomato sauce and then topped off with arugula. Wesley's special sold well. It has driven him to want to one day get one of his creations officially put on the menu.
"I don't have plans to attend cooking school right now, but that may change as I get older"
Most people would argue that if the interest for cooking is there why not go to cooking school? Wesley did at first think that was the approach to cooking he wanted to take; however, he argues that "the experience I would gain actually working in the field would be much more appealing to future employers." Considering the amount of time he has spent cooking, from the age of 14 to his current age of 21 the intent to cook and gain knowledge through firsthand experience seems to be a practical way of doing things. Wesley is interested in learning through creative forms whereby one pulls things out of the fridge and tries to create something fresh and new with only those ingredients.
From the way it is going now, Wesley's cooking career seems like it can only go up from here. Next time you are eating at Burger Bar, think about the people who are making your food. Think about the effort and imagination put into creating that burger you are sinking your teeth in to. The creation of that burger could be the spark to a whole new world of cooking creations.