Le Pied de Cochon: An Expensive Taste of Authenticity
Justine Poirier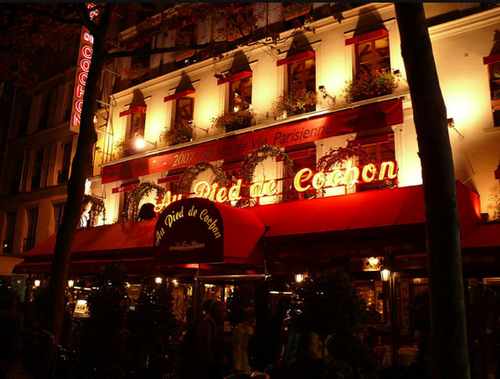 From Monday to Sunday, from opening to closing time, you will not get a table without reservations; but you can squeeze in at the bar, between Martin, the eccentric owner and a likely French couple, and enjoy a delicious appetizer of "cochonailles" along with an expensive but carefully chosen glass of red wine. Surely, it is the beginning of a long night at Le Pied de Cochon, one of Montreal's few traditional restaurants. Indeed, authentic Quebecois restaurants are rare and incredibly expensive in Montreal. Because of the high price of local products, fruits, vegetables, meat and dairy, less and less restaurant owners dare to serve traditional Quebecois meals.
Yet, the few authentic Quebecois restaurants in Montreal are always full. The reason behind this phenomenon is the distinctive ability of the Quebecers to make you feel comfortable, to make you feel at ease. For example, a dinner at Le Pied de Cochon is an astounding experience; you will indubitably feel at home, surrounded by charismatic French speaking waiters, daring cooks and extroverted bartenders. The wooden walls, the closeness of tables, the loudness of the place and the warm atmosphere will charm you at once and possibly make you forget the expensive menu. This extremely narrow and small restaurant on Duluth has become, since it's creation, an iconic establishment. It's traditional Quebecois cuisine: rich, heavy, fattening, unique, provocative and dangerously tasty has made chef Martin Picard well known around the world. However, the charm and uniqueness of this restaurant is unfortunately not enough for the city and frankly overpriced.
Strangely, the Quebecers' ability to make you feel at home hasn't convinced the population to attend traditional restaurants and these places remain rare. Perhaps, the expensive cost of a real Quebecois meal is the problem. Obviously, it is always difficult to conceive a gastronomic meal made of local products, at a low price. Yet, supporting local industries while savoring the taste of the province (and gaining a couple pounds) is a fair deal.
As opposed to other restaurants, Quebecois ones take pride in buying and serving local products. For example, Le Pied de Cochon offers meals of Canadian duck, pig, bison, deer, fish etc. Of course, the price is a bit higher, but the quality is incomparable and besides enjoying a unique meal, you can be proud to support local industries, and this, has no price. Our country is well known for growing an incredible variety of fruits and vegetables and producing tasty cheese and dairy goods. Let's not forget the maple flavor our Canadian chefs like to give to their creations.
Finally, it is sad to realize that few restaurant owners take the risk of doing business with local industries in order to offer people the real taste of a good Quebecois meal. Canadians should be proud of their traditional cuisine, made of rich and delicious food coming from the four corners of the country. If you are still not convinced of the quality and the benefactions of the authentic Quebecois cuisine, let restaurants such as Le Pied de Cochon make your taste buds shiver and slowly but surely, make you change your mind.
Image source:
Flickr
.