Icing, Sprinkles and Cake, Oh My!
Ariana Haltner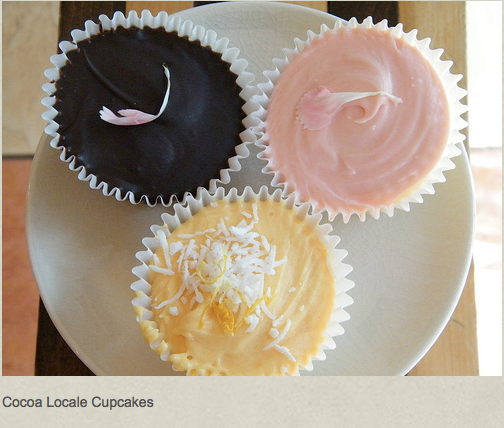 The Experience of a cupcake is the visual delight in the design, the feeling of the icing against your tongue, the sprinkles covering your lips after a big bite, the softness of the cake melting in your mouth; it is the glory of one minute in sweet heaven. In Montreal City, where the culture is diverse and the food must suit all pallets, two cupcake shops stand out as the best. Cocoa Locale and Les Glaceurs each strive to be the best, but each has something different to offer cupcake fanatics and casual eaters. A perfect cupcake shop is based on the quality of three factors: the location, the shop interior, and the cupcakes. A perfect cupcake is based on two factors: the icing design and the cake base. The cupcake shops, Les Glaceurs and Cocoa Locale each fulfill these five important factors in unique and varying ways.

Les Glaceurs is an eye-popping dessert shop, a stylish shop in a stylish location, is its main draw to customers. It is situated on 453 Rue Saint Sulpice, in a highly tourist heavy neighborhood. People come to sample the culture of Montreal, by visiting the Notre Dame Basilica and the restaurant Olive and Gourmando (famously known for its popularity with celebrities). During the winter, the area is lit up with Christmas lights. It is extremely picturesque, and will very much give the impression of a "winter wonderland". During the summer the hot and sweaty traveler will be grateful for the small oasis of an air-conditioned cupcake shop. Les Glaceurs is brightly painted in neon colors of pink and green. The colorful décor compliments the artful cupcakes, gelato and macaroons on display. For customers it has several tables and chairs, a mini bar with stools, and stuffed chaises near the window. It has a very youthful atmosphere, with young employees behind the counter. It is the exact ideal of how a cupcake business should look and feel. Les Glaceurs takes the cupcake industry seriously, but it is a business and lacks a personal touch, which is important for a bakery.

Cocoa Locale is a one-woman bakery, which is infused with her personal touch from the subdued design of the shop to the humbly created desserts, popular with customers due to its homey and comfortable atmosphere. Cocoa Locale is situated along 4807 Park Avenue, in a quaint Outremont neighborhood. It is near more than a few family restaurants, trendy cafes, and parks (specifically Mont-Royale). On a warm sunny summer's day, where picnics are a must, it is a wonderful place to explore with friends and family. Walking, talking, relaxing and eating gooey cupcakes, that is a piece of euphoria. Stepping into Cocoa Locale is like being transported to a fifties era Hollywood movie. Its quiet design is reminiscent of a grandmother's kitchen. There are no tables or chairs or any luxuries for a customer to sit. There is a bench and a customer will be privileged to sit and have a conversation with the owner herself. The owner, Miss Reema Singh, is very kind and sociable. She is easy to talk to and even a shy person will feel her warmth. She bakes all her cakes in an open kitchen, for the most part in plain sight of her customers. She usually has displayed: her three-cupcake creations, along with her cheesecakes, pies, and crumbles. A cupcake fanatic might be disappointed with the humble and small selection of cupcakes.
Les Glaceurs has about two dozen beautiful cupcake flavors; on looks and quantity it could be considered the best. They have regular chocolate (Choco Choco), they have a chocolate orange flavor (Orange Choco), a brownie cupcake (Brownie Avalanche), they have their most popular cupcake (Red Velvet) as well as many others. Each cupcake has a mountain of artistically put together frosting and candies. Some very photogenic cakes, their icing decorations are remarkable. They are a model for how a cupcake should look, but looks alone are never enough. With a single bite of one, the eater will get a mouthful of dry, flavorless cake and an equal amount of overly sweet icing. It leaves the eater feeling bereft and dissatisfied. Often the cupcakes with chocolate, such as Choco Choco and Choco Orange, have a bland chocolate base with the barest hint of flavor. The Brownie Avalanche is delightfully designed, with little squares of real brownies on top of cream icing with a chocolate dusting, but it also suffers from the bland chocolate base. Only the Red Velvet lives up to its hype. The icing is made of pink cream cheese, with little candies on top. The cake is a striking red but is soft and moist. Though the cake is moist it has no real discernible flavor. It tastes like "red" and that is all. The cake part is probably the most underrated and ignored, factor in a good cupcake. However, it will provide the main taste of a cupcake so it must be delicious.

Cocoa Locale seamlessly combines sweet icing and a scrumptious cake, to create the best tasting cupcakes in Montreal. It only sells three different flavors: Chocolate Chai, Vanilla and Lemon. These three cupcakes are very simple in their design. There are no fancy icing ornaments and the only a hint of decoration is a real flower petal, fully edible and different for each cupcake. They are so simply done that at first glance they look very unremarkable. That assumption is so grave an error it is almost embarrassing. For these cupcakes are the diamond in the ruff, the pearl in the oyster, the treasure at the end of the rainbow, they are that good. With one bite, you will be transported to a frothy, smooth and sweet land. The cake is so soft, tasty and packed with flavor, so scrumptious that it would be worth the money even without the icing. The Chocolate Chai is a perfect combination of yummy chocolate with just a hint of spice, which creates a good contrast to the natural sweetness of cocoa. The Lemon cupcake is so light and delicate it would be perfect for teatime in the spring, where the smell of warm food and fresh flowers mingle together in harmony. Cocoa Locale is a small place, lacking any glitz and glamour, but eating there is an experience of the tastes.

Two cupcake shops, each with different takes on the experience of a cupcake. Les Glaceurs is a hip place with a design, a location and cakes that are so stylish it could have come out of a movie. Cocoa Locale is a bakery with cupcakes that are delicious for the tongue, ecstasy for the nose, a delight for the eyes, a satisfaction for the stomach and a metamorphosis of the concept of dessert. The comparison of these two shops is perfect example of the famous question: "Is it better to be beautiful on the outside or beautiful on the inside?" Les Glaceurs has all the style and Cocoa Locale has all the taste.