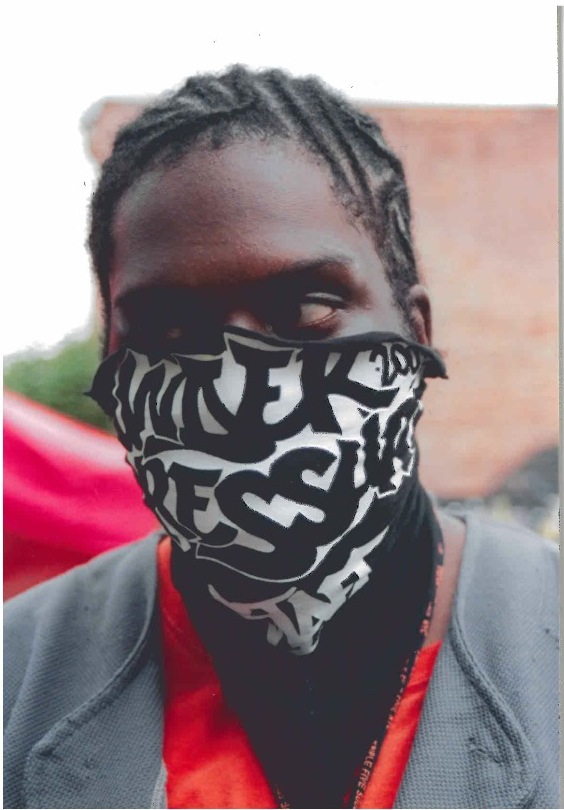 It's August and 7am on St Catherine Street East. A group of people gather and begin to assemble scaffolding outside Foufounes Electriques, comprised of kids as young as 15 years old to people as old as 38, they've come together to prepare for Under Pressure, a day-long event celebrating graffiti, hip hop, and counter culture. During the day graffiti artists paint the walls of the local businesses around Foufounes Electriqueswhile DJs spin records, B-boys break dance in a competition, and skateboarders skate in the half pipe. Under Pressure brings in people from all over Canada, the States, and even Europe and South America. Why would people come from all over just for graffiti? Well there's more to the event than meets the eye.
            Under Pressure is North America's largest outdoor graffiti convention. Graffiti writers from all over North America and other continents come to paint the walls of Foufounes Electriques. While the painting goes on, there are several tents to check out, even a tent for children where they can colour pages, collect stickers and get their faces painted. If you want to support the event, there are tents selling t-shirts, hats, bandanas, and the last remaining Under Pressure magazines. At night after the painting is done and all the awards are handed out, inside Foufounes, there is a free hip hop show. Not too bad considering the talent that comes to perform at the concert, last year it was Masta Ace, a famous rapper from New York City. It was one of the best free shows ever put on in the history of Under Pressure.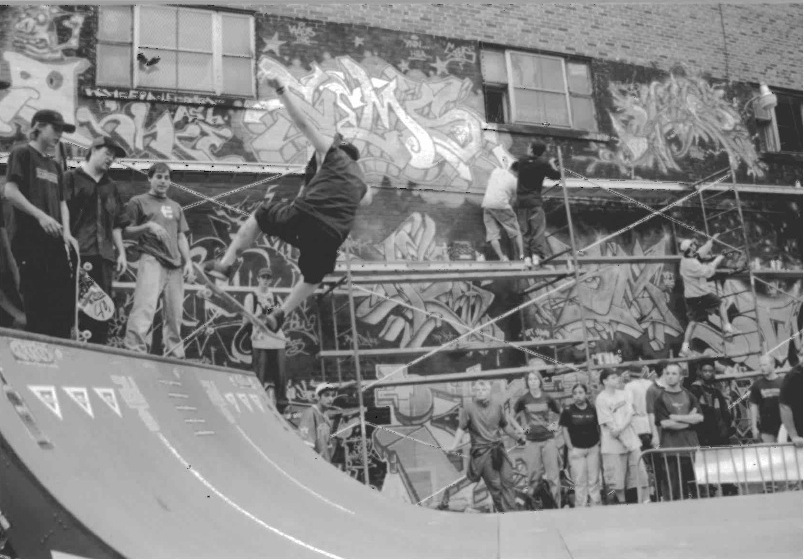 I wanted to understand the history and challenges of putting on a large scale graffiti convention, so I spoke with Flow, one of the original creators of Under Pressure. I started by discussing with Flow anarchists or people who believe graffiti is an outlet for anarchy. I wondered if Under Pressure attracted these types of people and if this was problematic for the event organizers. Flow's answer shocks me, "That's the whole reason we started the event in '96." He leans back in his chair and folds his arms across his chest, "The police were lumping graffiti in with violent crimes and muggings and raping, and they were equating everything into one section of crime so we started the event to try to change the public perspective of graffiti."
         The first Under Pressure was held in March of 1996 and was called Aerosol Funk. It was held inside a loft with 11 graffiti writers, and three DJs (A-Trak, Devious, and Blast), and Tactical Crew break dancing. After the production the event organizers decided against doing another indoor event due to the hazardous environment created by the paint fumes in a confined space. A few months later, they decided to organize an outdoor graffiti convention, and Under Pressure was born.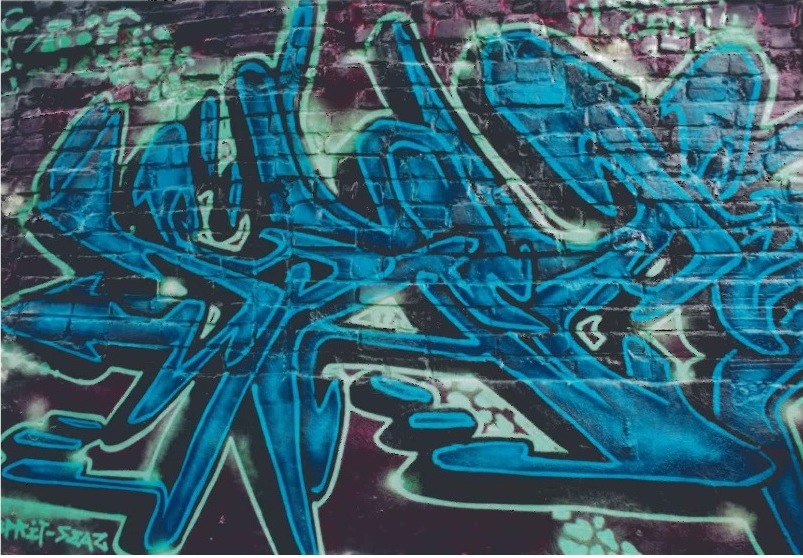 The first outdoor event was held at Mount Royal and Henri Julien, an area with a lot of foot traffic. For the first few years the event moved around from Foufounes Electriques to Guy and St Catherines and then back to Foufounes again, where it has remained for the last 12 years.  Flow tells me about the positive response by the public. "People were outside and stopping and looking and saying, Oh there's people doing this graffiti and they're not all scum bags and no one's getting killed here. It's not such a bad thing." How can art be violent?
           The artists chosen to write at Under Pressure respond to an announcement that Flow puts on the convention website. All artists send three pictures of pieces they have painted, including their name and the city they're from. Afterward, Flow goes through them personally and chooses the artists himself. I ask him if it's hard to choose, and he tells me the problem is more about getting the registered applicants to show up the day of the event. Due to no-shows, wall space is given to artists who are at the event and willing to paint, but may not be as talented as the registered person. Flow tells me that blank spaces means the wall would get hit for sure. This is only the beginning of problems for the organizers.
       Before Under Pressure starts the event coordinators begin a poster campaign which asks graffiti artists--and people in general--not to paint in the area. Posters are placed on the lamp posts around St Catherines and on the walls of Foufounes, nevertheless some years it seems the poster campaign is done in vain. Flow folds his arms across his chest again and tells me about one year Under Pressure lost wall space from a business off of St Catherine because someone was doing acid tags on the windows of one building, in the back and on the side of the building. Now event organizers try to push the message two weeks before the event out of respect for the businesses.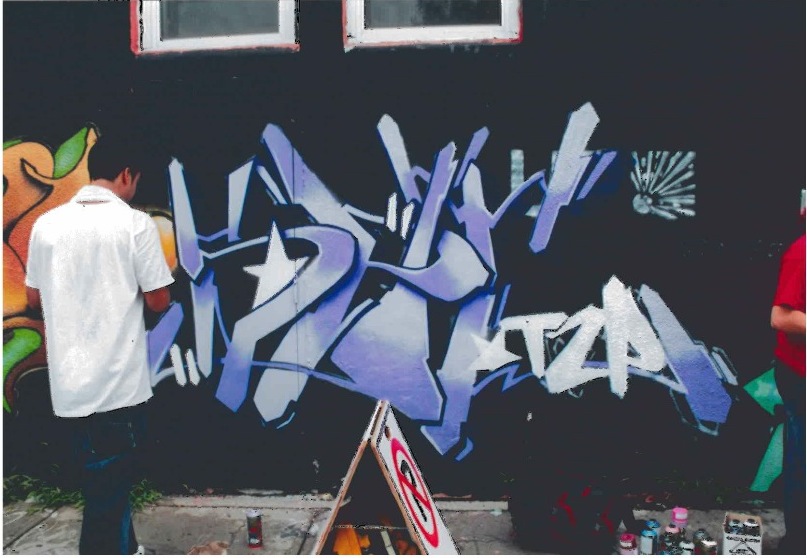 I talk with Flow about building the relationship between Under Pressure and the businesses around Foufounes. "It became much easier to stay at Foufounes because we already had the wall space procurred and already established a connection with the business owners. Initially it was harder to ask for permission to paint the whole thing. At first we had to approach all the business owners and ask for permission to use their wall space and explain the whole event a little bit obviously, and try to make sure that it was portrayed positively." Not an easy feat given the nature of the event and the reputation Under Pressure had to overcome.
         Recently the biggest problem facing Under Pressure has been the use of their images by Chevrolet without permission. Two years ago Chevrolet came down and took pictures of their cars in front of the murals painted at Under Pressure. Some event organizers were upset and filed suit for damages. I ask Flow where he stands on the issue, he sighs heavily and begins to tell me that he's not sure what to think. He believes that Chevy should have hired some graffiti artists to paint them a backdrop, but at the same time it's not as though they parked in an art gallery and took pictures in front of some paintings. On the other hand the artists who painted at the event registered to paint those walls and are not being recognized in the Chevy ads. He says, "I'm kinda on this fence 'cause it's in the public sphere." He finally shrugs his shoulders in resignation.
          I ask Flow if this is a common theme with Under Pressure where businesses try to affiliate themselves with the event. He begins to tell me about past years where Red Bull and Sprite have driven their company cars up to the event and tried to hand out free samples. On the face of it this may not sound problematic, but Under Pressure gets part of their funding for the event through sponsorship. Without these funds Under Pressure cannot afford to bring in big names for the after show, pay businesses for use of their property, or buy the supplies they need for the volunteers and event participants.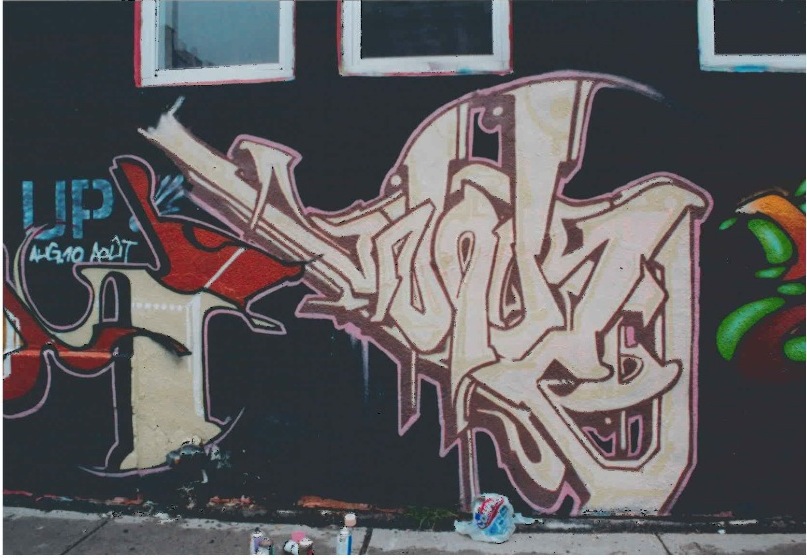 Under Pressure has dealt with some forward thinking sponsors as well. Flow discusses the year Absolute Vodka sponsored the convention, "They were nice about giving away the branding and logo, they said 'just throw our stuff here,' and we even had an ad on the back of the magazine designed by our people so it was our branding, our styling, that was nice." Sponsors like this are far and few between though.
         One thing impressed upon me is how much money it takes to put on an event of this size. Besides getting the wall space, money is the biggest challenge for Under Pressure. Flow tells me that as the event grows so does the need for money. Even though the event looks like it has plenty of money, Under Pressure could always use a little bit more. I ask him what the most expensive costs are and without hesitation he immediately answers, "Scaffolding, and some of the building owners take money too, so we can use their wall. The parking lot takes money so we can use the parking lot, because they aren't making money that Sunday." To me it feels as though there's a lineup of people with their hand out waiting to get paid by event organizers.
          Curious about the respect Under Pressure gets from Montrealers I ask Flow about graffiti appreciation in Montreal and for Under Pressure. Flow tells me honestly that he feels event goers have become too accustomed to it and don't appreciate what they have in the graffiti convention. He says "It's a good event, but I think that if it [Under Pressure] went away for a while, in a couple of years people would be like, remember Under Pressure, that was cool, we could go down there and...you know." Flow gestures with his hands.
         I ask Flow if he's afraid that getting the wall space again would be hard if the event coordinators did decide to put Under Pressure on hiatus for a few years. He shakes his head no and says they've developed such a relationship with the businesses that they would get the space back without any problems. He says "They [the businesses] understand now that the area is such that it would happen anyway." The area around Foufounes lies just east of the city's gentrification projects on St Catherine. This part of the city gets hit pretty hard with graffiti, but with the area being gentrified who knows what will happen to the space around Foufounes.
         At one time Under Pressure was not the only well-known graffiti convention in Canada. Toronto also held a graffiti convention, I remember in the past driving to Toronto the weekend after Under Pressure for their event. I talk with Flow about those conventions and he shakes his head and begins to tell me some upsetting news. "No. There was the 416 event and then they stopped and did Style in Progress, but that stopped too. The mayor [Rob Ford] doesn't like it. The mayor of Toronto, he's a big idiot, he doesn't like graffiti, he doesn't like bikes. He thinks we're all queers. So, the administration of Toronto has helped curtail graffiti acceptance in Toronto, even though Toronto has a bigger graffiti scene. Montreal is well known for our graffiti scene, the nice stuff and the bad. I guess you can say we take the good and the bad."
         Why should you support an event like Under Pressure if you don't like or do graffiti? For one thing understanding graffiti is essential to appreciating it as an art form. Just being able to spray paint from a can does not make someone a graffiti artist, it takes skill. Understanding graffiti means that it is understood that graffiti is not about violence or vandalism. That doesn't mean that vandals don't do graffiti, sure they do, but true graffiti artists would never paint swear words on buildings just because they can. Again, it goes back to the skill of the painter and what is painted, not vulgarity just for the sake of painting it. Graffiti at its roots represents freedom, freedom of expression. Without freedom of expression where would we be? We would be repressed by images that have been preapproved for our viewing. I know there's bad graffiti, but Montreal has a wealth of beautiful graffiti, just walk around and you'll recognize it. Remember, beauty is in the eye of the beholder.