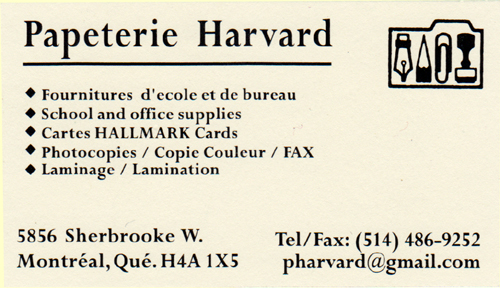 PAPETERIE HARVARD 5856 Sherbrooke Street Ouest
The personable Markaryan Brothers, Arsak and Sahan have run their family print-shop PAPETERIE HARVARD for the past 29 years. They live in NDG, walking distance from their workplace.
Papeterie Harvard offers competitive prices and are more hands-on than the larger print shops. I order 5 textured-carton, spiral-bound booklets with 30 pages each and 3 of the best fine-gel pens (black, red, and green) on the market. I have the privilege of watching Arsak work on his Eco-friendly, hand-operated binding machine (my 2 year old son would be fascinated), and I only wait about 7 minutes for the entire process from beginning to end. The whole thing costs $27.16 - quite a deal over what I could have dished out since other places charge a $3 handling fee for every file they open! The Markaryan brothers only charge for the products they sell; their outstanding services are included. They remember your name and never treat you like a wallet with legs.
Since the giant Bureau en Gross moved into the hood 5 years ago, PAPETERIE HARVARD has suffered a loss in business of about 20-30%. This might be due to the one-stop shop that massive chains provide. But most any copy service you need for your work and studies can be found at PAPETERIE HARVARD. So what if they don't carry the one (out of hundreds of types) of ink cartridge for my specific printer?
I just walk a few blocks to the neighbourhood printer supply store and visit Bassem....
(click to continue reading From Breakfast to Bedtime on Sherbrooke Street Ouest)