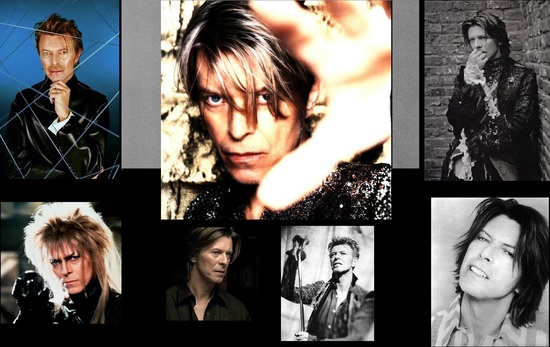 My eulogy to David Bowie:
Last week when David Bowie's latest, (and now last), album Blackstar came out, I watched the video he did for his song "Blackstar" and I found that the video was jam-packed with religious symbolism; this was odd even for Bowie, in my opinion, because I have listened to a wide range of Bowie's music and observed his changing styles and themes and his consistent ones and felt that something was off. I wondered, why is there so much of this theme? And as I listened to his other songs on the album, my suspicions and questions grew. Why are there so many repetitions of death and death-reated things like tombstones and heaven? Watching Bowie himself in his video of "Blackstar" also made me wonder why he looked so much older.
It was only this morning when I heard news of his passing and his 18 months of battling cancer and I was deeply saddened. ANd as I played his various albums to personally commemorate his achievements, a thought struck me: "Black. Star. Black often means death and star is a synonym for a celebrity. Was his album connected to his illness?" and like a flash, I went onto the internet and immediately found this article that matched my train-of-thought:
http://www.theguardian.com/music/musicblog/2016/jan/11/was-david-bowie-saying-goodbye-on-blackstar

And it is confirmed that Blackstar was his "parting gift":

http://www.telegraph.co.uk/news/celebritynews/12092542/Bowies-last-album-was-parting-gift-for-fans-in-carefully-planned-finale.html
We all say "thank you" to you, David Bowie, David Jones. He was a brilliant writer to whom I shall always turn to help me write, to help me stay true to myself and to comfort me in my sadness.