The vast continent of Asia is home to several cultures that have over the years each developed their own ethnic cuisine, often characterized as a blend between traditional and contemporary flavors. To the northeast, you'll generally encounter dishes including rice, noodles, seafood, soybeans, vegetables and sushi. Light white wines, such as Mirassou, Kung Fu Girl or any white wine produced in the Alsace region of France, will generally pair well with the dominant flavors of these dishes. However, for sushi, you'll want to select a white wine with a little more acidity. Let's not forget the sake! Sake and food pairing requires a bit of imagination; however, within reason, it's hard to have a total miss. Naturally, there are some foods that will most likely not go well with sake, such as red meats, intensely spicy foods and richly flavored sauces.
TIP: Sake can be enjoyed in a variety of ways; however, it's always best to serve it cold. Heating it can potentially destroy its flavors, leaving you with nothing but the taste of alcohol.
Northeast Asian cuisine also emphasizes the use of sweet, salty and often spicy sauces when cooking--but remember--the sweeter the dish, the sweeter the wine. Who can resist the deliciousness of fried dumplings drenched in peanut butter sauce? If you're in the mood to try something different, don't be afraid to pair this dish with soju, a Korean plum wine made with soju and honey. Spicy food lovers, remember to avoid all wines that are high in alcohol.
Southeast Asian cuisine is all about discrete spices and seasonings, and a delicate balance of cooking methods including stir-frying, steaming and boiling. A classic, unwooded chardonnay is ideal for sipping or with the world-famous pad Thai. Red wine does not typically pair well with Northeast and Southeast Asian cuisine; however, if you really must, select a light red, such as a Pinot Noir or a Barbera d'Asti; served chilled of course.
Finally, Southwest Asian cuisine generally harbors some rather intense flavors brought upon by frequently used spices, such as chili pepper, cardamom, cumin, turmeric, curry etc. It is rather difficult to pair any wine with these flavors; however, beer is definitely a go-to option. A light refreshing beer will compliment the spiciness of your dish without overpowering it.
Korean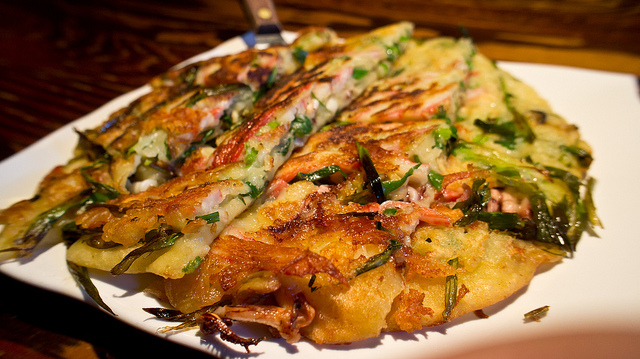 Photo: Ruocaled
Korean seafood pancake - You can find a similar dish at La Maison de Seoul.
Pfaff Gewurztraminer Cuvée Bacchus, $20.20 - Semi-dry with refreshing acidity and notes of honey, lemon and ginger. Very aromatic.
Mirassou Pinot Noir, $15.95 - Semi-dry with jammy fruit aromas, low acidity and soft tannins. Best served slightly chilled.
TIP: If you're feeling a little adventurous, pair this dish with soju or makkoli, a milky rice wine.
Japanese
Photo: Zeetz Jones
Any type of sushi - You can find a similar dish at Yuukai.
Domaine du Salvard Cheverny, $17.55 - Crisp with lively acidity, citrusy notes and aromas of honey and tropical fruits. Nice minerality.
Domaine Thymiopoulos Jeunes Vignes de Xinomavro Naoussa, $18.60 - Light, fruity and refreshing with hints of minerality. Best served slightly chilled, and perfect with red tuna sushi!
Indian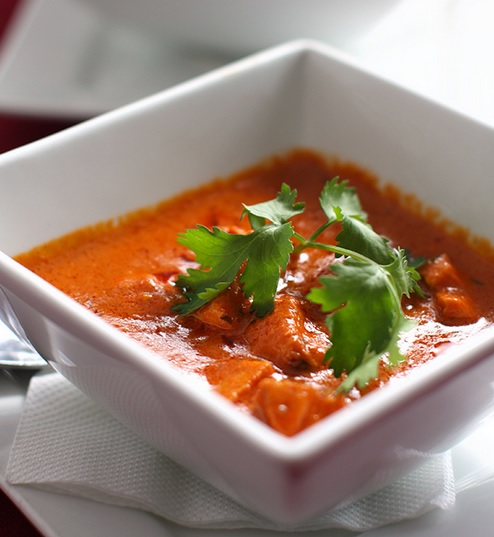 Photo: Mila
Butter chicken - You can find a similar dish at Bombay Mahal.
Marcel Cabelier Arbois Chardonnay, $19.70 - Your go-to wine for butter chicken! Almond aroma and buttery notes that will gohand-in-hand with the creaminess of butter chicken.
Domaine Champs Perdrix Bourgogne Pinot Noir, $19.30 - Light and refreshing and pinot noir with soft tannins and strawberry/cherry aromas.
TIP: Beer remains our number one suggestion for butter chicken. Try it with Damm Inedit.
GLOSSARY
Aroma: Commonly used to describe the smell of a relatively young, unevolved wine. Ex: spicy, floral, fruit etc.
Floral: Red and white wines can have floral aromas.
Dry: Red or white wines that lost all residual sugar during fermentation. Somewhat subjective to what tasters perceive as sweet.
Fresh: Freshness is a good quality; it comes with acidity.
Balance: One of the most desired traits in a wine. When then concentration of fruit, level of tannins and acidity are in complete harmony.
Light: Red and white wines that contain minimal alcohol. Such a wine will also feel light in your mouth.
Bold: Having richness and intensity of flavor or aroma.
Acidity: All wines naturally contain acids, but they should always be in harmony with the fruit and other components. Sufficient acidity gives liveliness and crispness, and can preserve a wine's freshness.
Spicy: A wine with aromas reminiscent of spices such as clove, mint, cinnamon, or pepper.
Soft: Delicate wines with gentle fruit. They can also be low in acidity.
Vegetal: Red or white wines with a subtle vegetable garden smell.
Woody: Red or white wines with excessive aromas of wood. Common to wines aged overlong in cask or barrel. Opposite of unwooded.
Minerality: Wine's buzzword. It would be best described as the meeting point between dry and wet. Mineral wines generally have a slightly salty character and flavors of slate or wet stone. This aroma or flavor comes from grapes grown in intense, rocky, mineral-laden soils.
Velvety: Smooth and rich in texture.
Crisp: A wine giving the impression of freshness, usually with high acidity.
Lively: A wine giving the impression of freshness and vitality.
Fruity: Descriptive of unevolved, light wines in which the fruit is dominant. Refers to the aroma and/or flavor of the grape, as well as other fruits flavors, such as apple, blackcurrant, cherry, pear, citrus fruits, peach raspberry or strawberry.
Buttery: Richness and smoothness of a wine, somewhat akin to the oiliness and flavor of butter.
Jammy: Wines with great intensity of fruit from excellent ripeness. Very concentrated, flavorful wine.
Rich: Full flavor, body and aroma.
Sweet: Both red and white wines can be considered sweet. Indicates the presence of residual sugar, retained when the grape is not completely converted into alcohol.
Tannins: In a nutshell, tannins are what leave your mouth feeling dry once you've tasted an unevolved red wine. They come from the skin, the seeds and the stalks of grapes. They can also stem from the maturing process in oak barrels. Why don't white wines normally contain tannins, you ask? Well, the juice is left to macerate with the skin and seeds of the grapes, the parts that contain the tannins. This is not the case for white wines. Good tannins bring structure and balance, and are essential to red wines. They are also particularly important in the conservation of wine.