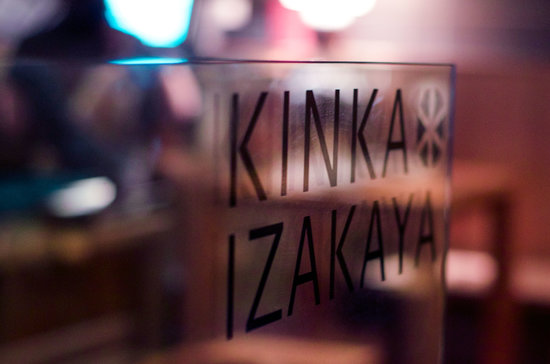 Vegetarian-friendly: Yes
Licensed: Yes
Taste: Two thumbs up for bringing creativity and eclectic flavors to the table
Post-meal feeling: Pleasantly full and tipsy
Price range: $$. Appetizers - $3.50-$7, hot and cold dishes $6-$14, desserts $4-$7.50
Credit cards: MasterCard, Visa
Opening hours: Lunch - Sun.-Sat. 12 p.m.-3 p.m., Supper - Sun.-Wed. & 5 p.m.-11 p.m., Thurs. 5 p.m.-midnight, Fri.-Sat. 5 p.m.-1 a.m.
Website: www.kinkaizakaya.com
1624, St-Catherine St. W., Montreal, Quebec
---
Walk into any izakaya and immediately be greeted with a hearty boisterous welcome. The highly energetic staff drops everything--literally--waves and shouts as soon as you come through the door; in fact, tradition has it that each and every customer must be given this type of greeting as they walk in. Forget something in the restaurant on your way out? Expect the same animated treatment all over again as you step back inside (I know from experience). It all sort of feels like Kramer from Seinfeld just boomed into Jerry's apartment, except you're Jerry and the staff is Kramer.
Montreal fell in love with the homey Japanese pub experience. The welcoming customer service coupled with the long met need for reinvented Japanese cuisine is what catapulted these Japanese-style gems into the spotlight of Montreal's restaurant scene. It's the kind of place you come to if you're looking to meet new people, engage in vivid conversations and have a few sake bombs over delicious shareable tapas-style dishes--and that's why we love them.
Izakaya fans rejoice. Kinka Izakaya comes with a smile and years of experience brought to you by the Kinka Family, the team behind Toronto hotspots Guu Izakaya and Guu Sakabar. The latest and greatest of the Kinka Family formula, Kinka hit downtown Montreal a few months ago and continues to be a hub for sake, soju and Japanese food aficionados. The impeccable sleek feel revisits key elements of the Guu design--geometric patterns, long shared tables (perfect for lining up those sake bombs), exposed light bulbs and black-tiled walls combined with intricate inlayed wood accents. The open-concept kitchen provides extra entertainment as the talented chefs cook over the biggest flames they can muster. If you happen to be seated near the front window once the sun sets, the bright green, yellow and red lights from 3 Amigos across the street will make your experience all that more festive.
While the Kinka atmosphere is definitely the prime attraction, the food is just as worthy of mention. First up, the seaweed and tofu salad. I won't lie, when I first received the dish, I thought I was being served salad with what seemed to be two pieces of soft cheese; however, they turned out to be some of the smoothest tofu I've ever had. The dressing was on point, the ingredients were more than fresh, and I was left with an overall refreshing taste in my mouth.
Next was the gomaae, a mixture of blanched spinach and green beans topped with flavorful sesame and soy sauces. The sauces created a sort of sweet and salty combination that complemented the greens perfectly. Had my mom used similar sauces when I was younger, I would have probably eaten all of my veggies--yes, even the Brussels sprouts.
The takoyaki, deep-fried octopus balls drizzled with tonkatsu sauce and karashi mayo, left me a little disappointed; not because they weren't tasty, but only because I was expecting a little more crunchiness. Other than that, I enjoyed the general presentation of the dish, as it came with a toothpick for easy eating, nice touch.
...
Although I'm not particularly a fan of oysters, the kakimayo ended up being my personal favorite. The dish consists of two large baked oysters with spinach, mushrooms, garlic mayo and cheese, a sort of rich Japanese-style play on Oysters Rockefeller. Forget eating these with your hands, they're served with a giant spoon so you could scoop up the deliciousness.
Second on my favorite list was the oshizushi, Atlantic salmon pressed sushi. The sushi came in perfect little rectangles, topped with fresh pieces of charred salmon. I particularly enjoyed the distinct smoky flavor in every bite. The dish was a nice taste of something different, rather than what we typically find in Montreal sushi restaurants nowadays.
Kinka has a little something for everyone, even those who wish to steer away from the main menu. I opted for the toro calu, albacore tuna belly carpaccio with wasabi ponzu, featured on their special menu and was pleasantly served pieces of tuna that practically melted in my mouth. Dishes that include the word "belly" in their description don't always strike me as a must-have, but I'm glad I decided to try it.
After having indulged in all of these delicious flavors, I--surprisingly--had no more room for desert. However, I did have my eye on the baked matcha green tea cheesecake and the kabocha senzai, sweet kabocha pumpkin puree with rice cake, red bean paste and ice cream... I know what I'll be ordering on my second visit at Kinka.
I washed it all down with an exquisite sake mojito, and it was really difficult not to order another five. They also have a large selection of sakes with tasting notes, as well as Sapporo on tap, an essential touch to any Japanese pub experience.
Many Montreal izakayas have seen the light in recent years; however, Kinka does it really well. From tapas-style dishes to communal tables and boisterous greetings, authentic Japanese tradition pervades every element of this Montreal hotspot. It's an experience you'll want to share with some friends, colleagues, your significant other, or anyone else who's willing to get a taste of true Japanese culture.
As the kind staff at Kinka would say, jaa ne! (See you!)
Follow them on Facebook, Instagram or Twitter @kinkaizakaya.
Photos by: LIKĀ Photography