When you think of Mediterranean cuisine, the first thing that comes to mind is a sea of fresh flavors--grilled seafood and meats, vibrant vegetables and melt-in-your-mouth cheeses. Mediterranean dishes are often high in salty, acidic or citrus tastes, which you'll want to balance out with a slightly salty, unwooded white wine such as a Chardonnay. The Mediterranean diet does not include many dairy products, other than cheese and yoghurt. Strong cheeses require bold wines, whereas mild cheeses, such as bocconcini, require light Italian grape varieties including Soave or Trebbiano. Also popular are grilled meats. Although Portugal is not geographically a Mediterranean country, Portuguese cuisine does feature Mediterranean influences, mostly focused on grilling. Due to the great deal of similarity between the two cuisines, red Portuguese wines will inevitably suit Mediterranean-style meat dishes. Exuding spicy, floral and fruity aromas, a red Chaminé is most definitely an interesting candidate.
Italian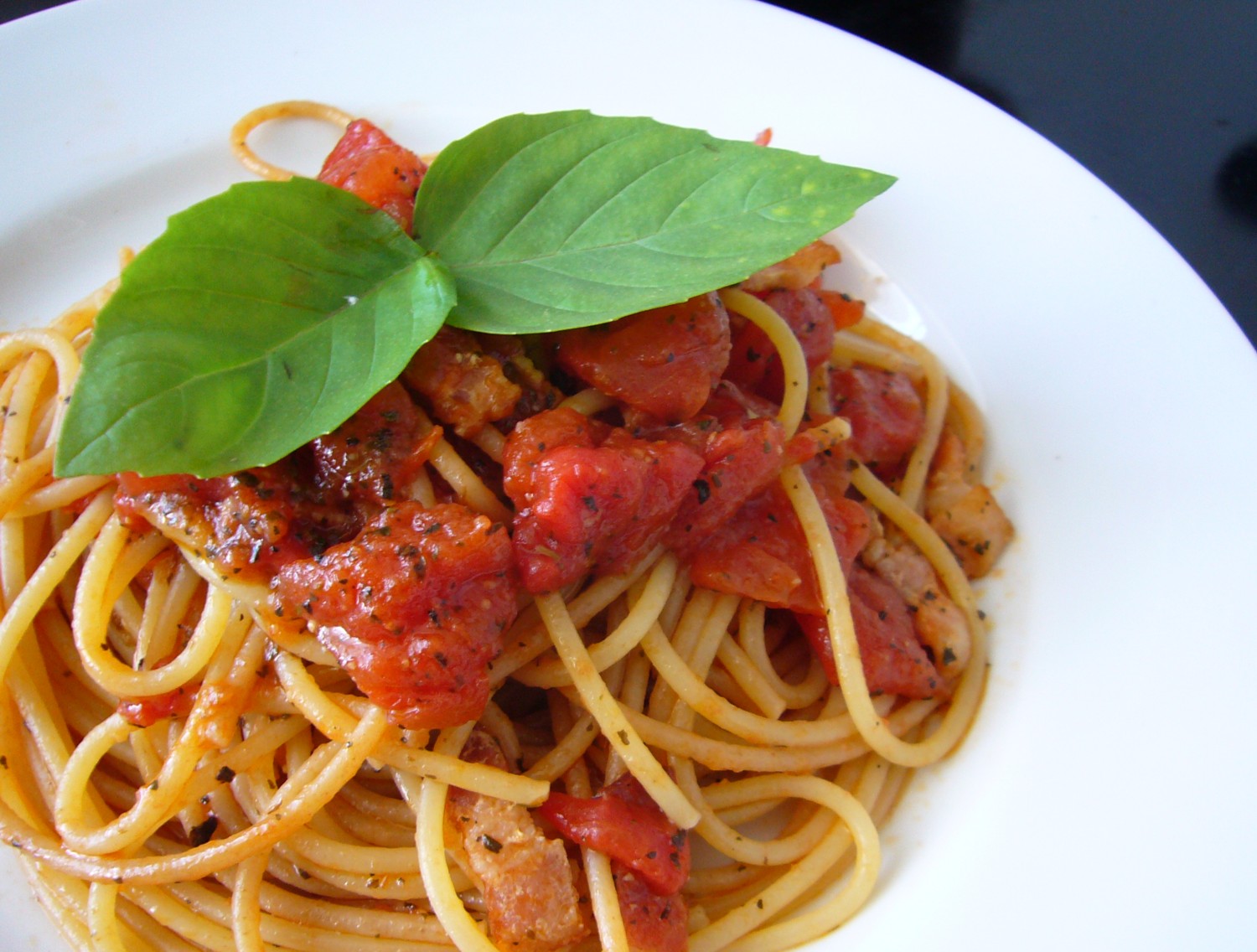 Photo: Lili Koi
Pasta with tomato sauce and basil - You can find a similar dish at Il Piatto Pieno:
Trimbach Pinot Blanc, $17.90 - Fresh and crisp with subtle minerality and light floral aromas.
Zenato Bardolino, $14.05 - Simple, light and velvety. Best served slightly chilled.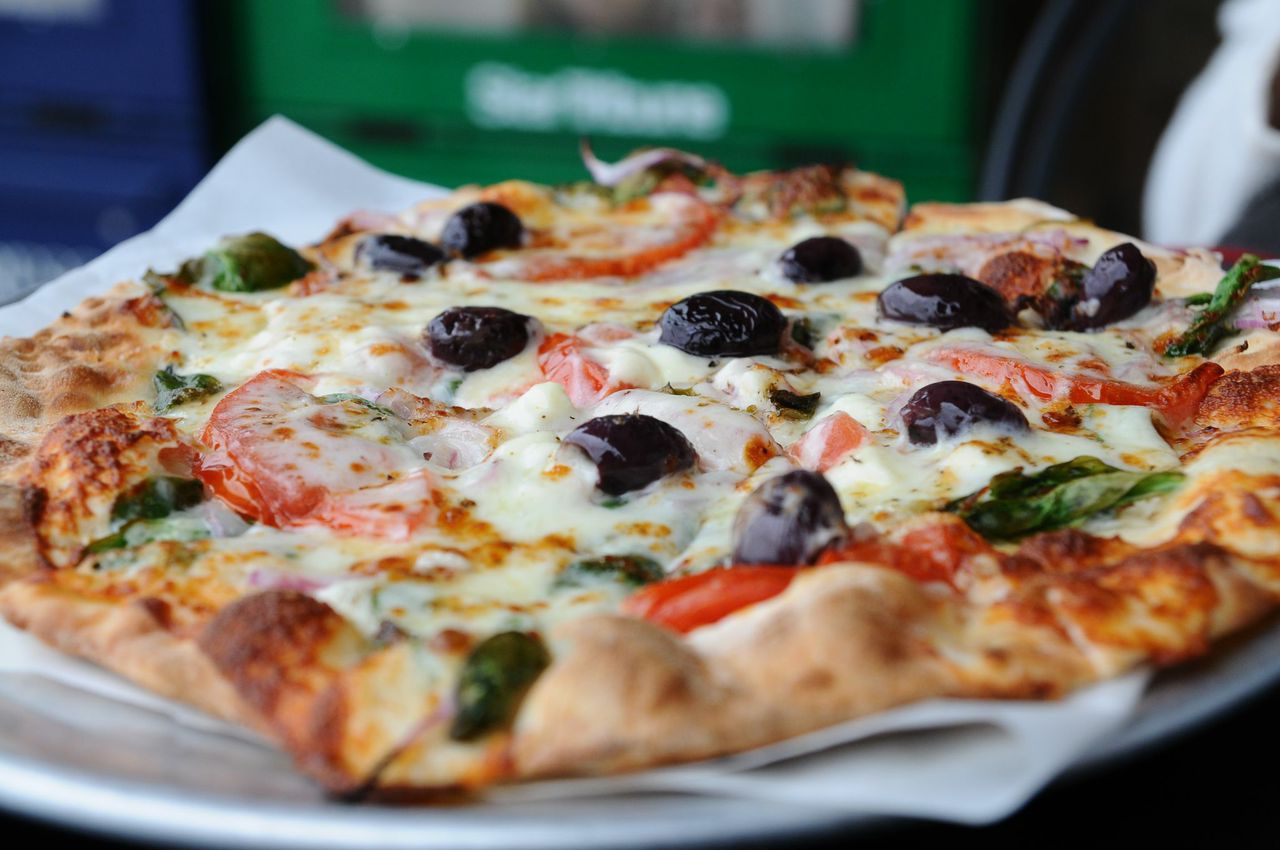 Photo: Roman Espiritu
Pizza Mediterranea (fresh tomatoes, olives, onions and feta cheese) - You can find a similar dish at Restaurant Deuxlux.
Tsantali Agioritikos, $16.60 - Fresh with minerality and pear/floral aromas.
Taurino Riserva Salice Salentino, $16.95 - Dry and fruity with refreshing acidity and prune/fig aromas.
TIP: The toppings make all the difference when it comes to pairing pizza with wine. For meatier pizzas, select a dry and fruity red resembling a Chianti Classico. Vegetarian pizzas will pair well with light and fresh white grape varieties, such as Sauvignon Blanc, Muscadet or Trebbiano.
French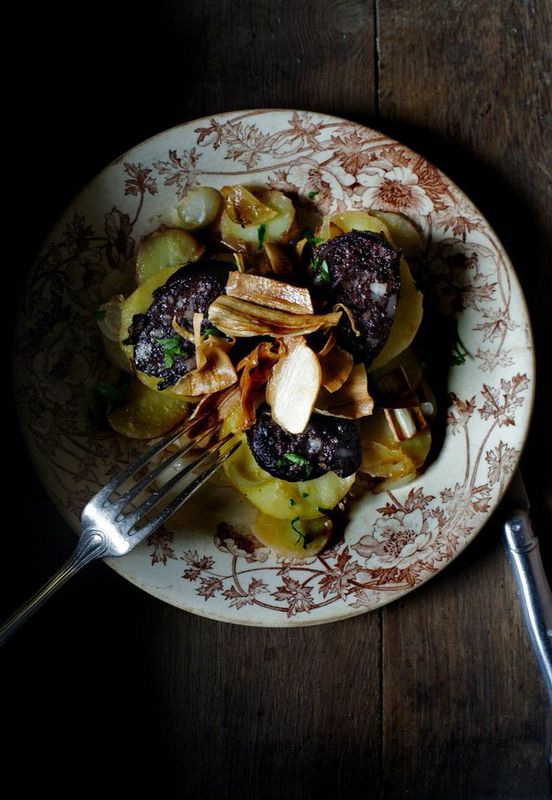 Photo: Oddur Thorisson / Via mimithorisson.com
Boudin maison - You can find a similar dish at Les Canailles.
Chardonnay Campagnola Veneto i.g.t., $13.65 - Dry and unwooded with hints of ripe green apple and pear.
Domaine Langlois-Château St-Florent Saumur, $17.55 - Light and fresh with soft, yet present tannins. Red pepper and red fruit aromas with a subtle spicy note.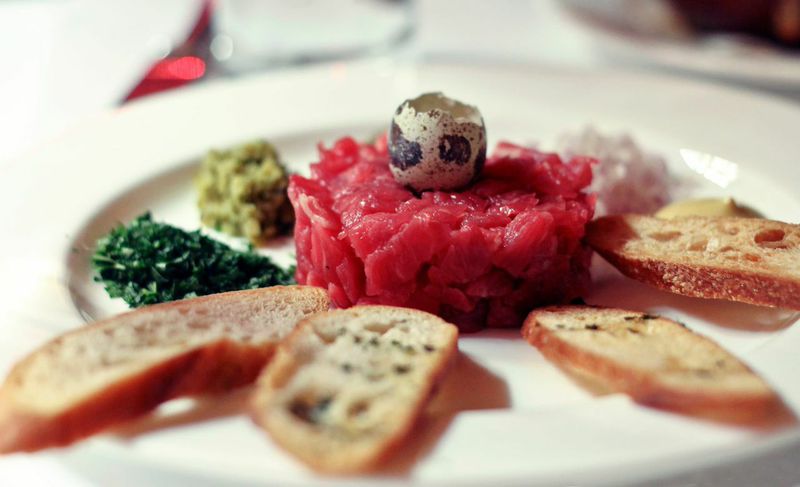 Photo: Crissy
Filet mignon tartar - You can find a similar dish at La Prunelle.
Albis, $12,95 - Very light with low acidity and floral and fruity aromas.
Château Nénine, $19.95 - Slightly woody with fruit and vegetable aromas.
Greek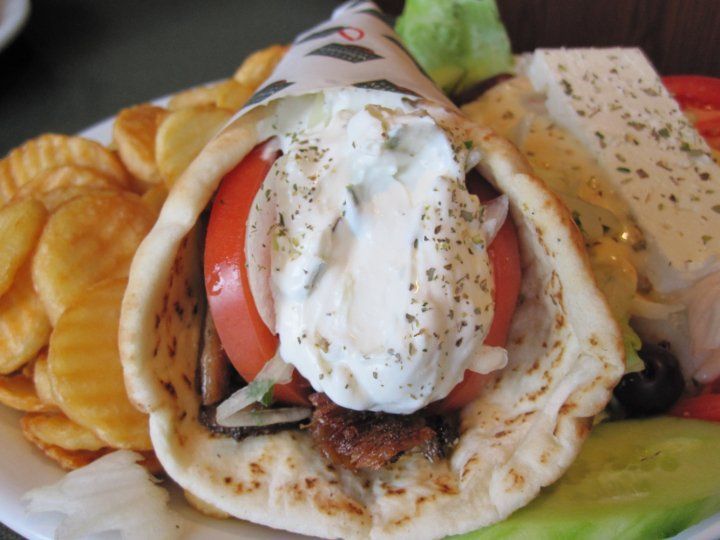 Photo: This is Why We're Fat
Souvlaki pita with tzatziki - You can find a similar dish at La Brochetterie Parthenon.
Kourtaki Retsina of Attica, $10.55 - Light, very refreshing and strongly acidic; perfect for tzatziki!
Boutari Naoussa, $15.60 - Light and slightly woody with spicy and fruity aromas. Nice acidity and soft, yet present tannins. Best served slightly chilled.
Portuguese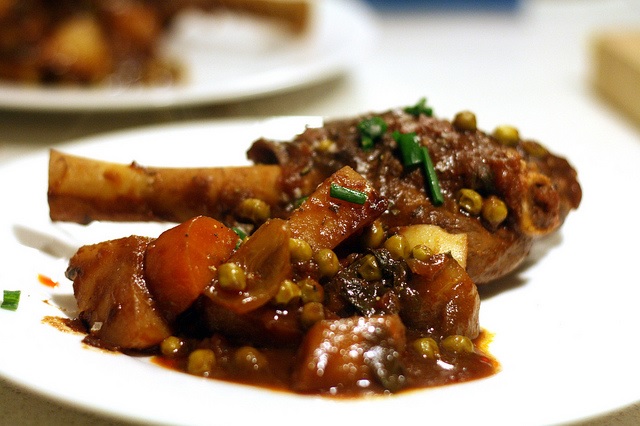 Photo: 1773
Braised lamb shank in a Port wine sauce - You can find a similar dish at Bitoque.
TIP: We do not suggest pairing such a dish with white wine; however, if you really must, choose a rosé or better yet, our suggestion featured below.
Carmen Chardonnay, $13.75 - Dry with pleasant acidity. Fruity, buttery and woody notes.
Barco Negro Douro, $15.95 - Bold with fairly present tannins. Refreshing acidity and fruity aromas.
GLOSSARY
Aroma: Commonly used to describe the smell of a relatively young, unevolved wine. Ex: spicy, floral, fruit etc.
Floral: Red and white wines can have floral aromas.
Dry: Red or white wines that lost all residual sugar during fermentation. Somewhat subjective to what tasters perceive as sweet.
Fresh: Freshness is a good quality; it comes with acidity.
Balance: One of the most desired traits in a wine. When then concentration of fruit, level of tannins and acidity are in complete harmony.
Light: Red and white wines that contain minimal alcohol. Such a wine will also feel light in your mouth.
Bold: Having richness and intensity of flavor or aroma.
Acidity: All wines naturally contain acids, but they should always be in harmony with the fruit and other components. Sufficient acidity gives liveliness and crispness, and can preserve a wine's freshness.
Spicy: A wine with aromas reminiscent of spices such as clove, mint, cinnamon, or pepper.
Soft: Delicate wines with gentle fruit. They can also be low in acidity.
Vegetal: Red or white wines with a subtle vegetable garden smell.
Woody: Red or white wines with excessive aromas of wood. Common to wines aged overlong in cask or barrel. Opposite of unwooded.
Minerality: Wine's buzzword. It would be best described as the meeting point between dry and wet. Mineral wines generally have a slightly salty character and flavors of slate or wet stone. This aroma or flavor comes from grapes grown in intense, rocky, mineral-laden soils.
Velvety: Smooth and rich in texture.
Crisp: A wine giving the impression of freshness, usually with high acidity.
Lively: A wine giving the impression of freshness and vitality.
Fruity: Descriptive of unevolved, light wines in which the fruit is dominant. Refers to the aroma and/or flavor of the grape, as well as other fruits flavors, such as apple, blackcurrant, cherry, pear, citrus fruits, peach raspberry or strawberry.
Buttery: Richness and smoothness of a wine, somewhat akin to the oiliness and flavor of butter.
Jammy: Wines with great intensity of fruit from excellent ripeness. Very concentrated, flavorful wine.
Rich: Full flavor, body and aroma.
Sweet: Both red and white wines can be considered sweet. Indicates the presence of residual sugar, retained when the grape is not completely converted into alcohol.
Tannins: In a nutshell, tannins are what leave your mouth feeling dry once you've tasted an unevolved red wine. They come from the skin, the seeds and the stalks of grapes. They can also stem from the maturing process in oak barrels. Why don't white wines normally contain tannins, you ask? Well, the juice is left to macerate with the skin and seeds of the grapes, the parts that contain the tannins. This is not the case for white wines. Good tannins bring structure and balance, and are essential to red wines. They are also particularly important in the conservation of wine.