So much cultural diversity seeps into Middle Eastern cuisine. Some commonly used spices include cinnamon, cumin, coriander and black pepper. Garlic, parsley and mint are also popular ingredients in many dishes and salads. You'll rarely encounter seafood; instead, you'll find several varieties of meat and vegetable dishes rich in the above-mentioned spices and fruits such as dates or figs. Over the past few years, Lebanese wines have gained much popularity. Now internationally acclaimed, they come in many different styles, each displaying profound and complex character. When it comes to pairing Middle Eastern dishes with just the right wine, you know you can't go wrong with a flavorful red from Lebanon. If you prefer white wine, your best bet would be to go with very a light refreshing grape variety, such as a Saumur, Muscadet, Soave or Trebbiano.
Tunisian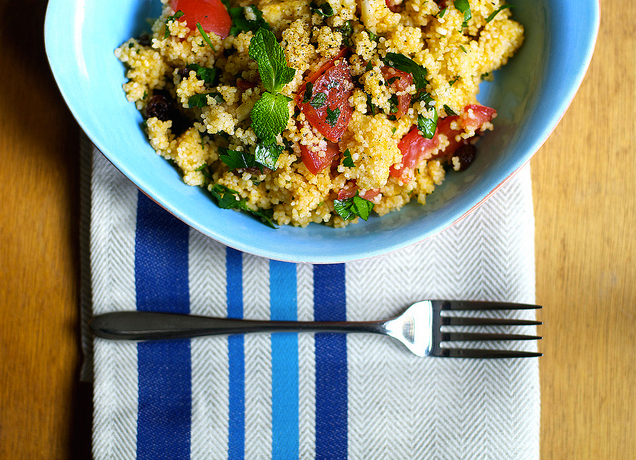 Photo: Marta
Couscous
- You can find a similar dish at
Les Deux Oliviers
.
Les Frères Couillaud Domaine De La Ragotière
Chardonnay, $14.75 - Delicate with refreshing acidity and floral/fruity aromas.
Massaya Classic, $16.80 - Dry and spicy with refreshing acidity and firm tannins. With 15.5% alcohol, this wine definitely comes with a kick, so it's best served slightly chilled.
Maroccan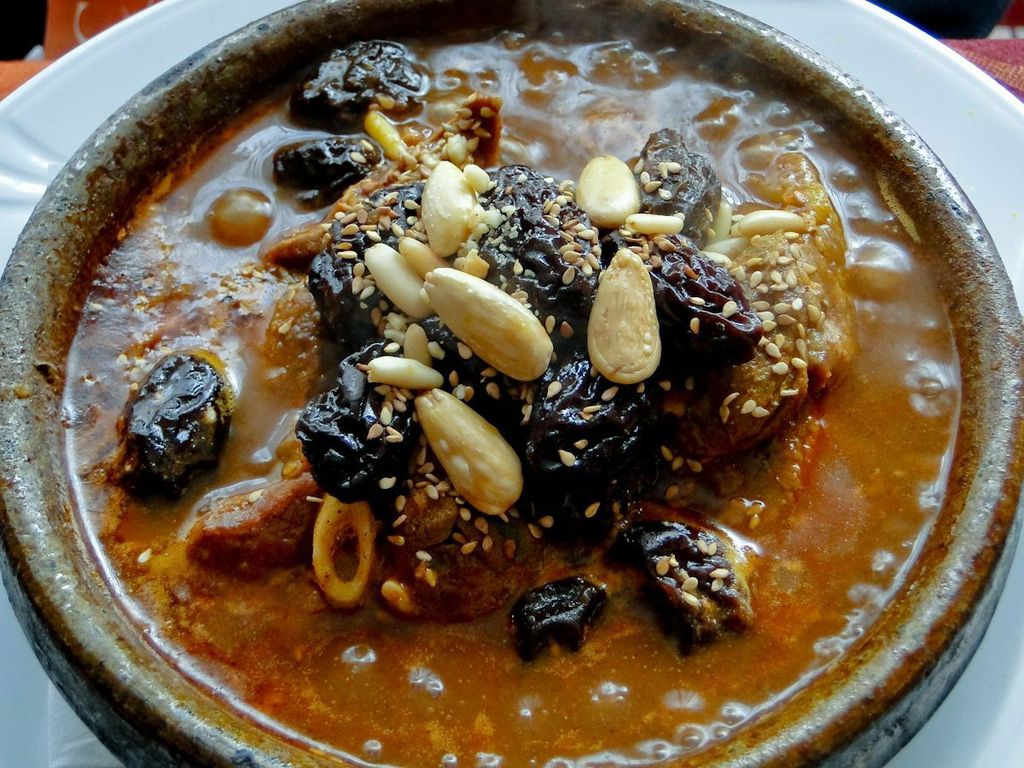 Photo: Ramon
Lamb tajine with dried fruit - You can find a similar dish at L'Olive Noire.

Gerald Et Philibert Talmard Mâcon Uchizy, $20.05 - Dry with refreshing acidity and floral/fruity notes.
Château St-Thomas Les Émirs, $17.95 - Dry with soft tannins and spicy/fruity aromas. A must with lamb!
Lebanese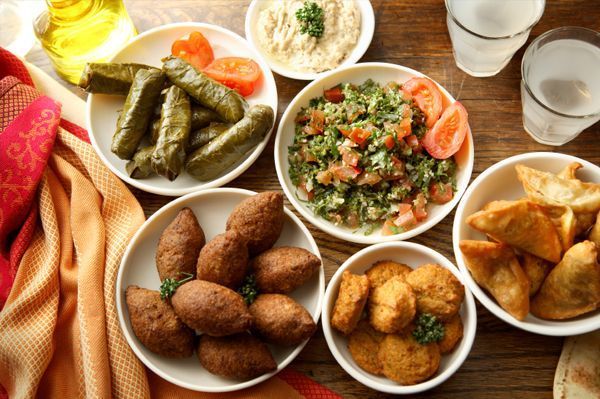 Photo : Via Canadian Living
Unfortunately, Montreal does not have a bring your own wine Lebanese restaurant; however, if you're planning on enjoying dishes including hummus, tabouleh, falafels etc., the wines below are perfect options.
Bouchard Père & Fils Bourgogne Aligoté, $17.65 - Dry with light floral, fruity and mineral scents. Delicious with hummus or tabouleh!
Clos St-Thomas Les Gourmets, $14.70 - A softer version of its cousin Château St-Thomas Les Émirs. Dry and fruity with refreshing acidity. Great with falafels!
GLOSSARY
Aroma: Commonly used to describe the smell of a relatively young, unevolved wine. Ex: spicy, floral, fruit etc.
Floral: Red and white wines can have floral aromas.
Dry: Red or white wines that lost all residual sugar during fermentation. Somewhat subjective to what tasters perceive as sweet.
Fresh: Freshness is a good quality; it comes with acidity.
Balance: One of the most desired traits in a wine. When then concentration of fruit, level of tannins and acidity are in complete harmony.
Light: Red and white wines that contain minimal alcohol. Such a wine will also feel light in your mouth.
Bold: Having richness and intensity of flavor or aroma.
Acidity: All wines naturally contain acids, but they should always be in harmony with the fruit and other components. Sufficient acidity gives liveliness and crispness, and can preserve a wine's freshness.
Spicy: A wine with aromas reminiscent of spices such as clove, mint, cinnamon, or pepper.
Soft: Delicate wines with gentle fruit. They can also be low in acidity.
Vegetal: Red or white wines with a subtle vegetable garden smell.
Woody: Red or white wines with excessive aromas of wood. Common to wines aged overlong in cask or barrel. Opposite of unwooded.
Minerality: Wine's buzzword. It would be best described as the meeting point between dry and wet. Mineral wines generally have a slightly salty character and flavors of slate or wet stone. This aroma or flavor comes from grapes grown in intense, rocky, mineral-laden soils.
Velvety: Smooth and rich in texture.
Crisp: A wine giving the impression of freshness, usually with high acidity.
Lively: A wine giving the impression of freshness and vitality.
Fruity: Descriptive of unevolved, light wines in which the fruit is dominant. Refers to the aroma and/or flavor of the grape, as well as other fruits flavors, such as apple, blackcurrant, cherry, pear, citrus fruits, peach raspberry or strawberry.
Buttery: Richness and smoothness of a wine, somewhat akin to the oiliness and flavor of butter.
Jammy: Wines with great intensity of fruit from excellent ripeness. Very concentrated, flavorful wine.
Rich: Full flavor, body and aroma.
Sweet: Both red and white wines can be considered sweet. Indicates the presence of residual sugar, retained when the grape is not completely converted into alcohol.
Tannins: In a nutshell, tannins are what leave your mouth feeling dry once you've tasted an unevolved red wine. They come from the skin, the seeds and the stalks of grapes. They can also stem from the maturing process in oak barrels. Why don't white wines normally contain tannins, you ask? Well, the juice is left to macerate with the skin and seeds of the grapes, the parts that contain the tannins. This is not the case for white wines. Good tannins bring structure and balance, and are essential to red wines. They are also particularly important in the conservation of wine.