Caribbean cuisine instantly takes you to sunnier climes--simmering stews, fresh seafood, chicken, and steak--all prepared with the colorful flavors of the islands. Generally very bold and spicy, these dishes involve a fusion of traditional ingredients and seasonings, often influenced by the types of cuisine in the many homelands of this region's population. Pairing wine with Carribean cuisine is no easy task; however, beer is generally a great match. A light refreshing beer will balance out the pronounced tastes of these dishes without overpowering them, and will be perfect for toning down the spicy heat without compromising any flavors. Typical dishes including ingredients, such as white fish, chicken and coco milk, will pair well with a medium-dry white wine from the Alsace region of France. Also popular are sweet additions such as the BBQ guava sauce. For any dish involving papaya, guava, or any other sweet fruit, opt for a fruitier wine like a Viognier. If you choose a red wine, it's best to keep it light. Pairing a bold red with any of these dishes can modify, or potentially destroy, the vibrant flavors brought on by the variety of spices and seasonings.
Jamaican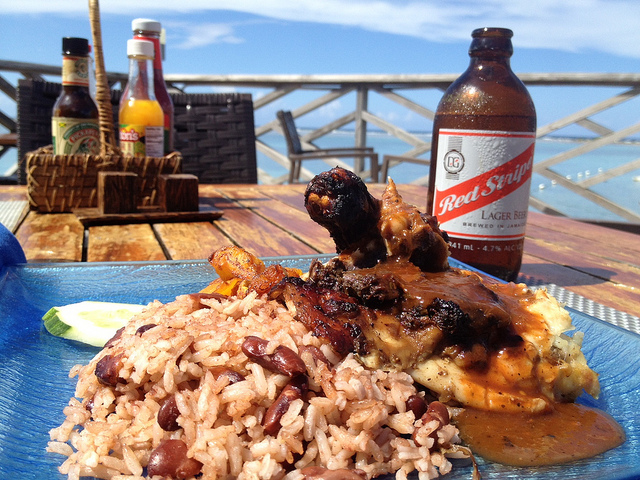 Photo: Clint McMahon
Jamaican jerk chicken - You can find a similar dish at Anancy.
Irurtia Gewurztraminer, $14.80 - Dry and refreshing with notes of pear, pineapple and honeydew.
Paolo Conterno Bricco Barbera d'Alba, $19.50 - Dry with soft tannins and spicy, floral and fruity aromas.
TIP: This dish is extremely spicy! We suggest pairing it with a light refreshing beer, such as Red Stripe.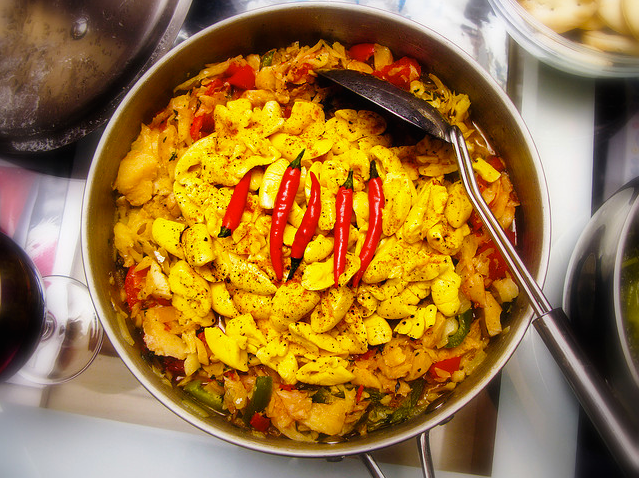 Photo: Paul Douglas
Ackee & cod - You can find a similar dish at Anancy.
Torres Vina Sol, $12.50 - Dry and refreshing with floral and fruity aromas.
Jean-Paul Brun L'Ancien Beaujolais, $20.40 - Dry, light and fruity with lively acidity. Best served slightly chilled.
GLOSSARY
Aroma: Commonly used to describe the smell of a relatively young, unevolved wine. Ex: spicy, floral, fruit etc.
Floral: Red and white wines can have floral aromas.
Dry: Red or white wines that lost all residual sugar during fermentation. Somewhat subjective to what tasters perceive as sweet.
Fresh: Freshness is a good quality; it comes with acidity.
Balance: One of the most desired traits in a wine. When then concentration of fruit, level of tannins and acidity are in complete harmony.
Light: Red and white wines that contain minimal alcohol. Such a wine will also feel light in your mouth.
Bold: Having richness and intensity of flavor or aroma.
Acidity: All wines naturally contain acids, but they should always be in harmony with the fruit and other components. Sufficient acidity gives liveliness and crispness, and can preserve a wine's freshness.
Spicy: A wine with aromas reminiscent of spices such as clove, mint, cinnamon, or pepper.
Soft: Delicate wines with gentle fruit. They can also be low in acidity.
Vegetal: Red or white wines with a subtle vegetable garden smell.
Woody: Red or white wines with excessive aromas of wood. Common to wines aged overlong in cask or barrel. Opposite of unwooded.
Minerality: Wine's buzzword. It would be best described as the meeting point between dry and wet. Mineral wines generally have a slightly salty character and flavors of slate or wet stone. This aroma or flavor comes from grapes grown in intense, rocky, mineral-laden soils.
Velvety: Smooth and rich in texture.
Crisp: A wine giving the impression of freshness, usually with high acidity.
Lively: A wine giving the impression of freshness and vitality.
Fruity: Descriptive of unevolved, light wines in which the fruit is dominant. Refers to the aroma and/or flavor of the grape, as well as other fruits flavors, such as apple, blackcurrant, cherry, pear, citrus fruits, peach raspberry or strawberry.
Buttery: Richness and smoothness of a wine, somewhat akin to the oiliness and flavor of butter.
Jammy: Wines with great intensity of fruit from excellent ripeness. Very concentrated, flavorful wine.
Rich: Full flavor, body and aroma.
Sweet: Both red and white wines can be considered sweet. Indicates the presence of residual sugar, retained when the grape is not completely converted into alcohol.
Tannins: In a nutshell, tannins are what leave your mouth feeling dry once you've tasted an unevolved red wine. They come from the skin, the seeds and the stalks of grapes. They can also stem from the maturing process in oak barrels. Why don't white wines normally contain tannins, you ask? Well, the juice is left to macerate with the skin and seeds of the grapes, the parts that contain the tannins. This is not the case for white wines. Good tannins bring structure and balance, and are essential to red wines. They are also particularly important in the conservation of wine.