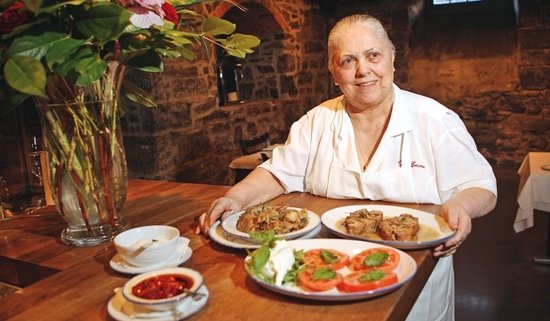 Emma showcasing some of her popular dishes.
(Photo: Montreal Gazette)
If there's one thing this city isn't lacking in, it's restaurants. In the last few years, Montreal's roster of trendy and diverse eateries has skyrocketed--traditional, fusion, tapas, comfort food--you name it, we've probably got it. Attracting some of the biggest players in today's culinary scene, Montreal never ceases to bring new and unexpected flavours to the table. However, the thing with trends is that they often die out just as quickly as they spread. Rare are the restaurants that stay open for decades, still delivering the same quality dishes and serving them by the hundreds. Amongst these rare gems is Montreal's famed Italian restaurant, Da Emma.
Named after chef and co-owner Emma Risa, Da Emma first opened back in 1993 and was originally located on the corner of Saint-Laurent Boulevard and Saint-Viateur Street. The owners were and still are Emma and her husband Lorenzo Aureli, both of whom started off their careers in the restaurant business back in their native soil: Rome, Italy.
When in Rome, you'll never have to worry about being able to find a place that serves great food. From family-run trattorias and pizzerias to fancy à la carte restaurants and trendy hotspots, leave it to the Romans to perfectly satisfy your hunger. Simple, yet rich in flavour, typical dishes include fresh vegetables, meats and tasty deep-dried appetizers, such as salted cod and filled zucchini blossoms. Since the age of the great Roman Empire, the artichoke has been considered the king of vegetables and is served throughout the year, often with meat or fish. Pasta, a staple dish for every Italian, comes garnished with generous amounts of delicious pecorino cheese. As for desserts, you can't go wrong with a bite--or five--of traditional ancient Roman ricotta cake. Modern Roman cuisine is still deeply intertwined with its roots, reflecting old traditions through almost every dish.
During a quiet moment between a Thursday lunch and dinner service, Emma welcomed us with open arms into her second home. She insisted that we head back to the kitchen, where she immediately spoiled us with delicious meatballs, eggplant parmesan and a little wine. With the Feyenoord-Roma soccer game playing in the background, we sat with Emma, Lorenzo and their daughter, Olga, and discussed life, food and their many encounters with some of today's most famous celebrities.
Emma and I discussing over a glass of red wine, cheers!
(Photo: Jessica Crisafi, Edited by: LIKĀ Photography)
Lorenzo's family once owned one of Rome's most renowned and historic Italian restaurants, as it dated back to 1898. This was where Emma learned how to cook the authentic Roman dishes that she now happily shares with anyone who is lucky enough to taste them. Although life was very nice there, love is what brought them to Montreal. Both Emma's sister and daughter fell in love with Italo-Canadians and moved to Montreal to be with them. In 1992, Lorenzo and Emma also took the leap so that they could be with their family. One year later, they opened Da Emma on Saint-Viateur Street.
Emma and her daughter, Olga.
(Photo: Jessica Crisafi, Edited by: LIKĀ Photography)
In 1998, Da Emma moved to Old-Montréal, in a beautiful nineteenth century brick building that was once Montreal's first women's prison. As soon as you go down the stairs, walking past the wall of photographs depicting Emma alongside a number of celebrity diners, and into the 130-seat basement restaurant, you know you're about to dine in a chic and discreet piece of Montreal history. From tables dressed in simple white linen, to low-beamed ceilings, stone walls and wooden accents, the cozy and intimate design is orchestrated perfectly, down to the very last detail. In the summer, you could enjoy your meal or sip on a glass of Italian vino on their intimate 70-seat outdoor terrace. It's one of the only places in the city where you could find yourself sitting next to Bradley Cooper on one side, and a large Italian family celebrating a communion on the other.
Da Emma's main dining room.
(Photo: Jessica Crisafi, Edited by: LIKĀ Photography)
"It all started with George Clooney," said Olga. "He was the first to ask if he could meet and personally thank my mother. Then they all suddenly began asking if they could come in the kitchen to meet and thank her, foreign and local celebrities alike. My mother only speaks Italian, so I often translate for her."
Celebrities add to the restaurant's trendiness, creating a clientele any restaurant owner would die for. Along Da Emma's continuously growing wall of fame, you'll see hundreds of famous faces, such as Leonardo Di Caprio, Johnny Depp, Penélope Cruz, Angelina Jolie and Montreal's very own Jean Pascal.
"Johnny Depp calls my mother Mamma Emma. He would ask her to babysit his daughter back in the day. She wanted to learn how to make meatballs, so one day, my mother showed her and they made a huge platter for the Depp family. They were so happy," continued Olga.
Emma pointing to her and George Clooney on Da Emma's wall of fame.
(Photo: Jessica Crisafi, Edited by: LIKĀ Photography)
Da Emma's renowned meatballs are only a glimpse of what you'll find on their mouth-watering menu. From gnocchi to pork to rabbit to a variety of Roman specialties, such as trippa and saltimbocca, the restaurant serves nothing but authentic Italian cuisine. Emma prides herself in serving "cibo come in Italia" (food just like in Italy). Her many fridges are filled with top quality ingredients, all imported directly from Italy.
"I'm here as of 8:30 a.m. every morning," said Emma. I prepare everything fresh daily. The meatballs are very popular, so I sometimes have to prepare those even twice per day if we're really busy. They're made with 100% veal, just like in Rome. I also prepare my tomato sauce every day, as well as other dishes like the eggplant parmesan or the pork, which I let marinate for hours in white Italian wine."
Olga stresses the importance of sticking to the authenticity of a recipe. She explains that many of today's restaurants ruin simple Italian dishes, such as pasta alla carbonara, by adding ingredients that just don't belong in the dish. "There's only one way to prepare an authentic plate pasta alla carbonara, and that's how we do it here."
Emma stirring a fresh batch of her famous meatballs.
(Photo: Jessica Crisafi, Edited by: LIKĀ Photography)
Captivated by the family's rich history, interesting anecdotes, and the inviting aromas coming out of the kitchen, we completely lost track of time. It was already 4 p.m. and the rest of the famiglia was beginning to prepare for the dinner service. They all happily greeted each other and it was clear that they all shared great chemistry both in and out of the kitchen.
"Family is important. We all help out in the restaurant. Lorenzo and Olga are often here, my nephew handles the business in the front and I'm actually teaching my son Luigi how to cook," said Emma while hugging one of her kitchen helpers.
Over the past 22 years, Da Emma's popularity has remained just as consistent as its delicious authentic Italian food. Combined with the cozy and intimate decor, the welcoming staff transports you back to Rome, treating you just like family. You'll feel like your own nonna is cooking in the kitchen.
Buon appetito!
Da Emma

777 Rue de la Commune O.
Montréal, QC H3C 1Y1
514-392-1568