By: Sara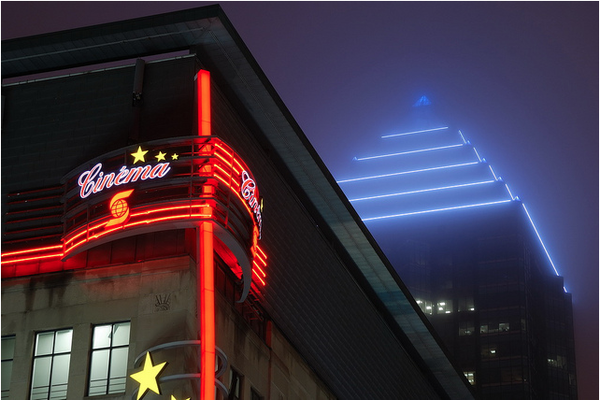 For some, going to the cinema is an indulgence, a special event that we treat ourselves with only once in awhile. For others, it can be a weekly event, and of course, there are many other types of cinema-goers in between. I personally belong to that group of avid film watchers, who are there for the opening night of an anticipated film or willing to see a box-office flop, simply for the experience of watching a movie on the big screen. As a personal experiment when I bought my new wallet, I decided to keep every ticket stub for every film I'd seen. Since I saw Daybreakers on the 19th of January 2010, I've seen eighty seven films in cinemas. So, I find myself in an apt position to compare a smaller scale cinema in my area versus the big one, the cinematic experience at the Scotia Bank Cinema on St Catherine St.
The last time I was at Scotia Bank Cinema was actually last night, to see the Avengers film for a second time. The great thing about seeing a movie of this scale at Scotia is that you can experience it on a variety of different screens, in addition to being able to see it in 2D or 3D. Where the first time I saw the film, I went to the regular old 2D showing on opening night. Of course, a blockbuster film like this would be enjoyable regardless, but the following time I saw the film, I splurged on the Ultra AVX screen. This screen allows for a higher picture and sound quality, as well as the ability to choose your own seat, all for an extra $5 on top of the $12.99 ticket price. In all honesty, while the screen is excellent, my ears certainly didn't detect the sound difference, nor did the ability to select my seat affect my enjoyment of the film. If you arrive to any film early enough, you can select your seat anyway. If this is a determining factor for a moviegoer to spend the extra $5, I think it's a bit of a rip off.
If you purchase your ticket at the ticket booth, rather than online or on the Cineplex app, some movie showings allow for what they call the 'D Box experience,' at cost of a whopping $21.99 for a ticket! The cinema allows for a trial of the experience, where you can watch the extended trail for a film in a seat that vibrates along with the action. It's all very Ripley's Theatre in Niagara Falls, but I haven't experienced a full film to know whether it is worth the extra $9. At the moment, I'd rather spend that $9 on some goodies at the Tim Hortons located inside the cinema, but I'll probably experience the D Box at least once, probably when The Bourne Legacy is released.
The cinema in my neighbourhood, MegaPlex Lacordaire, offers a more affordable option, depending on your price point. On Tuesdays, movies are $5, on Wednesdays and for matinees, movies are $8, and at any other time, movies are $9 each. The downside to a film here, is the lower quality picture. This cinema has been around for as long as I can remember, but has undergone some renovations over the years. The decorations on the walls in the cinema are of characters from Aladdin and the Lion King, which can tell you when they fixed up the place (and when I was still in a school uniform). A second renovation to add on extra screenss, bringing the total to sixteen, was completed in 2003 (Rivest, Cinema Treasures). They do offer the capability to show a 3D movie, but certainly not on the level of an IMAX or even an AVX, as you can experience at Scotia. The greatest addition to the 'pro' column for this cinema really is the price point, however, the money you saved on ticket prices doesn't go very far by way of snacks. Where at Scotia you can have freshly cooked fries, the ones at Lacordaire are, in my experience, stale and soggy, clearly having been put out there under the heat lamp ages ago.
Your experience at either cinema greatly depends on what you look for in your movie-going experience. If you value quality, both on the subject of the film and food, your better bet for your money is probably going to Scotia. Recently renovated seats, more selection and a higher quality picture do end up being worth the money, depending on the film that you'd be seeing. As a result, I'd suggest a smaller cinema like Lacordaire for a low-budget night, a night where you don't care so much about the film itself, but just want a night out. Say, if you're planning on seeing the latest Adam Sandler film, it's probably better for your wallet and state of mind to only spend $5 on it, but if you're wanting to see the latest Hollywood blockbuster, the extra $3, $7 or $9 is definitely worth it.
Scotia Bank Cinema
http://www.cineplex.com/Theatres/TheatreDetails/Cinema-Banque-Scotia-Montreal.aspx
977 rue Sainte-Catherine Ouest
Montréal
QC, H3B 4W3
(514) 842-0549
MegaPlex Lacordaire
http://www.cineplex.com/Theatres/OtherTheatres/Mega-Plex-Lacordaire.aspx
5940 Des Grandes Prairies
Montréal
QC, H1P 1A2
(514) 324-3000
Additional References
Image source:
Flickr
Cinema Treasures. Mike Rivest. 21 May 2012. http://cinematreasures.org/theaters/10157