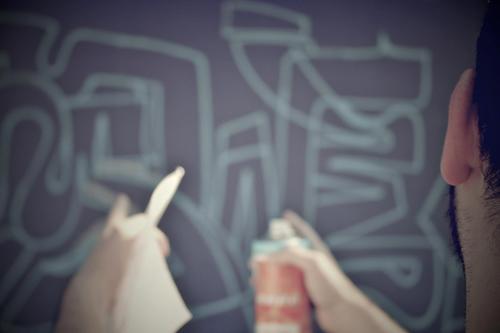 Recognizable graffiti artists such as: Banksy, Obey, and Mark Echo, have helped to mainstream graffiti and garner more respect and influence for graffiti artists and art than ever before. Graffiti started as an underground art form, though recently graffiti has become esteemed by movie stars and art critics. Graffiti artists have been out in the dark of night painting walls and rooftops, evading capture, long before the popularity of the art form. Graffiti is illegal and the artists risk their freedom doing what they love to do.
Therefore, due to the legal issues and subject matter, I'll be making a loose description of Swel, the Montreal artist who started TA Crew. Looking at him in his work clothes you wouldn't know that he is a graffiti writer, he looks like an everyday professional. Swel, the founder of TA Crew, has receding dark hair, honest green eyes, an attractive smile and an enigmatic personality. He talks animatedly about the things he loves: family, graffiti, computers and video games.
Swel says his love for computers started at a young age when his father bought a computer for him and he learned how to use Basic to program, but that his love for graffiti was instantaneous. There was something alluring and exciting about pictures and names on the walls.
Swel grew up in Lasalle, a suburb of Montreal, the oldest of three brothers. His mother and father were pastors of a local church. His parent's approach to life inside and out of the church rooted him with a set of principles that is responsible for his ability to participate in counter culture without being dragged into its seedier side. Swel's love for counter culture started with skateboarding at thirteen years old.
He has had confrontations with the police due to skateboarding and he remarks on the strangeness that an activity like skateboarding can lead to alienation from the neighborhood. "You'd think they'd rather we were out doing drugs." Swel says laughing.
It was in his parents garage at the age of 17 that he started a skateboarding crew that would later become a hip hop crew which involves the elements of hip hop; graffiti artists, DJs, breakdancers, and rappers. Team Autobot, commonly referredto as TA,  was named after the Transformers, which were Swel's favorite cartoon and toy from the 1980's. It was around this time he also started trying graffiti.
While there wasn't a presence of recognizable graffiti names in Lasalle at this time, there was plenty of inspiration downtown. Swel recalls seeing art by writers like SIKE from France and how clean the pieces were. "With the caps and the cans they had back in the day it's surprising that the pieces turned out the way they did. The skills these guys had to make pieces so fresh, must have been amazing," he shakes his head at the thought.
Swel wrote in Lasalle with his friends from the neighborhood, one of which had so many pieces and tags running in Lasalle, the local newspaper thought it was a gang doing all the graffiti, not one person all by himself.
When talking about his own graffiti, Swel professes that he thinks his art isn't that good. "I improved, but I did, and still do, graffiti because I love it. Not because I'm good at it." His longest running piece was on the back of a building in Lasalle, in plain black and white. He explains that he never expected to be great at graffiti, but he loved going out late at night to paint, and the thrill of knowing that you could be discovered at any time.
Swel had a brush with the law when he was in CGEP, he was caught stickering a bus. "It was really stupid," he says rubbing his eyes, "I got on the bus and put a sticker on the window and then continued to ride the bus. The bus driver saw me and called the cops, so at the next stop they [the cops] got on the bus and arrested me." He briefly discusses how this incident disappointed his parents and slowed down his painting, but it didn't stop TA from growing.
At its height TA Crew had close to 100 members, which stretched from Toronto to Switzerland. Team Autobot included graffiti artists, DJ's, B-Boys, and rappers, some were local legends such as: Tactical Crew the B-Boy team, and Shades of Culture (two rappers and a DJ). Swel explained that community and friendship were his reasons for making TA Crew. "I wanted TA to be a positive influence in the culture and in the neighbourhood. I wanted to show everybody that you didn't have to be bad to be down. But that doesn't mean that we didn't know [or hang out with] bad-boys."
As the crew grew, Swel found there were people claiming to be from TA Crew who were not official members, but rather friends of members. This lead to the leading members of the crew deciding to limit membership. The leading members of T. Crew remain close friends with Swel, they include: FLOW, graffiti writer; Iron Monkey, B-Boy; Dawg, close friend; and Revolution, rapper. These leading members remain close friends today and still make decisions together.
Although Swel has a family and a full time job, he still gets out and paints with his friends every now and then. Swel's art may be unappreciated by himself, but he has accumulated respect in the graffiti and hip hop community not only from those in his crew and in his old neighborhood, but also from other crews in and around Montreal.
Those that know him, or know of him will say Swel's reliability, thoughtfulness, and respectability are what draw people to him. Although you'll never see his art in a gallery, you might be lucky enough to see his work before it gets painted over at the community center in Point St. Charles. It is here that he creates what few people really and truly appreciate or understand.
Photos courtesy of Patrick Bèland