Overlooked Art
photo by Christine Jackowski
Overlooked Art
by Christine Fournier

The largest art museum in Montreal goes unnoticed by most. In total it is 70 kilometers long and covers a large part of the city with many exhibits by noted Quebec artists and architects. Each of its 68 "rooms" has its unique style and flavour.

The Montreal Metro system, which is operated by the Société de transport de Montréal, opened on October 14, 2021 and while it is not a museum in the conventional sense of the word, the works of art it houses number in the hundreds. There are sculptures, murals, mosaics, stained glass and architectural elements- while some stations are the work art. Though most art is from newer periods, think modern or pop art, certain pieces have classical inspirations.

Around 90 artists currently have pieces for the public to see. In some cases, artists like Frédéric Back, Marcelle Ferron Antoine D. Lamarche, André Léonard, Jean-Paul Mousseau, Pierre Osterrath, and Marcel Raby have works in multiple metro stations, though the names may not be familiar to many transit users, their pieces definitely are.

While some stations are utterly boring due to their lack of art and rather practical but drab setting, such as Atwater, Guy-Concordia and Longueuil--Université-de-Sherbrooke. The Jolicoeur station seems to be from another era, having never left its vintage feel behind while LaSalle, one of the best stations for architecture lovers, is a concrete abstract sculpture that has a metro running through it. De la Concorde and Place-Saint-Henri follow this trend but are modern marvels with splashes of colour, columns and pattern. Another noteworthy station is De la Savanne, with its angular features and funky light fixtures that look like an extreme version of sugar crystals.

For those interested in murals and mosaics, Assomption, Crémazie, De Castelnau, D'Iberville, Snowdon, Université-de-Montréal and Viau stations are worth a visit. Villa-Maria has what appears to be a Pac Man-inspired piece by André Léonard entitled Circles. The mural at Papineau is a wonderful piece by Jean Cartier and George Juhasz entitled Les Patriotes de 1837-1838. While the works at the Pie-IX station are Olympic-themed. For those who love modern, pop or abstract art, beautiful tile mosaics can be found at Cadillac, Henri-Bourassa and Jean-Talon. The most known are probably those at Peel, whose circles of colourful tiles are courtesy of Jean-Paul Mousseau.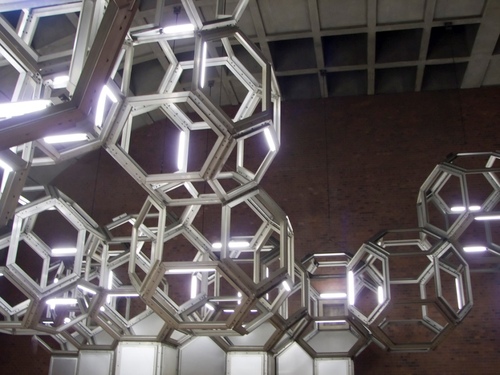 photo by Ryan Lee

Sculptures are also quite prevalent. Berri-UQAM, Cartier, Côte-des-Neiges, Georges-Vanier as well as Monk have some nice ones, while Namur features a suspended, molecular-like piece that appears to belong in a science classroom rather than metro station. The tree with faces found at Lionel-Groulx can seem a little creepy the piece is called L'Arbre de vie (The Tree of Life) by Joseph Rifesser and was donated by the United Nations. Germain Bergeron's Pic et Pelle at the Monk station looks like two twig insects hard at work.

The stained glass works are probably amongst the most beautiful pieces. Champ-de-Mars, Charlevoix and Du Collège have nice pieces, but nothing as spectacular as those found in three other stations, which pay tributes to the history of Montreal. Berri-UQAM has gorgeous modern pieces dedicated to the city's founders and was created by Pierre Gaboriau and Pierre Osterrath, while Place-des-Arts' mural by Frédéric Back showcases Montreal's music scene. The best may be the five piece series, a tribute to life in Montreal in the 19th century by Nicolas Sollogoub at the McGill station.

While all the above mentioned art can be found below city streets that is not to say that none can be found above ground. Square-Victoria has a beautiful Art Nouveau metro entrance designed by Hector Guimard, and was donated to us by the city of Paris. The Parc station is an old train terminal whose beauty can only be appreciate from outside. Jean-Drapeau and Cartier have outdoor sculptures that deserve a look as well.

The cost to ride the metro is $2.75 for a single fare, though many of pieces mentioned are located past the turnstiles, so plan to pay for multiple fares. Six tickets cost $13.25 but one- or three-day tourists passes cost $7 and $14 respectively. All of these can be loaded onto an OPUS card if desired. The tourist pass is available at all times from Peel, Bonaventure and Berri-UQAM from May to November it is available at many other stations. Consult www.stm.info for more information.

For more information on art and the history of the Montreal's metro system, visit Matt McLauchlin's site at www.metrodemontreal.com or the STM's site at www.stm.info.