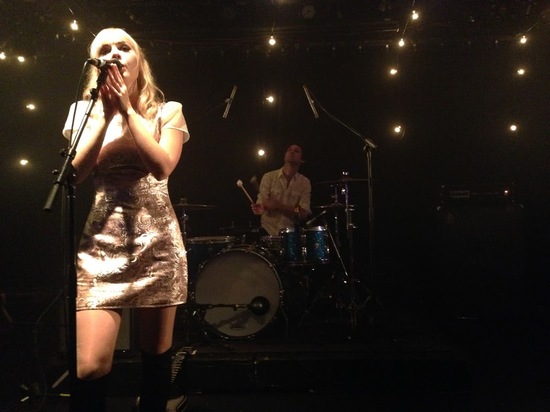 The spot lights flashed off her golden mini dress as Kandle Osborne slinked onto stage as her band, the Krooks, performed the James Bond theme song. In the intimate bar-like atmosphere of Montreal's Cabaret Mile-End, Kandle and The Krooks were playing for the first time since the release of her album In Flames. She stood sly and shining, looking like a sleek cat surrounded by four adorably scruffy dogs. The crowd, a mixture of young and old, all pressed close to the stage and moved to the music as she sang in a sultry, bluesy voice.
This young blond banged beauty is emerging into the music scene like a burning flame. Born in Vancouver, Canada, she is the daughter of Neil Osborne, the front man for the old band 54-40. Kandle's cousin, Sarah Osborne, who opened her show, is also extremely talented. She sang in her deep hypnotic bluesy voice to warm up the audience. Kandle's musical family submerged her into a world of music, specifically, rock and roll. What is amazing about Kandle is that she never seriously practiced guitar until she was in her late teens. In addition to that, she had never sung in front of a crowd until after her self-titled EP came out.
At about age 14, Kandle found she had the knack for song writing and even though she never sang, she would have her sister, Coral Osborne, or her friend, Louis Burns, to sing the lyrics for her. Eventually, Kandle, her sister, and Louis Burns formed their first band, The Blue Violets, which provided Kandle with the stage experience and confidence she needed to go out on her own. Her father is now her producer. She explains in a CBC interview that he is the best one to have around because he allows her to make her own mistakes and guides her without really telling her what to do. She states that he understand hers and "speak[s] Kandle."
Kandle now calls Montreal home. She moved from Vancover in 2012 to Montreal to work on her album and be closer to Montreal's music and arts scene. Kandle now lives a divided life between Vancouver and Montreal.
"Montreal is the perfect city to be creative and make magic, and I certainly feel at home there. But my family, friends and dog are still in B.C., so I really don't know the answer!"
Kandle's lyrics and sound come from a spirit much wiser and older than the 24-year-old artist; perhaps, it's her early exposure to music and "bad girl" teenage years.
"As the years went on I just got more jaded, bitter and sassy and dark, and the music reflects that"
A combination of styles and sounds, her music combines blues, rock, and folk music. Along with her angelic and raspy voice, she is able to create an eerie sound that hits you to the bone and makes you want to sing along at the top of your lungs. Kandle and the Krooks really know their sound. Every song is connected by a string which weaves all the songs in harmony. While each song varies, each song is still in synchronization with the rest.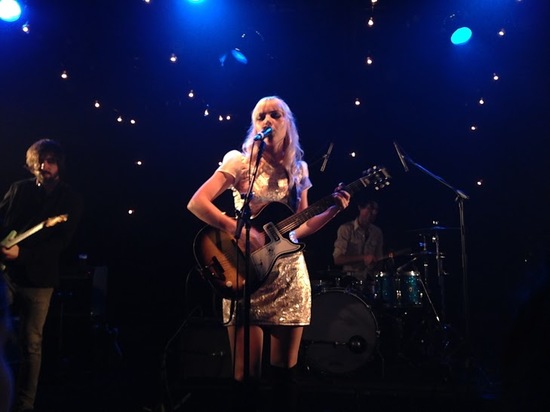 At their recent concert in Montreal on October 16th, 2014, Kandle and the Krooks performed songs from her EP, her album In Flames, and a couple of new unreleased songs. The roundabout sound of one of her new unreleased songs, about sleeping with your boss, is both fun and sassy and foreshadows the wonderful and creative music to follow.
Inspired by her environment, Kandle created "Demon" after she watched Tarantino's western film, Django Unchained. When creating the song "Small" for her EP album Kandle incorporated the sound of chains. At the show I was amazed and awed when the drummer took out a string of chains and used it as an instrument. This use of unlikely instruments makes her music real and gives it meaning.
When I first heard her song "It's Not Up to Me," I fell in love, this music spoke to me. I don't listen to music with lyrics that mean nothing, I don't listen to music that has no punch, no specialty. I want music that is real. Kandle is real.
The lyrics in "It's Not Up to Me," speak of women's self-image problems and its consequences. It is based on Kandle's experiences with a friend. As she spoke to me in our interview she said that often when she is singing this song on stage, she can't help but tear up. At the end of the official music video Kandle provides a message to the women in her audience: "To help a girl believe in herself and realize she matters, visit canadianwomen.org."
Kandle's nervousness and shyness just makes her more relatable. Prior to the making of her EP album She did not have the confidence to sing solo and still suffers from nervousness before each set. This to me, just makes her more real. If she's real, her music is more genuine, and it feels more. The reality of it is twined into the lyrics and the melody. She is shy and nervous, and that's awesome because it gives hope for her listeners that they can be strong too. "I'm nervous about everything always," she states. At her show she expressed her nervousness to the audience before singing her song "All That I Need," her bands mates needed to reassure her and encourage her to sing the song from her EP album. She giggled and hesitated then said "Fine!" and belted out the song. Her nervousness transformed into complete confidence when she began to sing. Her shyness melted away and she became a sultry, bluesy, rock goddess.
Although she is young, she is on track to a successful career. Having already won the praise of key figures in the Canadian music scene and played at some key events like Montreal's own Osheaga festival and Pop Montreal. She confessed that during a previous gig in Kamloops there were only thirteen people in the audience. Glad to be back in Montreal in front of a familiar audience, she expressed her happiness to be playing in front of a real crowd of people that know her and hear her on the radio where she can be frequently heard on CHOM FM.
Although spread across Canada, Kandle still has her band which feels like family. Even though touring is a daily struggle for her and the band, she loves what she's doing. The turnout of her Montreal show, shows that her popularity is growing in Montreal and across Canada. The flame has been lit and Kandle is on fire.
(Photo credit: Olivia Robinson)