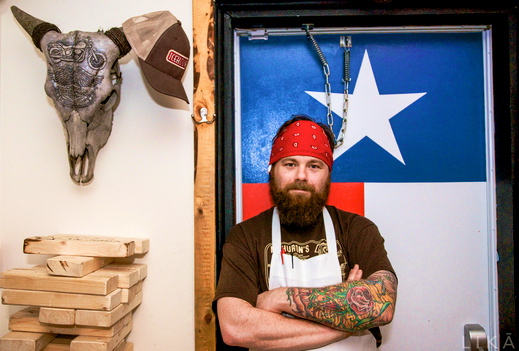 Texas: land of chicken-fried steak, dry rub BBQ, Frito pie and Tex-Mex cuisine.
From the moment you walk into Icehouse, you know you're in for an authentic finger-licking good Texan experience. Large wooden picnic tables, wall-mounted brown paper towel dispensers and a ceramic sink filled with shellfish are only a small fraction of this joint's fittingly grungy decor. If you look past the huge chalkboard menu and into the open kitchen, you might find Nick Hodge serving up all of the dishes himself. However, don't expect to eat off of plates, and forget using a fork and knife, Hodge prides himself on keeping things fun, messy and downright delicious.
I recently went to Icehouse and had the great pleasure of meeting and interviewing Hodge about his passion for cooking and future career plans--he was clearly in his element.
Having grown up in a large farming family in Texas, much of Hodge's life revolved around food. If they weren't planting or harvesting, they were canning, preserving, processing and eating. Besides that, his mother was a chef and had a busy catering company, and other family members were butchers, grocers and BBQ shackers. Hodge's passion for cooking was officially sparked at the young age of 9, as he was stirring his mother's famous gumbo. He admits having learnt a lot from her: delicious recipes, cooking techniques, the art of simplicity, and above all, the importance of hard work.
Hodge studied literature and philosophy, but his passion for food quickly took over. He soon opened a small coffee shop, serving sandwiches to fellow students. He then decided to travel, working in restaurants and bars all around Spain, Ireland, Alaska and the United States. During those years, he refined his cooking talents, sharing in turn what his mother had taught him.
In 1996, Hodge packed up all of his expertise and settled in Montreal. He helped found what is one of today's most prominent coffee shop chains, JAVA U, and started up his own catering company. Although he no longer runs any of the latter, his culinary career was propelled on a swift upward trajectory when he and his current wife, Nathalie Doucet, opened up the upscale Texas-style eatery Kitchenette, and later on, the more casual Icehouse. After almost 6 years of great success and several positive reviews, they sold Kitchenette to focus on Icehouse, which continues to be a Montreal hotspot. A proper Montreal Tex-Mex joint, their newest creation has been drawing lineups and serving it down-and-dirty since it first opened back in 2011.
When it comes to cooking, this born and bred Texan loves to stay close to his roots; in fact, Hodge opted to name his new eatery after some childhood memories. A South Texas tradition since the 1920s, icehouses were used to store and sell large blocks of ice to the public before refrigeration existed. With time, these barn-type houses expanded into small local eateries, selling anything from iced beer, to home-style food, to maybe even some groceries. They quickly became a vital part of every day local culture, a cool spot where people went to sit, talk, have some chicken wings or dance. Hodge describes his Icehouse as exactly that, a stylized restaurant that is very rowdy, casual and friendly; a place where people can eat some comforting and delicious food over a pitcher--or two--of bourbon lemonade.
Hodge's great success in Montreal is mainly due to the ever-growing popularity of his versatile menus. A sort of cross between Quebec and Texas gastronomy, he describes his cooking style as New Southern Ex-pat Cuisine--think authentic Texan dishes made with the best local ingredients. Hodge takes pride in purchasing ingredients that come with a story or background, portraying the producers, farmers and fishermen behind the produce. He believes in keeping things simple and buying from people he knows and loves. According to him, the fewer ingredients the better, as long as they're prepared and cooked to perfection. The food that comes out of his kitchens equally represents both of his homes.
Having been on a number of Quebec television shows, such as À Couteaux Tirés and Les Touilleurs, Hodge's great beard got plenty of camera time. You may have also heard of him through The Gazette's Chef Smackdown! series back in 2011, where Hodge and fellow celebrity chef Chuck Hughes squared off over the best chili.
You can also catch him hosting cooking classes at Mezza Luna Cooking School on Dante every once in a while. If you're looking for a great way to spice up your holiday recipes, check out his Southwestern Christmas Dinner class scheduled for November 24th of this year.
Hodge's laid-back vibe blends in perfectly with anything he cooks up. Known for Texan dishes ranging from crunchy chicken-skin tacos to fried oyster po'boys, to barbecued octopus and chili con carne, Hodge easily adapts his Texan ways to Montreal-style cuisine, making him one of the most unique chefs in the city. Look out for new Icehouse locations; they're in the making...
Icehouse is open Sunday - Thursday, 5 p.m. - 11 p.m., and Friday - Saturday, 5 p.m. - 1 a.m. You can also scope out some of their dishes and stay up to date with events and promotions via Twitter @icehousemtl.
51 Rue Roy Est, Montréal, Québec H2W 2S3
514-439-6691
Photos by: LIKĀ Photography