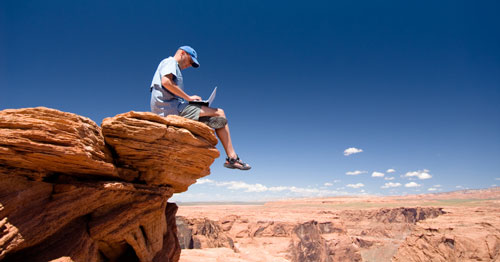 Distance learning has become increasingly popular in recent years and has become a common route for individuals who wish to pursue higher education without the constraints of the traditional classroom. It's an optional choice for adults who have restricted schedules and are in need of flexible school hours. A number of universities and colleges offer such course options, including CEGEPS in Quebec. Why choose a local CEGEP? If you are a young adult learner who wants to gain work experience while preparing for the university, registering for distance courses will allow you to complete your degree with greater flexibility. La Salle College, for example, is currently expanding its online course offerings.
We will take you through the top 5 benefits distance learning has to offer:
1)   Flexibility and Time
Flexibility is one of the top reasons why people opt for distance learning over traditional in-class education. It caters to the accessibility of each individual student, thus allowing a possibility to fit education into their busy lifestyles. It is great for those who have other commitments and would prefer an education that allows them to do class work and study during their personal convenient hours. You can work on your classes at your own speed, whether it be after you get home from work, during your lunch breaks or on weekends. Distance learning programs are structured in a way that allows you to accomplish education and life simultaneously. 
2)   Easy Accessibility
Another popular feature distance learning has to offer is that you can access your program and or class from any location in the world, as long as a computer and Internet access is present. Whether you are pursuing a program or class from another country, or simply on vacation, your learning travels with you. This feature is seen as extremely beneficial, considering the fact that you can accomplish your class work from just about anywhere. Whether you prefer studying at a local café or from home, distance learning provides you with a unique opportunity to accomplish your work from any location that best suits your needs. 
3)   Cost Effective
Distance learning provides a cost-effective way to higher your education. Typically speaking, pursuing an online education will cost less than an on-campus education, considering the cost of travel expenses are not required, which can be quite expensive when the student does not live in close proximity to the schools campus.  Also, there is no need to spend money on campus living expenses, considering all your education can be accomplished from the comforts of your own home.
4)   Networking Opportunities
Through distance learning, online classes provide you with a unique way to network with individuals from around the world. Social media's popularity has taken off, in recent years, and this is no different. Bulletin boards, virtual classrooms, discussion boards and mailing lists are used to interact with classmates about the course, and to spark engaging conversations that would not be typically found in a traditional classroom setting. This type of opportunity is one of a kind. Being connected with students from other countries provides you with a unique opportunity to expand your network and knowledge, while maintaining beneficial relationships with people who might one day work in a similar field or who already work in a chosen field. 
5)   Personal Assistance
Distance learning provides great benefits, one of which being that staff members are committed to providing you with personal assistance whenever you need it. Unlike a traditional class environment, when you have a question, you don't have to wait until your next class to ask it, you can either email or call to inquire about your concerns. Students can also use class discussion forums to interact with fellow classmates, thus making the learning process more collaborative. Students are encouraged to consult with industry-experienced tutors, who will provide answers to questions or provide unique viewpoints that students can learn from. Whatever the case, the personal service that is provided through distance learning is unique to the individual. Unlike a classroom environment, this assistance is one on one, thus making distance learning an appealing choice.