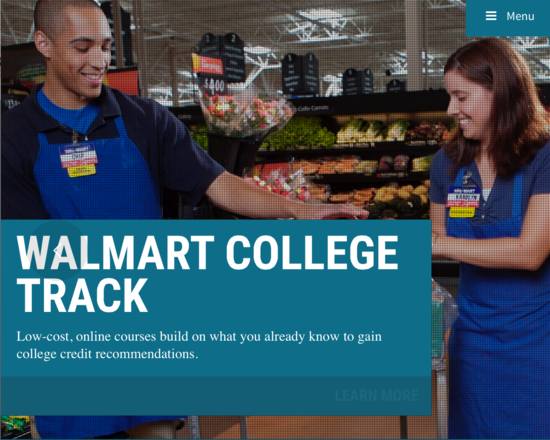 Sometime in your life, you most likely will receive an offer to sign on to a project that undermines your value as a professional. Do you accept the offer since it will beef up your professional resume or do you decline on principle?
On one hand, if this project involves a charitable organization, it might be a no brainer. You would not only be gaining valuable experience, you might argue, but you would also be making the world a better place.
On the other hand, what if you were hired to design courseware for one of the richest global corporations in the world and offered not only below minimum wage compensation at the Masters or PhD level, but below the U.S. dollar level wages per hour?
Recently, a company contacted me to design online courses intended for retail employees to help them gain a leg up in a competitive world.
For example, a sales floor associate could take a completion course for the low cost of $210 and receive 15 college credits at $14/college credit, transferable to most universities in the States. The course includes modules on Cashier Customer Service, Principles of Customer Service, and Intro to Workplace Safety and Health -- and is geared toward improving employee productivity by providing "off the clock" training at no cost to the company.
Well, maybe, it could be reasonable-- but only if you fail to consider college tuition makes up 1/8 of the average Wal-Mart employee's monthly wage, an average wage that is close to $1.300 and one that falls well below the threshold of poverty (calculated as monthly wages falling below $2.000 for 2014).
Think about it.
Is the cost accrued by the employee for this so-called "college" completion course a reasonable one for the employee to incur?
Nowadays, many companies are striving to improve productivity without making any contribution. Profits rise. Shareholders benefit. Labour loses.
Once upon a time, employers hired and trained people to work full time with accrued health and retirement benefits. Moving to part-time and contract labour offset labour costs 30%. If a degree in higher education becomes vocational to the extent that it is preparing people for entry-level minimum wage part-time work, the degree itself will no longer hold value or translate to a better life. When the traditional brick and mortar institutions fail as cheap online degrees replace them with cashier training courses, will the lower income classes have a chance at a better life? And will the middle class disappear altogether as a kind of fairy tale told in history texts with an unhappy ending?
I also have to question whether this transformation of higher education into a vocational skills courseware factory is undermining the intent of higher education, to improve minds and society? Is it naïve to believe in a better world? I feel as though in accepting such work, I am undermining my future as an educator.
In this equation, unskilled and skilled labour are treated as equals in a system that renders both sides powerless to the corporate shareholders whose sole function and contribution is to accumulate wealth gained by profiting from a de-humanized, capitalized labour force.
Working for below minimum wage with a Masters or PhD level education makes no sense. I can see myself turning down the offer, but in the back of my mind, I'm wondering if I can actually afford to.