1. Aux Vivres
4631 boulevard Saint-Laurent
Montreal, Quebec, Canada
(514) 842-3479
http://www.auxvivres.com/en/home/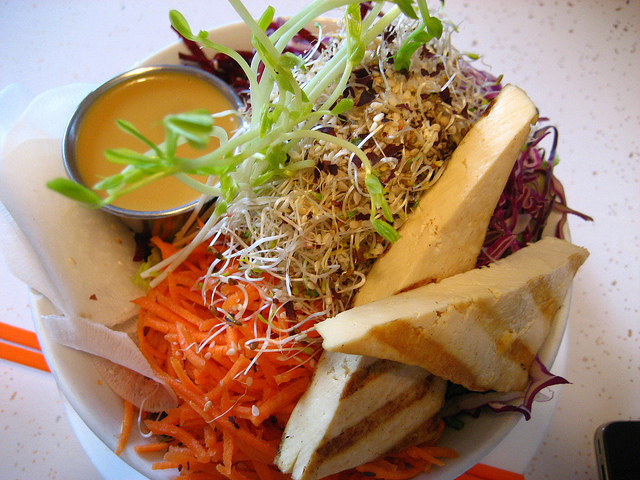 This is one of Montreal's most well-known vegan restaurants. All of their food is vegan and organic when possible. They are open for lunch and dinner every day of the week and for brunch on the weekends. They offer delicious vegan sandwiches, salads, vegetable bowls, burgers, juices and smoothies. They even have amazing desserts that you would never believe are vegan! Their express menu and juice bar make it a great place to grab a quick meal on your lunch break, but if you prefer to sit with a menu that is possible as well! Some of the best items on their menu include the Dragon Bowl with shredded beet, carrot, daikon, lettuce, sprouts, red cabbage, dulse, toasted sesame seeds, dragon sauce and grilled tofu, the Cold Plate with  veggie paté, veggie lox, tofu cream, hummus and olive tapenade with bread, and finally the Vege Pate sandwich with veggie paté, mayo, tomato, lettuce and pickle. The prices are in the medium range.
2. Chu Chai
4088 rue St Denis (at Duluth)
Montreal Quebec
514-843-4194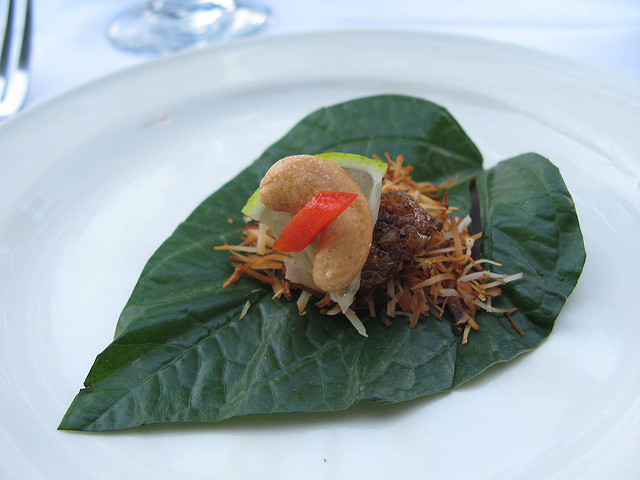 Chu Chai is a vegetarian Chai restaurant with meat alternatives that will make you think that you are eating the real thing! This is a restaurant that will satisfy even the most avid of meat eaters. The prices are a little on the higher-end of the scale, but the atmosphere in the restaurant is really nice and is a great place to bring a date. They have a vegetarian "duck" that is amazingly delicious, great Pad Thai and their vegetarian "beef" could fool a carnivore!
3. The Green Panther
2153 MacKay Street
Montreal Quebec
514-903-4744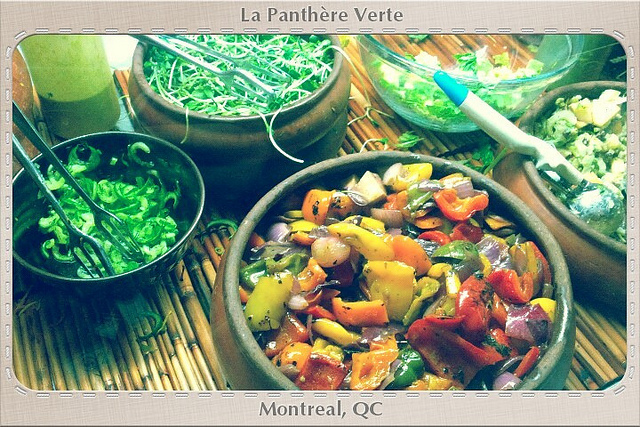 The Green Panther (or Le Panthere Verte) is a casual and inexpensive vegan restaurant. They are open for lunch and dinner during the week, and for lunch on Saturdays. They are famous for their falafel. Their traditional falafel dish includes five falafels, cabbage, carrots, pickles, sauekraut, sprouts and tahini. They also have delicious smoothies. The Funky Monkey is a must-try with mango, banana, coconut milk and agave nectar. This is a great place for students to eat at because the prices are very reasonable and the food is still so healthy.
4. Le Commensal
1204 McGill College Street
Montreal Quebec
514-871-1480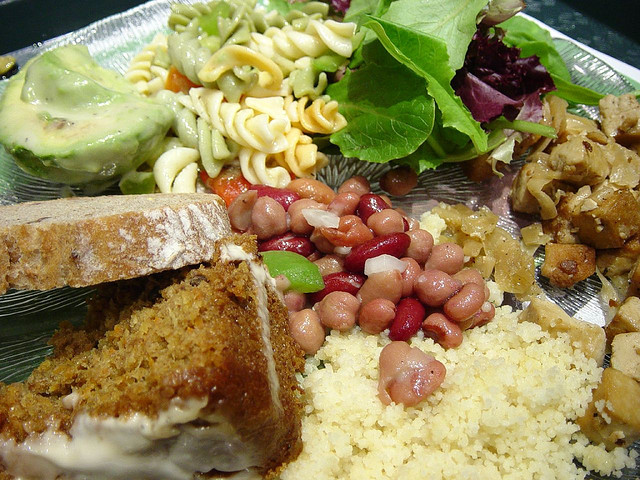 Le Commensal is a vegetarian buffet-style restaurant. They offer salads, soups, pasta, tofu and more. They have a hot buffet and a cold salad buffet. The plates are charged based on weight so you can choose exactly what you like. The prices are in the medium range. They even have a dessert bar filled with the many vegetarian desserts that made Le Commensal famous in the first place. The date squares are a definite must try. The restaurant also creates pre-made vegetarian foods that are sold in supermarkets and of course at the restaurant.
5. Crudessence
2157 Mackay Street
Montreal Quebec H3G 2J2
514-664-5188
http://www.crudessence.com/en/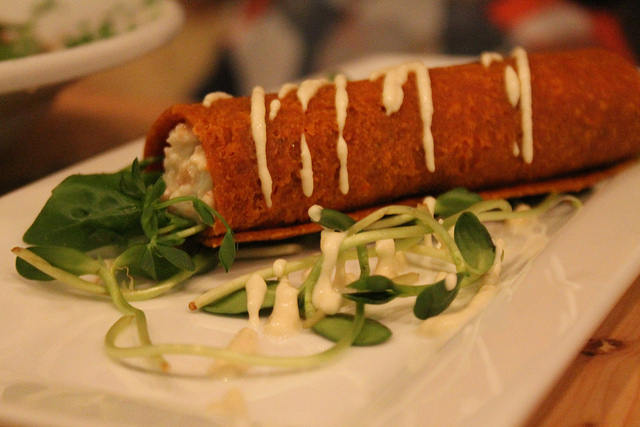 Crudessence is a vegan, organic, predominately raw and gluten-free restaurant. They are dedicated to not only to promoting healthy living, but healthy lifestyles as well. They are open for lunch and dinner and they offer a varied menu with Italian, Japanese and even Mexican style food. They also have a juice bar and desserts. Their menu features surprisingly good sushi rolls, an always fresh raw soup of the day, delicious sandwiches and wraps and great lasagna. Their prices are on the higher side, but are still very reasonable for the fresh, organic quality that you are receiving.