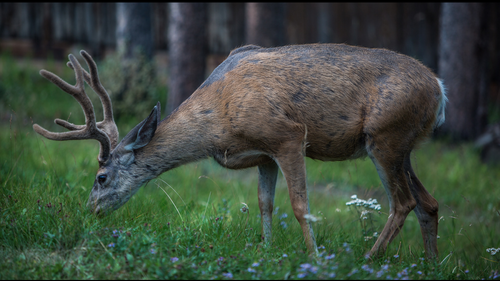 When corporations pay attention to their eco footprint, it's time to pay attention.
When the weekend hits, many Montrealers head out to their cabins in rural Quebec and Ontario. Situated near lakes and forests, these retreats provide affordance to escape a cemented urban landscape.
Aside from housing weekend Montrealers, the forests also provide habitat to an abundance of wildlife, ranging from bears to boars and beyond. And what most people miss is the valuable resource that the forest provides, not in terms of harvesting timber for wood and pulp, but the invisible gas that allows the planet to breath and the tonic that sooths our urban minds, fresh air. Not only that, but a recent study suggests, natural environments actually increase your intelligence by mitigating stress. 
Our forests provide this essential resource, fresh air in abundance. The Canadian boreal forest represents a quarter of the world's remaining forests, making the issue of preservation of our forests not only of local importance, but also of international importance. Accordingly, John Lounds, President and Chief Executive Officer of the Nature Conservancy of Canada (NCC) states, "Forests are an iconic symbol of our North American story and essential to the health of our planet. The lungs of the earth, they play a vital role in cleaning the air and moderating temperatures, and they're critical habitats for plants and wildlife. 
In order to maintain a healthy planet, it's become crucial that we recognize and sustain our forests. Joining the NCC, TD Bank has initiated a TD Forests program to aid the NCC in protecting more than 2.6 million acres of forest across Canada.
TD Forest is a keen example of corporate responsibility. Launched in 2012 to protect critical forest habitat for the purpose of reducing paper consumption and growing forests, TD Forests seeks out community commitments to create green urban spaces, protect local forests, educate the community. As a result, TD bank has achieved multiple accomplishments in the area of conservancy. The TD Forest program, a culmination of more than two decades of concerted effort, has achieved the following accomplishments:
More than 20, 000 environmental projects since 1990
More than 46,000 new trees in Canada thanks to TD Tree Day initiated in 2010
More than 1 million $ donated to municipalities, communities, and associations since 2010
When corporations behave in a manner that is respectful and responsible, protecting and sustaining our fragile natural resources, it should be acknowledge, giving credit where credit is due; it's the banking industry after all.