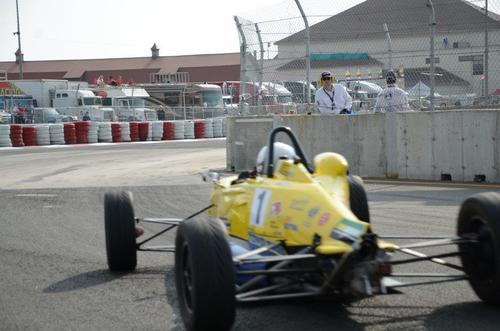 The last time I interviewed Nathan had just won the Quebec Championship for the first time. A year later, Nathan has just won the Quebec Championship for the second time.
How is your season this year?

This season has been spectacular in every way. I certainly think I hit my limit in formula 1600, and the results from this season show that. At the same time, it was incredibly stressful as well due to my sponsorship situation, not having enough money to complete the season. I was driving very safely all season, but at the same time tried to build enough of a points gap to have enough points to lock up the title before the finale, since I was out of money.
Is it what you expected? 

Not at all! At the start of the season I only had enough for 2 weekends. In fact, the cheque for the Canadian grand prix arrived as we were getting in the car to leave. Fortunately my driving at the Grand prix caught the attention of the right people, and I was able to get 5 of the 6 weekends. But I would have never expected another title at the first of the season for sure!
You had at the beginning of the season that you were only going to do a couple of races. What changed?

There was several individuals from the Ottawa valley who were at the Grand prix, and they recognized me from the local media around our area, they got in contact with me several weeks later, and wanted to get involved with my 2012 season.
What is the best race of the season so far for you?

There are so many highlights this season, its hard to pick one out of them all that's the best. I would have to say locking up the title at my home track of Calabogie is my biggest highlight though. I had radio trouble during the race, so even though I knew I won the race, I didn't know I won the title until I was back in the pits. To have my family and friends there to witness it happen, was the best feeling I've had ever
How does it feel attending college and racing? 

It's been quite hard so far, and it has only been the off-season! It's a bit of a different lifestyle being away from home, but I'm adapting well and I'm liking my program. I can only imagine what it's going to be like when the springtime comes, and its time to travel to go racing again!
Is it a big change?
Oh yes. I knew it was going to be a big adjustment, but it's a lot harder than I thought it was going to be. The movies and the media make it look like college is such a fun time, and your going to have a breeze.....no your not, especially if your in a challenging program like I am, mechanical engineering. But I'm enjoying the new life, but not enjoying the bills!
Are you in residence? What is the change from home to college like for you?

Its nice to have the freedom to go where you want, when you want, but at the same time, I kind of miss home. You really can't just turn a switch and reverse 18 years of growing up and a lifestyle, but it's a good experience though.
Do you have any advice for the readers about residence?

Its fun and convenient to be close to students, and you will get to know a bunch in residence very well. But remember that your there to learn, and other fun activities come second. It's all part of a balancing act though, because if you spend all your time doing schoolwork, eventually you will go stir crazy. So, a good social/work balance is key I'd say.
How does it feel being the Formula Tour champion again for two years in a row?

I kind of knew what to expect this season, after winning it last year, but the felling was still really special. It means something different to everyone when they win something in racing, every accomplishment for me in racing is special, because you never no how much longer it could last. So I treat every moment at the track - good or bad - like diamonds, because I would rather have 1000 bad moments in racing, than have none to speak of at all. And when something like winning the series title happens, against some of the toughest f1600 drivers in Canada & at such amazing venues, for me its simply a flood of happiness and pure joy, and since I treat every moment like diamonds, it means that much more to me.
Last but not least, what do you plan on doing with mechanical engineering? Does it relate to racing?

Yes, that was one of the main reasons I choose the program. In case I can't get a career driving, at least I will be able to stay involved in racing in some way. Hopefully I can keep my racing career going long enough so that I don't have to use it, but I will have that in my back pocket if the worst-case