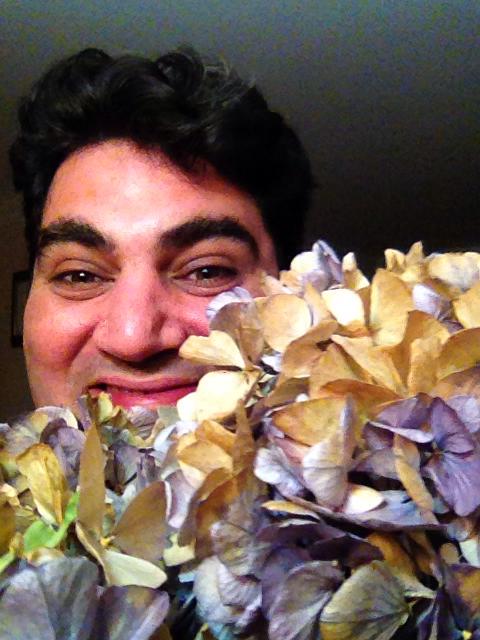 If laughter is the best medicine then Montreal's very own Massimo Cannistraro could be considered a doctor who uses comedy as a form of healing. Born in Laval into an Italian family with two older brothers, Massimo's interest in stand up comedy started at a very young age. He grew up idolizing comedy legends Johnny Carson and Eddie Murphy and hoped to one-day follow in their footsteps. With hard work and dedication, Massimo has brought his talents outside of the city boroughs and onto various comedy platforms. From performing on stage at the Montreal Just For Laughs Festival to appearances in blockbuster films, there's no denying his versatility. While he prefers to be referenced on a first name basis like Bono or Drake, his stage presence and high energy certainly make him a recognizable name in the world of comedy.
Prior to stand up comedy Massimo was very passionate about being a painter. While studying as an independent student at Concordia University, his interest shifted from painting to creative writing. It was during this time Massimo made his first attempt at stand up comedy and performed his first open mike at Montreal's well renowned Comedy Works club. He was immediately hooked on the adrenaline rush. He loved being on stage and entertaining a crowd with jokes he had written himself. After this he focused all his energy into making it as a successful comedian. Massimo performed endlessly at colleges, theatres and several open mikes in hopes to jumpstart his career. When asked how he handles rejection in a cutthroat and competitive business, he claims to "deal with rejection well. I know when I don't get a part or a gig its nothing personal, I'm just not what they are looking for".
Massimo's comedic style is long form story telling and usually includes events going on in his life. Except for politics, there's no topic off limits for him to share with the audience. Massimo can take the simplest topics and turn them in into laugh out loud stories, from his mother's cooking (who he refers to as a food wizard) the trials and tribulations of dating, and how "gelato" is merely a fancier way for non-Italians to say "ice cream". Massimo will even take a few jabs at himself often poking fun at his burly appearance and Italian stereotypes, such as how he inherited his Sicilian born father's large amount of body hair at an early age. In an interview with Laval News regarding his seemingly unscripted and spontaneous delivery, he states that he's "always running new material. So for me that's how I always keep it fresh. If it's not a new joke, then I'm adding something new to an already-existing one or making it tighter and better". Massimo's not afraid to be edgy and to deliver some pretty dirty and inappropriate material, even when his sweet Italian mother is in the crowd watching.
Massimo spent his early days on stage at the Comedy Works club, an institution that welcomes local talent as well as international performers. Some of these early performers went on to become household names such as: Ray Romano, Louis CK and Lewis Black. Massimo's continuous appearances at the Comedy Works would eventually get him his own headline acts becoming one of the their most popular local comedians. He has brought his high-octane performances throughout Canada, the U.S and the United Kingdom. Along with touring, he's been featured in several competitions such as Yuk-Yuk's Great Canadian Laugh Off and Stand Up and Bite Me. He's recently been entered as a contestant in the Boston Comedy Festival happening this November. On top of this Massimo's made it three times into the Montreal Just For Laughs Festival, a huge honor for comedians everywhere.
Proving that his talent is versatile, he's transitioned from the comedy stage to the theater stage. He played Big Jule in a local production of the hit Broadway show Guys and Dolls, a play that was also a hit film starring Marlon Brando and Frank Sinatra. The Gazette called him "a terrific Big Jule, whose enthusiasm for shooting craps knows no limits". His acting didn't end on there, Massimo has appeared in television as well as films, including the blockbuster smash hit X-Men Days of Future Past and Robert Zemeckis' latest film The Walk starring Joseph-Gordon Levitt and Ben Kingsley.
Like many Montreal comedians Massimo moved to Toronto due to the growing opportunities for Anglophone comics. When asked by Cult Montreal about working as a comedian in Toronto versus Montreal he claims that there's " definitely more happening here (Toronto). In Montreal there's a comedy scene, but when it comes to sketch comedy, there's not really that much. Here there are a troupes and nights devoted to sketch. There is that scene in Montreal, but it's more on the French side". The recent closing of the Comedy Works has certainly left a dent in Montreal leaving many wondering about the future of Anglophone comedy here. If more comedic establishments keep closing it's no wonder we keep losing our finest comedians to rival Canadian cities.
Massimo currently resides in Toronto but makes frequent trips to Montreal for both work and family purposes. Having just completed tour with award winning comedian and fellow Montrealer Sugar Sammy, Massimo's career does not appear to be slowing down anytime soon. With his growing number of fans and being called "a big loud Italian with a charming soft side" by Hour magazine, seeing one of his performances will make it very clear why Massimo is a major staple in Montreal comedy. Legendary actor/comedian Milton Berle said that "laughter is an instant vacation", proving that the power of comedy and to laugh is a great way to be transported elsewhere, even if it's for a brief moment.