I've been a fan of legendary director Alfred Hitchcock for years and believe that he is an icon in the world of cinema. Hitchcock, known as the "master of suspense", was quite ahead of his time. He wasn't afraid to push the envelope and make movies that were unique from anything else. His actions were at times questionable, such as his infatuations with the women in his movies and his ill treatment of actress Tippi Hedren in The Birds. Despite his flaws, Alfred Hitchcock has influenced many directors: Steven Spielberg, Brian De Palma and David Fincher to name a few.
With his many iconic and infamous films, it was quite a task to narrow it down to five. Some of my favorites are his lesser-known movies while others are his classic masterpieces. Along with the titles of my favorite Hitchcock films, I included some behind the scenes stories and information that die hard fans (like myself) may not have known and facts that can intrigue a "Hitchcokian" newbie. Please share your comments as well as your favorite films from the famous director.
1. Psycho (1960)
"We all go a little mad sometimes. Haven't you?" Norman Bates, Psycho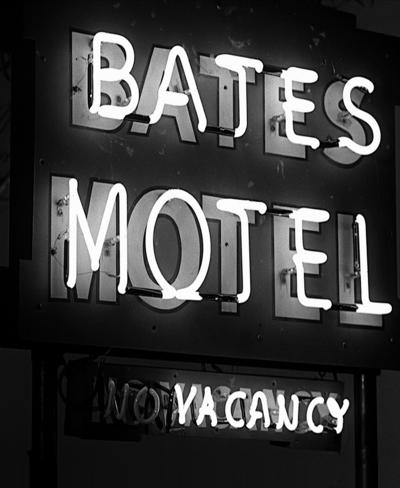 No Alfred Hitchcock list would be complete without Psycho, a movie that has changed the way most people take showers. This black and white film starring Janet Leigh, Anthony Perkins and Vera Miles, is considered to be one of Hitchcock's best films and is filled with iconic scenes, lines and musical score. The story is adapted from the novel Psycho written by Robert Bloch. Hitchcock had many challenges turning Psycho from script to screen. Film executives refused to finance the film due to its violent scenes, and feared that the movie was promoting homosexuality and cross-dressing. Hitchcock had to fund the film himself and in order to cut down on costs, he filmed in black and white and used the set and crew of his television series Alfred Hitchcock Presents.
The film's protagonist is Marion Crane, played by the lovely Janet Leigh (mother of actress Jamie Lee Curtis). Marion gets herself into trouble by stealing 40,000$ from her employer so she can finally marry her long distance boyfriend Sam Loomis, played by John Gavin. On her way to tell Sam about the money she stops at the Bates Motel where she meets the owner Norman Bates, played effortlessly by Anthony Perkins. Norman is an odd, socially awkward man who is seemingly controlled by his mysterious mother Norma. When Marion's conscious finally convinces her to return home and give back the money, it appears to be too late for our heroine as she is killed by a shadowy figure while taking a shower. Sam, her sister Lila, played by Vera Miles and detective Milton Arbogast played by Martin Balsam, work together to try to solve the mystery of Marion's disappearance and what's really going on at the Bates Motel. Psycho's conclusion is horrific, mysterious and thrilling all at the same time.
The infamous shower scene was so powerful that Janet Leigh never took a shower again in her life. Other scenes considered controversial were the opening scenes where Marion and Sam are lying in bed together and, a close up shot of a toilet flushing. These types of scenes were quite uncommon if not non-existent for this time. Despite the controversies and difficulty getting Psycho produced, it ended up being Hitchcock's highest grossing film and a huge commercial success. The film executives who rejected the film must have gone quite mad themselves after Hitchcock's triumph with Psycho.
2. Shadow of Doubt (1943)
"Go away, I'm warning you. Go away or I'll kill you myself. See... that's the way I feel about you"- Young Charlie, Shadow of a Doubt.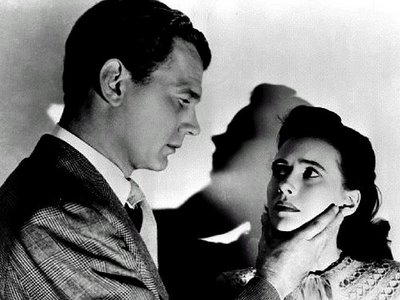 One of his earliest movies, Shadow of a Doubt is said to have been Alfred Hitchcock's personal favorite film. Once you watch this film noir, it won't be hard to see why and how it can easily be added to anyone's favorite Hitchcock film list. The movie stars Joseph Cotton and Teresa Wright in a gripping tale of family, murder and how the people we know and love aren't always what they seem.
Shadow of A Doubt pulls audiences in with a beautiful opening scene consisting of a dance sequence called The Merry Widow Waltz. The story is set in a small California town where the female protagonist Charlotte "Charlie" Newton, played wonderfully by Teresa Wright, is anxiously awaiting for the arrival of her Uncle Charlie, played by the legendary Joseph Cotten, who is coming to visit the family. Everyone, especially Charlotte idolizes Uncle Charlie. However once he arrives, his behavior changes drastically.
We first see Uncle Charlie's odd behavior when two men claiming to be surveyors photograph him. One of the surveyors Jack Graham, played by Macdonald Carey, begins a romance with Charlotte. He confesses to be a detective who suspects Uncle Charlie of being the "Merry Widow Murderer". At first Charlotte refuses to believe that her beloved uncle could ever do such a thing, but later discovers signs proving Jack could be right. Along with Uncle Charlie's continuous strange behavior, Charlotte realizes a ring her uncle gave her has the initials of one of the murdered women engraved in it. Her attitude towards Uncle Charlie quickly changes and she wants nothing more than for him to leave her home. After confronting her uncle, a silent battle ensues between the two resulting in some near death "accidents" for Charlotte. With a heart pounding conclusion and final battle between Charlotte and Uncle Charlie, many secrets are exposed and lives will never be the same.
Along with its suspense, Shadow of a Doubt has some touching and humorous scenes. There are many family moments, proving what a tight bond the Newtons have and how Charlotte will stop at nothing to protect them. The entire Newton family are very likable characters Especially Charlotte's mother and Uncle Charlie's sister Emma, played by Patricia Collinge. She proves to be a very loving mother, wife and older sister to her brother Charlie who she idolizes almost as much as Charlotte does. The humorous element of the film is courtesy of Charlotte's father Joseph, played by Henry Travers (best known for playing Clarence the angel in It's a Wonderful Life). He is constantly discussing with his friend Herbie, played by Hume Cronyn, on how they would commit the perfect crime. All this without realizing that he is actually harboring a murderer in his house. Undoubtedly, one of Hitchcock's earlier masterpieces.
3. To Catch a Thief (1955)
"For what it's worth, I never stole from anybody who would go hungry'- John Robie, To Catch A Thief.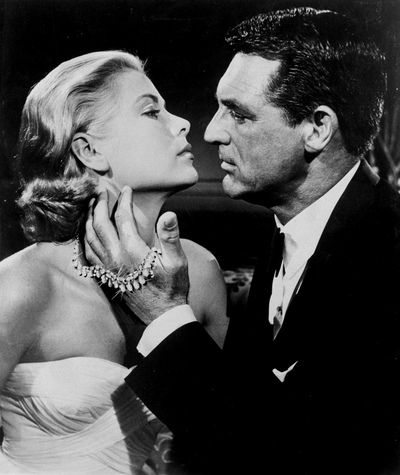 Alfred Hitchcock's most visually appealing piece of work, the romantic thriller To Catch A Thief, is a lighter film compared to his many darker themed ones. The two main leads consisting of the handsome Cary Grant and the stunning Grace Kelly are reason enough to see this film. What's even more pleasing to the eye than the two Hollywood leads is the breathtaking scenery of the French Riviera. If this film does not make you want to book your next trip to the south of France, then you're not watching it properly.
The films main character John Robie, played by Cary Grant is a retired jewel thief who also goes by the nicknames "cat burglar" or "the Cat". John went from thieving to spending his days tending to his vineyard. After a series of robberies occurs John is the number one suspect in the eyes of the law. After escaping the police he makes it his goal to catch the robber red handed and prove that he's innocent. John's plan to clear his name by finding potential targets for the new "cat burglar". Two potential targets include Jessie Stevens, played by Jessie Royce Landis, and her daughter Frances, played by Grace Kelly. Frances is a bored rich girl seeking some thrill in her life and is immediately drawn to John. But after more robberies occur, Frances worries that John may in fact be the cat burglar. With plot twists and turns and the constant question of the real criminal is, To Catch a Thief is a treat to all of our senses.
The chemistry between Grant and Kelly is undeniable. Along with the attractive cast, Kelly's fashions in the film also distract audience members from the storyline. To Catch A Thief has some of these familiar faces from previous Alfred Hitchcock films. Cary Grant has done four films in all with the legendary director (Suspicion, Notorious, North by Northwest, To Catch A Thief). Jessie Royce Landis also appears in North by Northwest and Grace Kelly has appeared in three of his films (To Catch a Thief, Dial M For Murder, Rear Window). To Catch a Thief was Kelly's final film with Alfred Hitchcock and one of her final films altogether before becoming Princess Grace of Monaco. To Catch a Thief is a royal addition to any Alfred Hitchcock collection.
4. Rebecca (1940
)
"I watched you go down just as I watched her a year ago. Even in the same dress you couldn't compare" -Mrs. Danvers, Rebecca.
Rebecca is an adaptation of Daphne Du Maurier's classic novel of the same name and was Alfred Hitchcock's first American project. Fans of the novel will enjoy this film and seeing the characters come to life onscreen. What appears to be a fairytale love story is actually a dark story filled with twisted characters and an infamous villain who has perhaps ruined anyone with the last name Danvers.
The main female protagonist is a nameless woman played by Joan Fontaine. She meets and falls in love with wealthy widowed Englishman Maxim De Winter, played by legendary actor Sir Laurence Oliver. They quickly marry and Maxim brings her to his Manderley mansion in England. Once they wed, the unnamed heroine is now referred to as the second Mrs. De Winter. Wedded bliss instantly becomes a nightmare once the couple returns from their honeymoon. Maxim's housekeeper the creepy Mrs. Danvers, played too convincingly by Judith Anderson takes an instant dislike to her master's new bride. Mrs. Danvers was enamored with Rebecca, Maxim's late wife and ensures that the second Mrs. De Winter knows that with constant threats and comparisons. The second Mrs. De Winter then begins to wonder if she'll ever have a place in Maxim's life and fears she will always be haunted by the presence of the late Rebecca. With storyline twists and revelations about the first Mrs. De Winter, Rebecca is dark, heart pounding film.
Joan Fontaine gives an exceptional performance as a naïve and confused heroine. A young Sir Laurence Olivier is quite dashing and Judith Anderson is quite simply gives one of the scariest onscreen performances one may ever see. Anderson doesn't even have to say or do much to instill fear, her stare is enough to send chills down anyone's spine. Rebecca is a prime example of the beginning of what would be a long line of scary and suspenseful Hitchcock films.
5. Marnie (1964)
"The idea was to kill myself, not feed the damn fish."- Marnie Edgar, Marnie.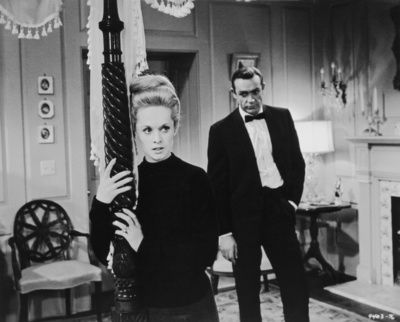 One of Alfred Hitchcock's most underrated films Marnie, while a little slow at times it does not shy away from the intense mystery that we love so much about his movies. Not as successful as Psycho or The Birds, it is nonetheless an iconic movie. Tippi Hedren (mother as actress Melanie Griffith) plays the title character and Sean Connery plays Mark Rutland, her one time boss who later becomes her husband.
The film centers around Marnie, a troubled woman who moves from city to city and takes on different identities in each location. She has very particular anxieties and phobias, which include a strong distrust of men and a fear of the color red. She also happens to be a thief who robs her employees' blind before running off to her next destination. The only person in Marnie's life is her mother Bernice played by Louise Latham. Mark is instantly intrigued by Marnie and pursues her despite her rebuffs. He forces her to marry him and proves to be the only person willing to love Marnie and help her. We eventually discover the reasons behind Marnie's anxieties and how all it took was one person to not give up on her.
While quite a different role from the one she played in The Birds, Hedren does a great job in making the role in Marnie an iconic one for her. The role of Marnie was originally intended for Grace Kelly. However as she the princess of Monaco, her royal handlers objected to her playing such a complex role. While working on The Birds with Tippi Hedren, Hitchcock offered the lead role in Marnie. Despite their complicated relationship, Hedren accepted. Marnie can steal the spotlight from the other more successful Alfred Hitchcock movies.