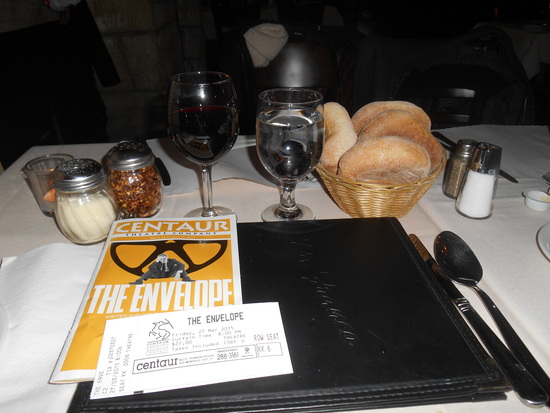 "Unless it's a love letter or a pay check, nothing good ever came out of an envelope." - Franco, The Envelope
The 2014-2015 season of the Centaur theatre has been nothing less than stellar with smash hits such as Venus in Furs and The Goodnight Bird. The hot streak continues with The Envelope, the newest play written and directed by Montreal's very own Vittorio Rossi (A Carpenter's Trilogy, Paradise By The River), who has been referred to by the Canadian Encyclopedia as the "inaugural Italian-Canadian voice on the English-Canadian stage". The Envelope is not only Rossi's first original play since The Carpenter in 2007, it's also an important milestone in his expanding and impressive career. This play will mark Rossi's 10th collaboration with the Centaur Theatre Company, a huge institution for English theatre here in Montreal. The Envelope is presently playing at the Centaur Theatre from March 24th until April 19th. Fans of Rossi's previous plays have been anxiously waiting for his newest piece of work. The anticipation is finally over and like many joyous occasions in life, good things are worth waiting for.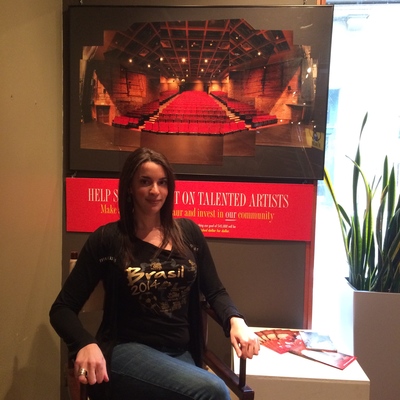 Above: Me seeing how it feels like to sit in the director's chair
A Good Sense of Direction
"There are two things I detest in this country. [...] One is winter. The other is a Canadian film producer. I've learned to cope with winter but I will never trust a Canadian film producer." - Michael, The Envelope
The Envelope is set at the Italian restaurant Da Franco's. Rossi took inspiration for the set and its lively characters from the real Restaurant Da Franco's located in Old Montreal. The set was true to life from the actual Da Franco's. From the terra cotta colored walls adorned with old black and white photographs to the granite countered bar displaying assorted brands of liquor. The real award winners for the set décor go to the wine bottles (675 of them to be exact) visible from atop the stage to give the feeling of a true Italian cantina.
In a large open theatre that seats 422 guests with one main stage, directing our senses can be quite a daunting task. The stage has a clear division of the restaurant's interior setting and the cobblestone streets of Old Montreal for exterior scenes. To enlighten our hearing along with our vision, the music playing in between scenes was clearly thought through. Jazz and blues music are played between acts rather than typical Italian melodies. Each song went with the mood and theme of the next scene. These include: a slower harmony similar to those from film noirs played in between serious scenes while upbeat sounds play just before the fun scenes. A perfect way to keep the audience entertained as we patiently wait for the story to unfold in front of us.
Above: Photos of the real life Risorante Da Franco. The inspiration for the set of The Envelope
A Not So Stationary Tale
"You ordered the veal. You're in an Italian restaurant. This guy goes to the bathroom. Usually he comes back to the table with a gun." Franco-The Envelope
The Envelope is a comedic drama that exposes us to the world of bureaucratic institution that is the Canadian film industry, and what really goes on behind the scenes of trying to get a film produced in Canada. The story is loosely based on Rossi's real life experiences and reveals what it's really like to be an artist in Canada trying to make a name for themselves.
The main protagonist is playwright Michael Moretti, a veteran in the theatre business. He's approached by his frenemy, Canadian producer Jake Henry Smith, with an offer to help him turn his successful play, Romeo's Rise into a Canadian feature film with a multi-million dollar contract. Jake has an envelope with the documents that ensures the film is made and that Michael gets his profit, all he's missing is Michael's signature. The compromise with accepting a profitable offer through the Canadian system? Michael has no control over his work. The system will change everything in his screenplay causing Michael to lose his artistic integrity.
As if Michael doesn't already have enough on his plate, he receives another offer from an American based producer who's also interested in bringing Romeo's Rise from stage to screen. His deal offers Michael complete freedom and control over his work, but with a much lower salary. What appears to be an easy decision is in fact the exact opposite.
So how does one decide between integrity and income? Easy, with a lot of help. Along comes Sarah Mackenzie, head of script development for the Canadian National Movie Fund. She connects with Michael and the two are often in situations that keep the audience wondering- will they or won't they? Other lively characters in The Envelope include the trio of actors in Michael's successful play Romeo's Rise. There's the colorful and animated Andrew Morgan, innocent newcomer Caroline Lemay and the charming and passionate Marcello Maldini. Throw in Marcello's lively and unfiltered cousin Franco Maldini, the owner of Da Franco's, and you have a well-balanced cast of characters that each bring something unique and different to the table. From Franco's wise cracking comments to Marcello's strong dislike of Jake, The Envelope makes us laugh, gasp and cheer all throughout the play. Right up until the dramatic conclusion when Michael makes his life changing decision, there's never a dull moment and the clever storyline always keeps us guessing.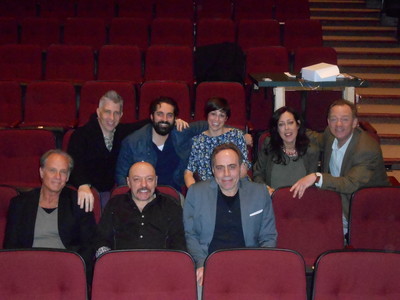 Above: The cast of The Envelope : Shawn Campbell, Guido Cocomello, Melanie Sirois, Leni Parker, David Gow, Ron Lea, Tony Calabretta, and writer/director Vittorio Rossi
Pushing the Envelope
"Do you think I'm starving Jake? I'm Italian, we don't do starving"- Michael- The Envelope
The actors each play their parts exceptionally and with very convincing performances. Ron Lea (The Book of Bob, Little Blood Brother) does a great job playing the torn Michael, a likable character that easily gets the audience to sympathize with him. There is good chemistry between himself and Leni Parker who plays Sarah (Top Girls, Helix), the conflicted employee of the Canadian National Movie Fund who appears to be having a career crisis and possibly, a more than professional interest in Michael. David Gow (The Chain, Steel Toes) plays the antagonist Jake, a snaky Canadian film producer who will stop at nothing to convince Michael to sign his deal. Gow gives an almost too realistic portrayal of a bloodthirsty producer who only sees visions of dollar signs in his head.
The comedic force and at times, voice of reason of The Envelope is Tony Calabretta (Paradise by the River, Stonewall) who plays Franco, the amusing owner of Da Franco's. Calabretta offers great comedic timing and a breath of fresh air to intense scenes. Franco's actor cousin Marcello, played effortlessly by Guido Cocomello (Paradise by the River, The St-Leonard Chronicles), took emotion to a whole other level with his standout performance. From his unbiased opinions of Canadian film producers and the country's film industry to his admiration of Michael, he commands the stage and grabs the audiences' attention with every word.
Melanie Sirois (Son Of A Hundred Maniacs, Helix) portrays Marcello's love interest Caroline. Though her part is small, she adds a touch of innocence and naiveté to the play that's goes along well with the rest of the cast. And last but certainly not least, there is Shawn Campbell (Suits, Murdoch Mysteries), who plays over the top actor Andrew Morgan. Campbell delivers his dialogues in a Shakespearean tone and much like Franco, is another voice of humor and reason. Best way to describe his character is Hamlet meets Dr. Phil, but nonetheless a great compliment to the cast.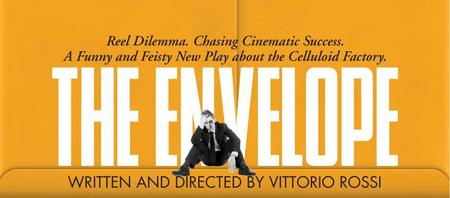 Stamp of Approval
"Here's to one f***ed up business" Michael-The Envelope
Like most of Rossi's plays, The Envelope includes insight and jokes on Italian culture and stereotypes. With references to Italian films and stating that Italians are mainly known for restaurants and the mafia, some viewers may not fully understand some of these ethnic jokes. The play also has more fowl language and swear words compared to Rossi's other works that may not be suitable for younger viewers, or older more conservative ones.
Rossi does not hold anything back in The Envelope and does not shy away from exposing the (very few) good, the bad and the downright ugly truth about the business. What we see as a glamorous industry has a very dark side often lead by devilish characters. The play is not only entertaining but educational as well. Many audience members (myself included) left the theatre with a different view of Canadian films and how they compare (or don't) to other countries.
Like a large pot of Italian Wedding Soup, The Envelope combines many different ingredients together to make a complete and satisfying dish. With comedy, emotion, camaraderie and realistic situations, we leave the theatre full yet wanting more.
To learn more about and purchase tickets for The Envelope, please visit the Centaur Theatre Company website.
To make a reservation at Ristorante Da Franco contact them at (514) 844-9481 and visit their Facebook page.
The Envelope video from Centaur Theatre on Vimeo.