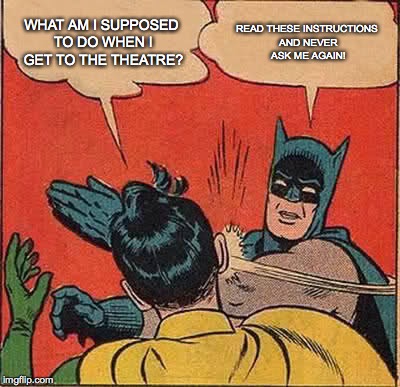 Thank you for your interest in theater and supporting your local talents. Your attendance proves that you are a well-cultured individual with a passion for the arts. Bear in mind that there are certain rules of conduct that everyone must be made aware of in order to have a pleasant experience for everyone involved. Remember that you're about to view someone's hard work and dedication come to life, it is important to show respect and courtesy.
Whether you're new to the theater scene or an active theatregoer, it's important that you take the time to read the following tips and regulations. Enjoy the show and we look forward to seeing you at our next venue.
1.Select a theatrical performance that you would like to attend
Research a show that may be of interest to you and that you know you will enjoy. If you enjoy musicals select a show with musical numbers. If you like to laugh and be entertained, choose a play that is comedic. All information of the plays and can be available on the theater's website. Everyone has different tastes and preferences, the same applies to theater.
2. Dress accordingly to the venue.
Keep in mind that when attending a theater performance it is important to dress accordingly to the venue. We recommend dress casual, not too elegant but comfortable enough to sit through a two hour performance. The temperature in the theater can vary on where you are seated. If one is seated close to stage you may feel the heat of the stage lights. Or one can be seated in a cooler area. We advise dressing in layers in order to be prepared for unpredictable interior temperatures.
3. Remember to bring all necessary documents
Don't forget to purchase your show tickets in advance. If you've purchased your tickets online, read the instructions of what you are required to bring the day of the performance. If you've purchased your tickets through an operator, make sure to ask all the appropriate questions. Ensure that when you leave for the show that you have all required documents. Also make sure you are aware of all important information. Such as correct dates, show times, theater address, and location.
4.Respect the times.
In order to avoid unnecessary disruptions to fellow attendees and performers, please be seated 30 minutes prior to performance commencement time. If you are enjoying a meal at a nearby restaurant, be mindful of the time to avoid a rushed and unpleasant dinner. Late attendees may prohibited from entering the theatre once show has started. Also keep in mind if the theater has it's own parking lot or not. If it doesn't you may have to allow some time to search for parking.
5. Follow instruction given by theater employees
The theater employees are there to assist you, do not be shy to ask them anything. They will guide you to your seats, provide you with necessary documents, and can response to any questions or queries you may have. Show them respect and politeness and they will gladly do the same in return.
6. Before seating take off excess articles of clothing (if applicable)
If you're seeing a performance during the winter season, please remove your jacket before taking your assigned seat. Seats in the theater are close together and it can be awkward to take off a heavy coat while others are attempting to do the same while finding their seats.
7. Be aware of what is permitted inside the theater.
Most theaters do not allow smoking, food, beverages and animals into the establishment. Make sure beforehand you are aware of what you can and cannot bring to avoid getting the item confiscated and/or being asked to leave the theater.
8. Please sit in YOUR assigned seats
When purchasing theater tickets you are automatically assigned a seat number. Follow the directions to your seats to avoid any sort of confusion and do not sit in a seat assigned to someone else. Should you not know where to find your seat, once again the theater employees will gladly assist. Do not put or shove fellow audience members while finding your seat.
9. Turn off any electrical devices
When seated immediately turn off any electrical devices. Do not simply switch to vibrate. Noises and vibrations are very distracting to the actors and can cause disruptions to the performance.
10. All photography is prohibited.
Do not take any photographs with cameras and mobile devices. Similar to noise, flashes are disruptive and distracting to the actors.
11. Read all documents given to you by the theater employees.
Take time to read pamphlets, brochures, or guidebooks given prior to entering the theater in order to know all necessary information regarding the theatre establishment, performers and or any upcoming shows. Keep in mind that someone worked very hard to create these documents. Do not throw them in the garbage or on the floor.
12. Silence when the lights go off.
When lights are closed and the performance begins, all audience members must be seated and all conversations should come to an end. No talking will be permitted during the show. If you're seeing a musical number, please do not sing a loud with the performers.
13. Avoid unnecessary and actions during the show.
Avoid any noise and actions that are distracting and that can throw off the stage performers. Ex: chewing gum, texting, unwrapping candy, usage of mirrors, flashlights, taking photographs, applying make up, etc.
14. Be mindful of intermission times.
Should there be an intermission; respect the times given. This time can be for using the restrooms, making phone calls, smoking, or for taking a breath of fresh air. Once again be seated prior to performance re-commencing and ensure that all electrical devices are turned off. Again late attendees may be denied entry into the theater if they arrive late.
15. When show is over do not leave right away.
When the performance is finished, wait for the performers involved to appear on stage to take their final bow. Give them the well-deserved applause and praise they deserve for all their hard work.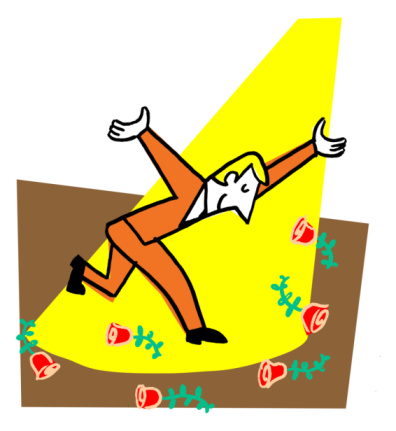 16. Be patient and cautious when exiting the venue.
When exiting the theater wait for your turn. Do not push or shove fellow audience members. Be patient given that a large number of attendees are exiting the theater at the same time. If you have any garbage (candy wrappers, papers etc), wait until you see garbage basket or bin and discard them.