Friday June 20th, 2014, could be considered the day that comedy died in the city of Montreal. This was the day when the famed Comedyworks club abruptly closed its doors after being open for over 24 years. With its central location on Bishop Street in Montreal's busy downtown area, this iconic comedy club was a popular hotspot for anyone looking to include laughter in an evening out.
It was a great place to support up-and-coming comedians and grab a few drinks at Jimbo's Pub located on the first floor (also closed). Comedyworks not only welcomed local talent such as Joey Elias, Mike Patterson and Massimo Cannistraro (known professionally as Massimo), but also opened the stage to aspiring comedians from all over Canada and the rest of the world. Many famous comedians such as Ray Romano, Aziz Ansari and Louis C.K. made early appearances at Comedyworks before they became big names in the entertainment industry.
No Laughing Matter
The news of the sudden closure was a great shock to both comedians and regular audience members. Joey Elias told the Montreal Gazette that the closing was "Shocking... What was special about the Works was that it was one of the last old-school comedy clubs with the brick wall and all the photos of comedians on another wall. Most important, it was just great for providing stage time for local comics: with the Open Mic nights, the improv troupes, the weekly Mike Paterson show. This will really hurt." Comedyworks regular Massimo, who got his early start at the club, said of the shocking news "when it closed, I was incredibly sad. It was like finding out that the house you grew up in had burned down."
So why would such a popular establishment close it's doors without so much as a notice? The club's founder Jimbo Skomorowski states that lack of parking and high debts to be the main reasons for the shutdown. "Saturday nights used to be our best night, with much of our business coming in from the suburbs. But now they don't come any more because they just can't find parking. We've had to rely on students and tourists, but that hasn't come close to covering our costs." The sudden closing of this popular club proved to be no laughing matter. Many English local comedians were left without work, some forced to leave the province of Quebec to find comedy gigs.
Above: Comedyworks regular headliners Eman El-Husseini and Mike Patterson
Working on the Comedy
Thankfully not all good things come to end, Comedyworks has now been taken over by new management and officially re-opened its doors on Thursday February 5th, 2015. The new owner is businessman Troy Lourensse and previous general manager Ian Campbell has returned to the new and improved Comedyworks. Lourensse has visions and ideas for not only the comedy club but for the bar downstairs as well. The club has gone through an extensive renovation and is now offering indoor parking at a fee of 5$, proving that he's given much thought to previous issues and complaints. Lourensse told The Montreal Gazette about his decision to re-vamp the Comedyworks: "I was always looking to have an upscale bar with an entertainment aspect to it, and I am confident this will do the job. I also think the future is bright for comedy in this town, and what better place to get it going than in a place with this kind of history."
Above: New owner Troy Lourensse with general manager Ian Campbell
Above: Comedians Massimo, Tim Rabnett, and Mike Paterson with Ian Campbell during the renovations
Laughing it Off
I was fortunate to receive an invite to the Comedyworks' grand re-opening on the evening of Thursday February 5th, 2015. What better way to keep warm during a cold Canadian winter than with a little (or a lot of) laughter? I've attended several shows at the Works and was eager to return for this special night. When I entered the club it still felt the same but there were some obvious differences. The pictures on the walls are gone, new floors have been put in, modern lighting has been added and the bathrooms are completely renovated and actually work (they were previously cold and never functioning). The classic interior brick wall remains as well as the small bar at the corner of the main room. Best way to describe it is a good combination between old and new.
It was a full house filled with staff, club regulars, and lots of new faces. The guest list included many local talents such as, Andrew Searles, Franco Taddeo and Guido Grasso, who gladly came out to support their fellow comedians. The MC for the evening was stand up veteran Peter J. Radomski, who overall did a great job. He always ensured that the crowd was laughing even if it meant taking a few jabs at himself. The performers included Emma Wilke, Scott Andrew Carter and Morgan O'Shea. The main headliner was none other than Montreal comedian and actor Massimo. The comedians all had their humble beginnings on the Comedyworks stage and didn't hesitate to get the chance to return on this special night.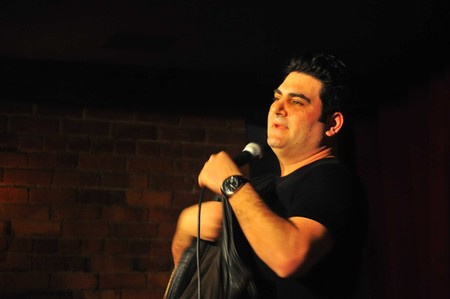 Above: The evening's main headliner Massimo rocking the stage
No jokes were off limits. From the questionable plumbing of the Works prior to the renovations to gags regarding newsmakers Bill Cosby and Jiam Gomeshi. In true comedic style some unpredictable moments happened. The Comedyworks sign unexpectedly fell to the floor during Morgan O'Shea's act and the comedians were occasionally met with some not so cooperating audience members. Being the professionals they are, the performers carried on effortlessly and didn't let anything stop them from doing what they were there to do, make us all laugh. They succeeded and even took the time to show their appreciation to the club's new owner. There was no doubt everyone was content about the Comedyworks getting another chance.
Once the show was over many made their way to the bar downstairs for some (or several) celebratory drinks. I asked the new owner Troy Lourensse about what he thought about the turnout of the grand re-opening and summarized his reaction in one simple word "Awesome". Andrew Searles told me about the clubs new look that "inside it still has the same basic layout, just more modern and nicer, has that new industrial look you're starting to see in these factory turned condo's. I tell everyone 'It's like the Comedyworks moved to Griffintown!' Can't wait to see what's lined up for the ComedyWorks for 2015 and into the future"
The re-opening is proving to already be a success with many events coming up with great show and performers. Some of these events include a Valentine's Day weekend show with Mike Patterson , the Underground Comedy Railroad Show with Andrew Searles and Rodney Ramsay and the Just For Laughs Audition Showcase. The show is indeed going on and we can only look forward to what's next for the new Comedy Works. Looks like this club will not be getting the last laugh after all.
Be sure to check out all upcoming events at the Comedyworks and follow them on Twitter.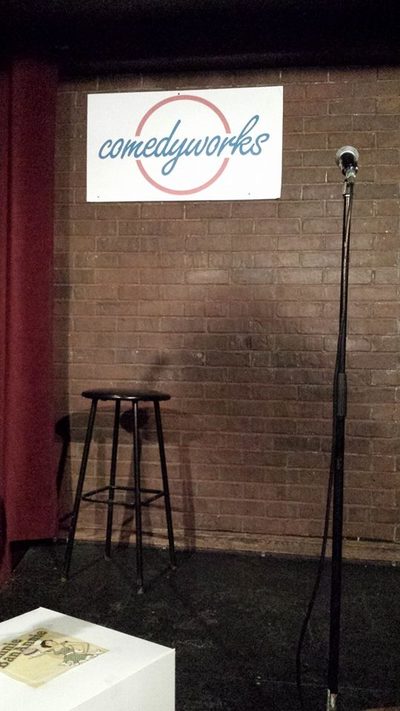 Sources
http://www.montrealgazette.com/Comedyworks+closing+comes+shock+many/9959984/story.html
http://thesuburban.com/news/articles/?id=article04753
http://montrealgazette.com/entertainment/local-arts/the-comedyworks-is-reborn-with-parking-options
http://montrealrampage.com/the-legend-is-back-comedyworks-grand-reopening-weekend/#prettyPhoto