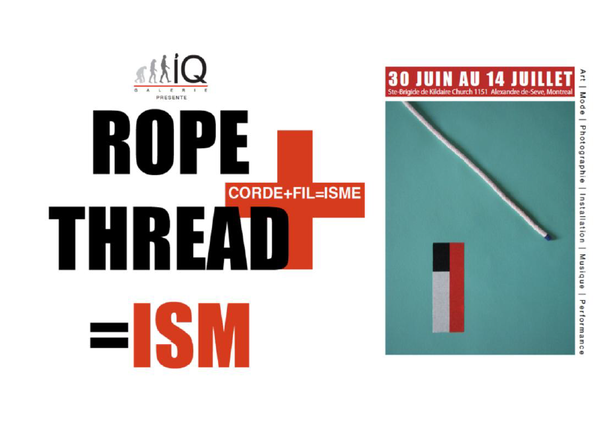 An interdisciplinary art event
St-Brigide de Kildare Church
June 30 - July 14, 2021
www.iqgallery.ca
There are no limits to the human capacity for excellence
IQ is an artist run and funded gallery whose launch corresponds to their first large-scale contemporary art event: Rope+Thread=ism. The event will mark the debut of artist/ designer K. Atiq as he presents an innovative collection of painting, sculpture, fashion, photo, and installation. The show will also feature many inspired collaborators and a full schedule of events; dance, circus, music, film, interactive works and street performance. Located in St-Brigide de Kildaire church, the project, expressed in ideas of rope, thread and "ism", explores connectedness as we participate in a movement. The continuity of all things, the threads of time, the evolution of the human being through history and individual experience brought K. Atiq to question the context of exhibition which, for him and Amy Lilien, both founders of IQ Gallery, needs to be expanded out of the now traditional "white cube" space. Collaboration, bringing people together and providing creators with a space in which creation can find a different and new way of expressing cultural and aesthetic ideas is at the core of Rope+Thread=ism.
Founded by artist and designer K. Atiq and his partner, Amy Lilien, IQ gallery exists to push boundaries, using unconventional spaces and methods to create innovative art events. IQ is a gallery without walls that knows that there are no limits to the human capacity for excellence and believes strongly that a few souls with a clear and committed vision can change the way we perceive the world.

IQ FOUNDERS
K. Atiq and Amy Lilien are the inspired souls behind IQ Gallery. Their international life experience and sense of adventure has shaped their vision as they seek out new approaches to living creatively. They believe strongly in success as a communal experience and take active approaches to building strong communities around common goals. Together, they run MM21 (Modern Museum of the 21st Century), an online museum showcasing international artists. aTiq is trained as a fashion designer and has over 10 years experience in the fashion industry. Amy is an avid traveler with a great deal of sales and gallery experience. Recently, she was working at a Montreal-based gallery, representing a high profile Quebecois artist.
THE ARTIST
K. aTiq's work has a deep-rooted connection to his personal history. Currently based in Montreal, K. aTiq is a multi-disciplinary visual artist, fashion designer and entrepreneur. Born in Afghanistan, during the Russian occupation of the 1970s, K. aTiq's young life was deeply influenced by his cultural roots and the experience of war. As a young man, his family was forced to flee and he spent the next several years living in former soviet block countries; Tajikistan, Kazakhstan, Uzbekistan, Russia, Belarus and Ukraine, before settling in the Netherlands. He has been living, studying and working in Canada for the last 16 years.
K. aTiq is the chief founder and creative director of MM21 (Modern Museum of the 21st Century), an online virtual museum. He has been featured in Berlin-based, Neon magazine, various fashion blogs, has created for a recent Tom's shoes charity event and is the creative mind behind Trn$Face (Trillion Dollar Face), a conceptual art piece and manifesto.
SCHEDULE
For a full schedule of events, please see www.iqgallery.ca
Gallery Hours
Monday- Wednesday: 11am to 7pm (Except July 10th, closing at 10pm due to special event)
Thursday: 11am to 10pm
Friday: 12pm to midnight
Saturday: 12pm- late
Sunday 1pm-9pm
For more information:
Amy Lilien
IQ Gallery
514-659-6920
[email protected]
Facebook | Event
PROJECT CONTRIBUTORS Rope+Thread=ism is made possible by the talents of our extremely creative contributors and volunteers:
PARTNERS Thank you to our proud partners
VISUAL ARTS
Brad Firmino- Visual Artist/graphics
Dylan Ed- Fashion Collaborator
Emily Campbell- Sculpture
Emmanuel Laflamme- Graphist
Francine Moffett- Fashion Collaborator
Heiidi Tailleferr- Visual artist
Jason Auger- Video installation
Jesse Hebert- Sculpture collaboration
John-Paul Grosso- Gregorian Chanting/ Art installation
Jean-Philippe Luckhurst-Cartier- Art installation
Paul-Emile Rioux- Visual artist
Veronique Cimon- Sculpture collaboration
Wess Kastalli- Filmmaker
Yann Lafleur- Art installation
PERFORMANCE ARTS
Alexei Sopin- Organ and DJ
Andres Velilla- DJ
Ari Swann- Electronic Violin Installation
Ariane St-Louis- Musical installation
Baz Brown- Musical installation
Blake Hargreaves- Organ
DJ Forage
Dorotea Saykaly- Contemporary Dance
Edgar Zendejas- Choreographer
EZ Danza- Contemporary Dance
Ingrid Wissink- Classical Violin
Jazz Amnesty Sound System (featuring Andy Williams + DJ Love)
Jimmy Gonzalez Palacios- Circus
Julien Menezes- Gregorian Chanting
Laura Marlin- Organ
Martina Govednick- Serbian music
Paul Van Den Boom- Street performance
Recircle Collective- Circus
The Unknown DJ
PROJECT SUPPORT
Alex Heggie- Academic Lecture
Alexandra Pillon- Gallery representative
Alexandre Bourdon- Lighting
Angelique Koumouzelis- Academic consultation
Beverly- Promotion/media outreach
Christophe De Bourbon Parme- Graphics
Frederic Henri- Legal Council
Jennifer Bisson- Media Outreach
Jean-Philippe Luckhurst-Cartier- Media/Translation
Joelle De Binet- Volunteer coordination
Karen Cantin- Video interview
Marjolaine Mahood- Project administration
Maya Jarvis- Lead lighting design
Timothy Buckley- Graphic Design
Yoanne- Graphics + Web
Yves Pouliot- Marketing
+ More