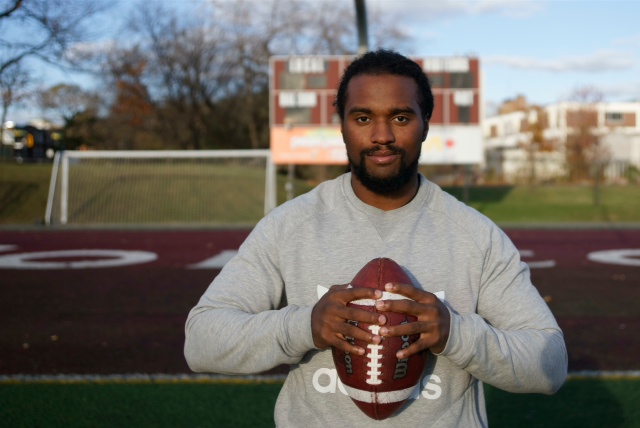 When former Concordia Stinger defensive backs coach Mike White decided not to return for the 2013 season, one fifth year player was approached to replace him, Nathan Taylor. Back then, Nathan Taylor passionately endorsed Mike White, labelling him as "one of the best coaches" he has ever had. Now with Nathan Taylor as the head of the backfield, he possesses the ability to get first-year CIS players to believe in themselves and their opportunity to build a defensive that is known to shut down any opposing offense they face. He doesn't do it with embellishment. He's not a sugar coater. He does it by being relatable and caring of his players' well being on and off the field. With the Vanier Cup highlighting the end of the 2013 football season, I had a chance to sit down with coach Taylor to speak all things football and what his perspective is launching into the off-season with the Concordia Stingers that finished 0-9.
TH: What is your football philosophy?
NT: You have got to be able to play without fear and with reckless abandon. At the same time, you also need to be under control. A lot of people try to play to recklessly and without reason.You have to play kind of like a skud missile, you are ready to do damage and ready to make a play but at the same time you are controlled. All your focus and your tenacity and your intensity is pointed in one direction and you are very focused in that one goal. 
TH: Can you explain in detail what your typical Tuesday practice will be like?
NT: We have pre-practice which is the DB stretch because stretching is very important so we don't pull any muscles and they are ready to go. So we will do a 15 minute stretch period where they just do a lot of stretching and walk-throughs. It usually takes about 10 minutes for us to stretch and then we'll have those 5 minutes to do some ball drills. They actually call me Jugs because I throw the ball so hard. A Jugs machine is a ball throwing machine (used in football practices). Walk-through is basically putting in the game plan so what we have prepared for that particular team and particular week.
TH: How do you handle criticism from fans?
NT: You've got to take it with a grain of salt. It is to be expected, if you don't do well then you can't really be upset with a fan or a spectator saying negative things regarding the team. People have every right to be upset with our performance because as representatives of the school, when we don't perform that reflects poorly on the university. We need to take the criticism in stride and use it as motivation. 
How can you change the football status from that of a losing program to a winning program?.m4a
What experiences do you have with student-athletes?.m4a
TH: What steps will you take to improve the overall grades of your players?
NT: Every Friday we do mandatory study-hall for all at-risk (so players that didn't do well enough academically given our standards) and first-year players. We want to take them out of distracting environments and help them focus. We take all of their syllabus' and we go through them and verify when they have certain exams and try to keep a check on that. All of our athletes are given the opportunity to receive free tutoring from fellow students. We'll sought out our athletes that are in a particularly difficult classes and  I will message all our dbs and ask them how they are doing in school, what classes they are in, how their grades are going, and make sure they don't forget about the services available to them. We need to keep them eligible to play and as long as we take care of our end, being proactive with the tutoring and making sure that they are in study hall, we are fulfilling our role as coaches.
It's a two-fold process. We have to be on top of our players and they have to take pride in their work, whether it be academically or athletically. If they can take the pride they have in their on-field performance and put it into their academics, they can be equally successful. 
TH: What are your three most important recruitment strategies this off-season?
NT: Our main strategy is academics. We want to offer players the best opportunity to be academically successful. For example, if there is a player that wants to be a lawyer, we will pursue him but only to a certain extent because we realize we don't offer law school or pre-law therefore we don't want to hinder that player's opportunity to be successful in life. We'll pursue a player like that but as soon as they show us that they are more career-oriented, and we can't offer him the best academic opportunity, we'll take a step back.
By the same token we want to go and get players that want to be engineers and that want to be businessman because of the programs that we offer. This allows them to be equally successful in their academics and in football.
Secondly, we focus on in-province recruitment. We try to be very family-oriented here at Concordia. One of our major selling points is driving the want to stay home and play in front of families and friends. Say you want to play CIS football, this may be the last 4 or 5 years of football that you will ever play. 
Thirdly, we've sent many players to the pros. We sent Corey Greenwood to the NFL, Cory Watson to the CFL, Liam Mahoney to the CFL for a bit, Rene Paredes is the best kicker in the CFL ever (percentage wise), and the list goes on. This has all happened in the last few years, so it's relevant. 
Those are our three selling points: academics, family, and the opportunity to go to the pros. 
TH: What is your off-season conditioning program like?
NT: For the first couple of months, we will try to work on hypotrophy which essentially means getting bigger, getting our players as big as possible. They lose a lot of weight in season unfortunately do to the breakers of the football season and it is hard to get enough calories to compensate for that. After that we would work on strength, which is just being as strong as possible and increasing their squats, benches, chin-ups, and cleans. The third-phase we would work on power which is being explosive. We want to focus on pushing that weight faster which we call the speed of the bar. We want to make that bar move as fast as possible with the specific weight you are pushing. We cycle through those three phases during the entire off-season.
TH: What is your opinion of multi-sport athletes at the university level?
NT: I am not entirely opposed to it however I do think it is very difficult to reach your full potential in one particular sport if you are playing two sports and doing a full course load. Unless you are very academically and athletically gifted, I would try to sway a player away from playing two sports but if you can prove to the team and to the coaching staff, and show that they are committed and can handle the load. I would more-or-less try to push them to choose one over the other in order to reach their full potential.
TH: What is your opinion of youth football?
NT: I think youth sports in general are very important for the overall health of the society. In regards to football, it makes you mentally tough. Your job on the football field is to hit somebody else or eventually be hit by somebody else. That teaches kids to be tough, it's also great for cardiovascular health of course, great teamwork, skills, and gives them a lot of confidence. They'll gain confidence that they will carry with them for the rest of their life. And finally the friendships! I am still friends with the guys I used to play midget with when I was 16 years old.
TH: How will you generate community interest for the program?
NT: The easiest way to do that is by winning games. Our jobs of coaches, we are not the public relations team, we are not marketing, our jobs, and our players job is to win football games. That is all we can control. We want to make our promotions team's job easier by winning football games. I do believe we need to be good citizens within our community and engage with small business owners, neighbouring organizations, and the student body to build awareness.
What is the most prominent mistake you have made in your coaching career?.m4a
TH: If a player openly badmouths your coaching decisions, how will you handle the situation?
NT: They wouldn't. My players have too much respect for me to do that.