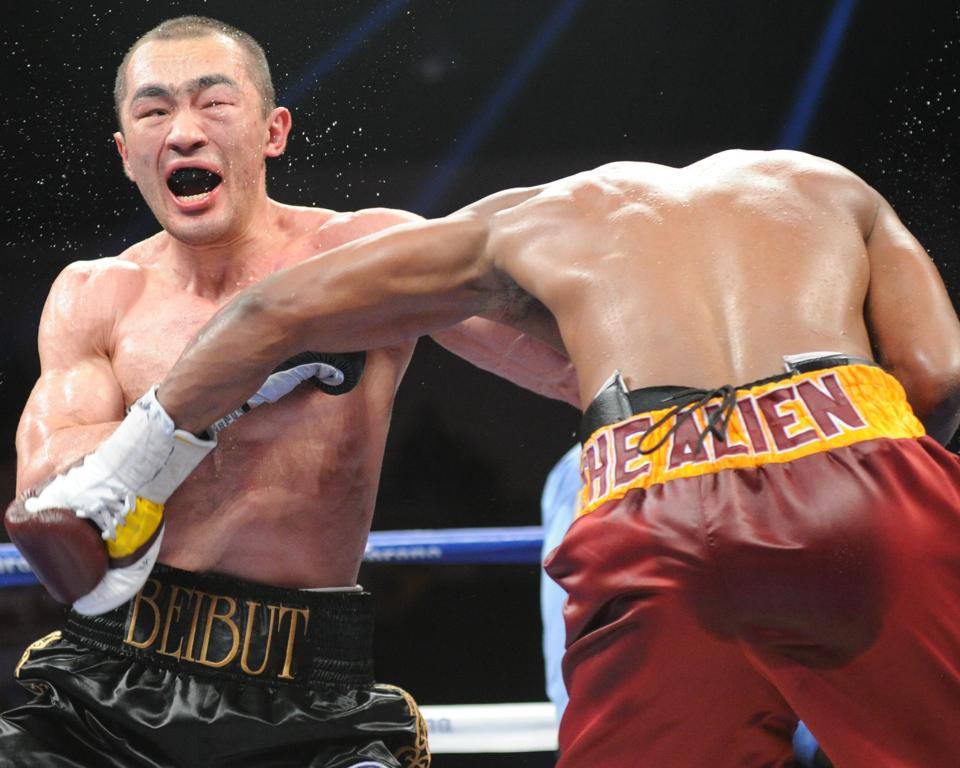 We are only one and a half weeks removed from Bernard Hopkins' record setting performance at the DC Armory. He became the oldest boxer to unify alphabet belts, in the process becoming a lineal world titlist. His opponent Beibut Shumenov, a maverick, regularly chooses to suit up without a cornerman. That leaves him without a second opinion between rounds & no wisecracker shouting out commands as is custom. Only the cutman applies Vaseline to his swellings. There's something to be said about a man gone rogue. In boxing, a pep talk has been known to unleash a running scowl, in the event a fighter is trailing on the scorecards. The score is shrouded in mystery until the final bell sounds, but everybody in the Armory was keeping count out of a possible 120. It seemed that on the night, Beibut was never really in this one.

It's no secret, matchmakers bait their prizefighters into taking (health) risks. Beibut obviously has his reservations about keeping a large entourage. Everything he needs is packed up and waiting for him inside the ring. Even so, it takes a madman to step into the ring unabated opposite a legend of the sport, especially without a team of specialists. Bernard turned 49 this past January and it seems his body is composite gold. Sure his work rate has diminished but great fighters like Bernard make the requisite adjustments to their arsenal as the years pile on. He was once a maverick in his own right, back when he made twenty consecutive title defenses between the ages of 30 and 40. That's a decade worth's of liver shots. In his defense he practices the 'art of not getting hit' and Compubox stats seem to tell the tale: 186 total punches landed to Beibut's 124.

The boxers weighed in at 173 a piece, and ballooned up to 180 the day after a carb-rich meal. At 49, Bernard maintains a 30inch belt size. Beibut is also year-long gym rat. Boxers have been known to purge their bodies in the lead up to a fight but these boys really run the gamut 300+days a year. I'm talking meal planning, cardio, and fight simulation packed into a tight schedule. The hardest part of the lifestyle is being estranged from family. It occurs several times a year, or as often as they sign the dotted line. With a full training camp under his belt, it occurred to me that Bernard had leveled the field on his adversary. With his victory, it remains to be seen whether he will accept a purse bid from Montreal's Adonis Stevenson, owner of WBC belt, as well as The Ring Honorarium. Pride and Prejudice are the two ideals governing the sport. A fighter simply cannot bear the thought of walking away from a challenge. If Bernard accepts, it could spell the very end of an illustrious career. Adonis possesses monolithic power that demands positive regard from its opponent at all. But if Saturday was any indication, Bernard can't be counted out, at least for the next little while.

As for Beibut, the future is unclear, but hardly bleak. Since the loss, talks have intensified but nothing has come of it. Odds are he faces a fighter just short of contention. Maybe he wallows in the mid-table for a while. But if his multi-fight contract with Showbox is any indication, we haven't seen the last of him on North American soil.