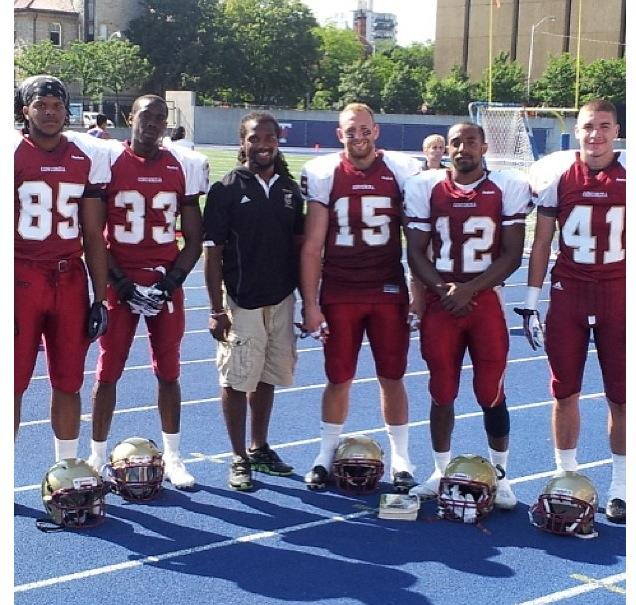 On a gray and rainy day, the Concordia Stingers fell to Sherbrooke's Vert et Or 28-21 wrapping up their 2013 winless season and a final confirmation that the team will not be present in the post-season championship run. It had been a long and hard season for the entire Concordia Stingers community, but defensive backs coach Nathan Taylor made sure to congratulate his line on fighting until the very end, holding Sherbooke to only 228 passing yards. For his players, this day marked the beginning of an off-season lined with uncertainty. For coach Taylor, this day presented opportunity for growth and the beginning of the recruitment process.
Nathan Taylor struggled as a bench warmer for the local Lasalle Warriors during his early years of playing football to winning Most Valuable Player for the Concordia Stingers during his final year of playing CIS (Canadian Interuniversity Sport). Signed as a free agent to the Montreal Alouettes, he was released during preseason. To keep his head in the game, he accepted Concordia's offer to enlist him as the defensive backs coach of the Stingers. At the age of 25, he wants to share as much as he can with the younger generation of athletes, which is why he is focusing in on recruiting the school's next defensive talent.
"I have never ignored or dismissed an inbox or conversation from a young football player. I have to give back any way possible, no point in learning all of this and not passing even a bit of it on to the next generation."
His signature shoulder-length dreads and beard makes him easy to spot on a roster, but it is his playing style that truly sets him apart. He is explosive, fast, and fearless. In the world of Canadian football, he is known to be one of the heavy hitters and made it on TSN's popular football segment "The Hit Parade". He applies that sense of fearlessness and power in his coaching style and hopes to create trusting relationships with his players that encourages his players to embrace values that follow them off the field.
"I want my players to possess pride, resilience, and confidence in whatever they do. Those values are necessary in achieving success both on and off the field."
Presently Coach Taylor, of Montreal, is scouring the island and its greater neighboring regions for new talent and has embarked on a recruiting process that will create a reputation for Concordia to be the next D.B.U (Defensive Back University). A D.B.U consists of a team that wins games through their powerful hits and explosive defensive plays. Coach Taylor wants to produce professional Canadian football players at the defensive back position. A rare commodity in the CFL when most positions are filled by American imports.
"It's all about having a great work ethic and being a high character guy, that's what I am looking for. The cherry on top would be a player that is not afraid to get hurt, a guy who plays with reckless abandon no matter who he is matched up against."
At this point, the university's athletic department needs Coach Taylor's recruitment skills to bring in players with high potential and personalities that welcome the obvious challenges they'll be up against returning to the field in 2014. Not everyone is built with the mental toughness to face the skepticism and negative criticism they'll be met with by the media, the league, and their own student body. It'll take hardwork to gain their support but Nathan Taylor welcomes the doubt as he has been the face of it before. Standing at 5'8, throughout his entire Concordia football career he has had to prove to critics that his short-build would not limit his ability to play at a professional level. His hardwork and discipline has silenced his critics and the adversity his height presented has been one of his biggest motivators to date.
A number of graduating seniors have left voids at all positions and the recent questionable "retirement" of head coach Gerry McGrath has left the team with a blank canvas. An ugly reality is that the Concordia Stingers have only won once in their last 17 games and have fell way behind the province's powerhouses such as Université de Montréal and Université de Laval.
Undertaking a challenge like the one that has been presented to Taylor and the rest of the Stinger's coaching staff is not going to be overcome overnight. He understands that the reputation he hopes to establish will take time but that this opportunity for growth is exciting. One thing is for certain, the only direction is up from here. When the Concordia Stingers take to the field for their first game in 2014, with the help of Coach Taylor, one is safe to assume that it will be a very different team than the one that went 0-9 this past season especially on the defensive side of the ball.