By: Vincent Carbonneau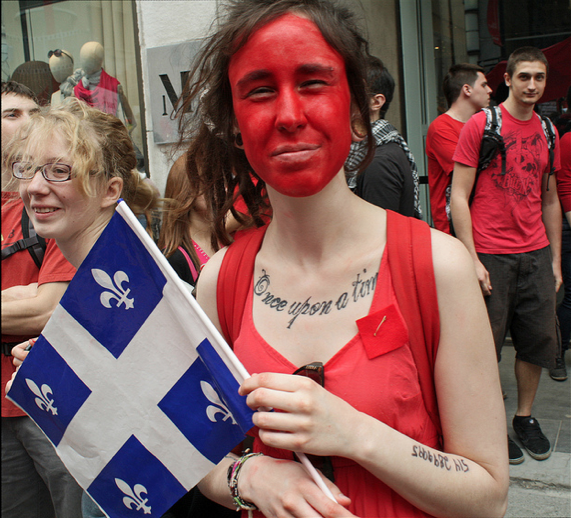 Its popularity has been increasing dramatically since the past few weeks; mostly everyone possesses one. Do we know why? There is no need of reasons since it is popular! They appear behind any corner you turn, at any balcony you look upon and on every door you push open. They come in any size, color or texture you deem them worthy to be (from red to blue, small size to extra-large and linen to silk). Only one of their characteristic isn't bound to change: the square form. The square was red when it first appeared in 2005, but it was only lately that people altered its color and, also, its meaning.
Let's begin by introducing the famous red square. It is known as the symbol of students against tuition hike; stylists recommend you to attach it on a black or white background (shirt, pants, backpack, wallet, etc.) for a more striking effect on whoever looks at you. As for the tone, a ruby-red will represent you as a modest activist while fire-red is for the typical activist and blood-red belongs to the anarchists. Whichever coloration you prefer, you will be part of the most populous group in this conflict. As a red activist, you favour protesting, and you oppose the tuition increase. You feel like something is wrong with the government, and you suspect them of unloading the university financing burden on your shoulders. Most of all, you dislike green square people.