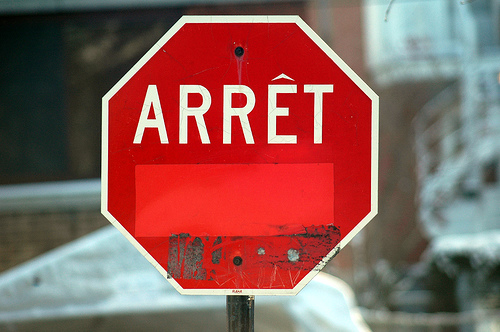 Image Source: Flicker--caribb


What do you believe is being covered by the red tape on this sign? If you guessed the English translation of the French word 'arret'--the word 'stop'--then you guessed correctly. While this image implies that there is no need for the English language on signs of public administration in Quebec, this implication is false insofar as Quebec is a Francophone province in an Anglophone country and, furthermore, insofar as there is a substantial English minority in Quebec. Although you would not be able to determine these facts by examining the signs of public administration, such as this stop sign, as they are exclusively in French, you may be able to determine that Quebec is culturally diverse by examining the advertisements found in this province. However, your examination should lead you to pose the following questions: why are all advertisements in Quebec either exclusively or predominately French and, in the latter case, why is the secondary language displayed substantially smaller than the French language? The response to these questions is that advertisements in Quebec are merely conforming to the regulations of Bill 101--the Charter of the French Language. 
While Bill 101 has more than 200 provisions in a sum of six titles--or sections--the simple description of the provisions found in its first and second titles discloses its oppressive nature towards the English language. The first title--Status of the French Language--defines French as "the official language of Quebec" and stipulates that advertisements in Quebec must be exclusively or predominantly in French (Bill 101). Although the second title--Linguistic Officialization, Toponymy and Francization--has been mostly repealed, the chapter on the francization of enterprises, which oblige business in Quebec to operate in French, remains prevalent. While I concede that it is the Charter of the French Language, and is therefore biased towards French, Bill 101 oppresses the English language by imposing regulations on English businesses, making it difficult for them to thrive in Quebec and discouraging new English businesses from investing in our province.