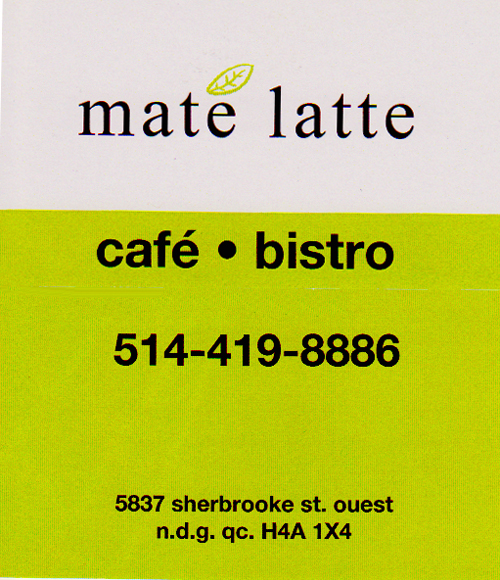 Café * Bistro MATE LATTE
5837 Sherbrooke St. Ouest (Close to Melrose)
They've only been open for about 3 weeks, so it's a bit early to give a definitive review. There's no regular menu as of yet as the ladies in charge are still sussing out the hood's cravings. I'm served by Andrea Senchey, an easy on the eye veteran in the service industry who owns the café bistro with her charming mum Susana, and with Susana's husband. They're a bit hesitant to be filmed this early in the game, but allow me to take pictures of the bistro. You can see some of them here:
Andrea suggests a breakfast, but only after I order my obligatory double espresso long; I blacklist any place that gets it wrong. The coffee, though not as strong as I make at home (but to be fair, I'm a maniac), is a creamy and satisfying roast. Nice start served with a smile. Plus, she delivers my utensils and napkin in a beer mug. Cool.
The bistro is loosely divided into three sections. As soon as you walk in there's a bar along the window facing out onto Sherbrooke that seems perfect for a quick pastry/newspaper breakfast. A few tables face the open kitchen and glass showcase displaying freshly baked goods. You can watch the food being prepared from the dining area. The owners are friendly with the regular crowd, and pleasantly sassy too. While waiting for the food, my pen ran out of ink. I tell Andrea I have to leave but will be back in a minute. Even though we've never met before, without missing a beat, and with subtle irony she replies, "I can hardly wait." Man, who doesn't love that kind of sass with their eggs? It feels like I'm in a movie about the coolest neighbourhood ever.
The eggs themselves are perfect over-easies and not greasy at all, which I've never seen before. Two thick, lightly toasted buttered slabs of homemade whole-wheat bread beg to be tasted first, but I always start with potatoes. The potatoes here are cut wafer-thin with crispy edges, and again, little or no grease, and though unseasoned, are a welcome change from the usual heart-clogging home-fries. Four golden brown strips of meaty bacon are smooth and firm instead of gritty or greasy (I always use my fingers to eat bacon). Another nice touch is the half-inch round of very fresh tomato sprinkled with ground bits of black peppercorn. Under that are two of the tiniest spinach leafs on record, and for the record, I think they're lonely; they should have some company on the plate. Even though this is one of the healthiest "traditional Canadian" breakfasts I've eaten, eggs, bacon, and fried potatoes still go better with a few more greens. And speaking of more green...
The only non-food related issue I have is that every ceiling-lamp is lit regardless of the ample daylight pouring in through massive windows. It may be an oversight, or maybe the owners believe it adds to the ambiance. But in reality, all it does is waste energy and send my Eco-brain into overdrive. Maybe they can try one morning without the lights to see if there are any negative reactions. I almost guarantee there won't be. And if there are, then just light them back up. No harm no foul.
I'm curious about the direction Mate Latte will take over the next few months. If the neighbourhood allows them time to find a rhythm, and to develop unique dishes rather than demanding standard fare, it should become a contender for my hard-earned breakfast dollars.

_________________________
Buying that new pen reminds me of a project I need to complete, and these are the only guys I trust:
(click to continue reading From Breakfast to Bedtime on Sherbrooke Street Ouest)