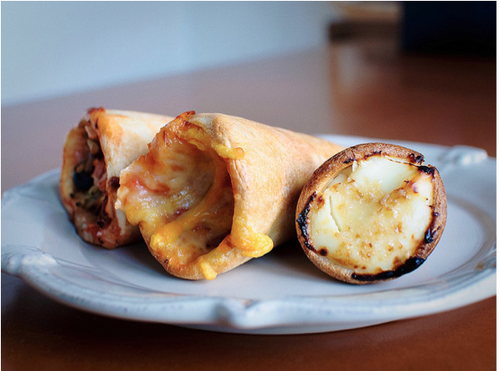 Shakespeare's Petruchio left Verona en route to Padua, Italy to meet his Shrew; "I come to wive it wealthily in Padua", he declared. He left Verona on an empty purse and an empty stomach confident Padua would fill both. Padua would certainly have a lot to offer Petruchio but can it match Verona, a city famous for certain indiscrete elopers and pizza topped with mushrooms and Prosciutto crudo?
Image source:
Flickr.

I asked myself the same question on my last trip to Padua standing at the corner of Via San Francesco and Via M. Cesarotti. I was certainly hungry after visiting the St. Anthony Basilica but not sure where to go for pizza when I stopped in front of a small storefront. KonoPizza, "Pizza da Passegio." Pizza by Walking? Hmm. Not sure what that meant or I translated a la AltaVista circa 1995, but my hunger pushed the glass door and walked in to take a look.
The place was empty except for Sergio behind the counter decked out in a red apron. He was quick to explain the cone shaped concept of the KonoPizza. It came about when the founder R. Boscolo, had the brilliant idea of creating a pizza that can be eaten while walking without having tomato sauce turn your white shirt into red and also to avoid "pizza palate", burning the roof of your mouth. I was curious, hungry and sold; I asked Sergio if he could make me a "Verona" pizza; after he stopped laughing I chose the "Carni", sausage and bacon. It was smaller than I expected especially for the price but would it pass the "walk" test? I thanked Sergio, who as soon as the glass door closed behind me could be heard guffawing.

The KonoPizza held like an ice cream cone, easily passed the "walk" test but what about taste? It tasted like pizza, yes, in a cone. It was good but gone in less than five bites, give or take. It certainly is not enough for a meal and having only two hands, a cone in each would certainly have looked "foreign." I almost turned back for seconds but feared Sergio would fall over laughing seeing me walk back in. Verona pizza in Padua, indeed.
Back in Montreal I had completely forgotten about Padua when one morning to my surprise my phone told me about a KonoPizza Groupon right here in Montreal on Ste-Catherine near Guy. 2 for $6! How could I resist. I ordered one voucher wanting to compare the taste and size. On a cold January evening I made my way to the store with my son, who tagged along to see what all the fuss was about having heard about it through friends. The store layout was very similar to Sergio's back in Padua, a fast food counter with stools and a lean counter along the wall. The restaurant was empty and we were told they were about to close for the evening because of lack of business. I asked about the Groupon deal and was told that it was very popular. I ordered two "Carni's", the same as in Padua. Knowing what to expect I watched my son's reaction to see his first impression. "That's it? Kind of small. No? It's good you got the 2 for $6 because no way would I spend 6 bucks for this." I said yeah, but you can walk with it and like roasted chestnuts it will keep your hand warm. He answered that it was so small that your hand wouldn't have the time to get cold. He was right; five bites give or take, but it was good and tasted like pizza in a kone.
It has been disputed that Katharina, the Shrew, really was not tamed at the end kissing Petruchio's feet even after he abused and starved her. I am not sure about the abuse part but if she was served KonoPizza she most likely wasn't tamed. Petruchio should have brought Katharina back to Verona for a pizza with mushrooms and Prosciutto crudo.

KonoPizza
1446 Ste-Catherine West
Montreal, Quebec
Tel: (514) 544-5066

note: the title is a play on words - Che Kono Facciamo - Che coso Facciamo, which translates into "What are we doing?" Don't be confused. Eat Pizza!