Legal Issues Involving Sex Work
By X-tina the Fantastic :)
S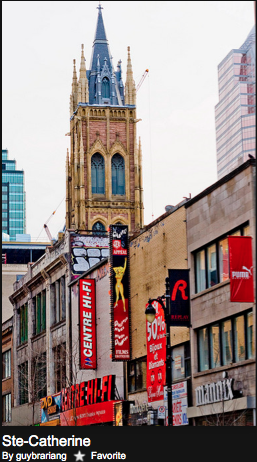 t. Catherine St. crossing St. Laurent St. through the gay village moving towards Hochelaga in the East end is the area where people are sure to find sex-workers out on the street corners. Street sex business is not highly recommended as police can charge workers as well as the clientele for public nuisance.
Indoor places may not conduct sexual services for monetary purposes legally in Canada, but are probably the safest bet for both the worker and client, therefore, they are among the most active places to seek sexual services.
Image source: Ste Catherine
STRIP CLUBS
When going to a strip club, a person can cautiously and politely ask one of the dancers who may be available for "full services" after work and they will direct the person appropriately. Sometimes "full service" is conducted in private rooms within the strip clubs; however, such services are most likely practiced outside of the club at a hotel room of either the customer's or sex-worker's convenience.
This is to avoid the Canadian laws in place that make it illegal to procure sex-work in prublic locations.
If a stripper is caught in the act of communicating for the purpose of selling sexual intercourse or committing the act inside a strip club, the consequences may be thousands of dollars worth of fees for the venue and the threat of being shut down. In addition, both the sex-worker and client are subject to fines and jail time as well.

Montreal is a sexually liberal city, so strip clubs do take the risk, but less so than escort agencies for precautionary reasons.

At the strip clubs, bodily contact during lap dances is legal in Montreal, but oral sex and intercourse is, rightly so, illegal. Furthermore, the internet has a provided a digital platform that has allowed strippers to do live shows online, which is much safer and comfortable for them, and discreet for the clients as well.
Useful Links
Warning: While sex-work is legal in Canada, soliciting (section 213.1.c.), establishing brothels (section 210) and living off the avails (section 212.1.j) is illegal.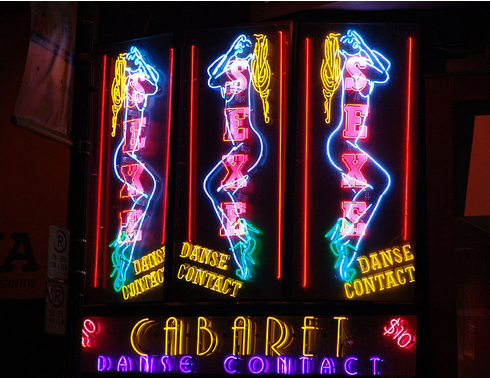 Image source: Flickr
ESCORT AGENCIES & SENSUAL MASSAGE PARLOURS
The easiest and safest way that people receive sex services is to contact an escort agency or go to a sensual massage parlor. Sensual massage parlors are generally more discreet about sexual services then escort agencies are and offer their services as full body massages with "extras."
Useful Links
Warning: While sex-work is legal in Canada, soliciting (section 213.1.c.), establishing brothels (section 210) and living off the avails (section 212.1.j) is illegal.
Sex-workers in Montreal rarely scam the client. Either they would be at risk of losing their business and getting in trouble with the law; therefore, getting one through an escort agency ensures satisfaction for all parties involved. Escort agencies are legal, because they do not define their business as selling sex, but as providing sexy company, which in reality is rather similar, but the euphemistic message appears to avoid problems with the law.
The current safety measures escort agencies use include:
screening a potential client to make sure they are not violent or dangerous

.

making sure the sex-worker will not be harmed when conducting out calls by having them check in and check out with the agency's driver.
Political Crossfires
The problem is these safety measures are illegal due to sections 210-213 of the Criminal Code and recently have been tried in court for contradicting the Charter of Human Rights and Freedoms. The honorable Judge Susan Himel declared sections 210, 212 (1)(j), 213 (1)(c) unconstitutional on September 28, 2021 as they endanger human lives and breach the freedom to express oneself consensually. The crown is appealing the decision on the grounds that it believes this would only promote sex-work, which Prime Minister Stephen Harper says is "bad for society." Abolishment is what Harper claims to be most of his government's solution, which is idealistically impossible as there will always be a need for it. Many questions remain:
If this solution is idealistically implausible, why not move toward a more humane approach to the issue?

Why not make it safe for the people who choose to practice sex work?

Why not place health regulations to prevent STD spreads?

Why not offer funding for more social intervention programs that allow sex-workers who want to leave the practice find alternative career paths?

Why should sex-workers be punished for offering a service that consists of a consensual and legal act between adults?
Sex-workers provide a service that most people would agree satisfies a natural urge, no more unusual than hunger and thirst. They shouldn't be subject to violence, because of social stigma as it is certainly not up to a liberal society to judge what adults want to do with their lives nor is it up to them to decide who is allowed to be protected by the law based on a morally skewed subjective stance. More programs should be developed to support homeless or vulnerable youth, the age where most sex-workers start out to meet survival needs, due to a lack of work experience and education needed to enter other careers?
Sex-activists supporting decriminalization in Montreal and additional resources for sex-workers can be found on this website: Making Space for Working Women. (Information for Sero-Zero is included on this website, which is specifically tailored to support male and trans-gendered sex-workers)
Example of groups against decriminalization include:
REAL Women of Canada

Christina Legal Fellowship

Catholic Civil Rights League