Secularity is a Loss of Cultural Heritage
By Stephane Neron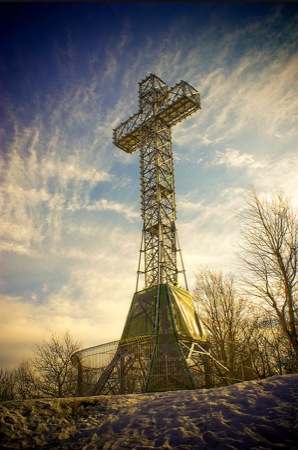 Have you ever noticed that in the past decades the word "Christmas" has been subtly transformed in order to relinquish all of its religious value? In fact, it has evolved from "Christmas" to "Xmas" to "Holiday". So now, when you go to any retail store, don't even bother looking for a Christmas tree. Instead, just ask where the Holiday trees are. Now, how's that for a reasonable accommodation? As a matter of fact, in today's contemporary society, religious symbols tend to be increasingly eliminated from the public place. This is something that, at first glance, didn't seem to contradict my personal social views. Nevertheless, after having given it more profound thought, I have come to ask myself the following question: what would Mount Royal be without its magnificent white cross? Indeed, this cultural monument may be endangered due to secularist movements.

Image source:
Flickr
.
Recently, secularism's attack toward Mount Royal's well-known religious landmark arose once more. On February 8, 2007, the provincial Liberal government in Québec, led by Premier Jean Charest, announced the formation of the "Consultation Commission on Accommodation Practices Related to Cultural Differences." This was in answer to the dissatisfaction of the population concerning "reasonable accommodations". This commission, which cost millions, aimed to survey the population in order to determine how secular Québec's society should be. Regrettably, the exceptional political space created to open up a dialogue between citizens of different cultural/religious backgrounds and the government turned out to create more turmoil, agitation, and discontent than the expected resolutions. For one, some even proposed to dismantle Mount Royal's cross.
First erected in 1643 by Paul Chomedey de Maisonneuve, the monument at the top of Mount Royal (in Montreal, Québec) has been renovated many times over the last centuries. Chomedey, the founder of the city, placed the cross in response to a vow he had made to Virgin Mary while praying for devastating floods to come to an end. Originally composed of wood, it was later replaced, in 1924, by a gigantic illuminated iron cross which stands to be the most imposing of its kind in Canada. Nonetheless, because of its shape, related to the Christian crucifix, this majestic structure may have to be removed in keeping with the trend of keeping religious symbols from the public place. Mount Royal's cross should not be dismantled to satisfy society's dream of public secularity.
The structure in question refers to much more than what secularists stipulate it to be. It has a tremendous historical value, which is part of Québec's and most certainly Montreal's collective memory. Montreal's cultural heritage would be damaged by its absence. Hence, I would like to invite Montrealers to reconsider certain elements of their movement toward complete public secularity. A once dominating religious state must not be substituted by a new but still dominating and alienating secular state.
Mount Royal's cross, a unique and significant cultural monument, stands to illuminate the city by its lights and through its diverse cultural meanings. Consequently, it must never be dismantled on the grounds of an ambitious tendency to reach complete public secularity. Taking down Mount Royal's crown would ultimately diminish its status from mountain to hill.