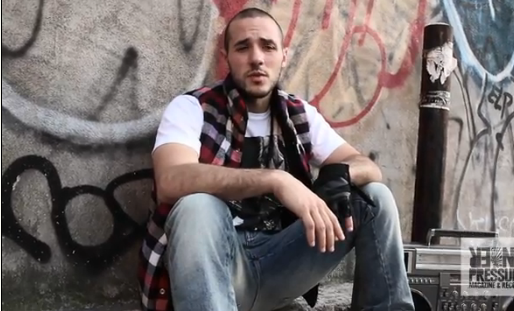 By: Skittles
Montreal is known for its many festivals. Some of the bigger ones that come to mind are the Jazz Fest or Just for Laughs, but did you know that Montreal plays host to the longest-running graffiti festival in Canada? This Past summer, the 16th annual Under Pressure Graffiti Festival took place on Saint Catherine Street between Saint Laurent and Berri Streets. The festival is open to the general public and draws artists and spectators from all over the world, but what is it all about? It's a showcase of Graffiti, Hip Hop and Skateboarding culture.
It's easy to question why anyone would want to glorify graffiti. It pops up all over the city like weeds and most of it isn't very good. It's expensive to remove and there is no guarantee that once it's gone someone else isn't going replace it with something just as awful. Much like Punk Rock music, graffiti and street art have been branded a rebel culture that gets nothing but a bad rap. . In the early 90s, graffiti was a problem that plagued Montreal and many other cities. What people often fail to consider is that there is art buried amongst the wanton vandalism. It just so happens that these artists or writers have chosen billboards, bus shelters, and buildings as their canvas. The Under Pressure Graffiti Festival was created at a time when no one else was in a position to showcase the beauty and empowerment that graffiti can provide for a community. No one would have thought that companies like GM and Pepsi would turn to graffiti artists to help sell their products.
The original event took place in 1995 and was entitled Aerosol Funk. It was held indoors, with everyone wearing gas masks because of the paint fumes, but it encapsulated many of the elements that are still present at the festival. The whole purpose of the gathering was to prove that graffiti was about more than just vandalism and tagging. As the Under Pressure Facebook page mentions, "...a police officer lumped graffiti and rape in the same category, [so] a couple of graffiti writers decided to hold an event to show the public that graffiti is not a gang thing, nor does it go hand-in-hand with violent crimes." The way they did this was to transform a blank loft into a work of art, with some of the biggest graffiti writers in the city painting murals on every wall. But the painting is not the only aspect of graffiti culture. Hip-hop developed alongside the vibrant street art scene. While the writers were hard at work, DJs were spinning tracks, and various break dancing troops stopped by to strut their stuff.
With success early on, Under Pressure has been able to grow and establish a place for itself, but not all of Canada's graffiti festivals have fared as well. In recent years, graffiti festivals in cities like Toronto, Ottawa, and Vancouver have been shut down for good. So what is the secret to Under Pressure's continued success? Unlike most festivals, Under Pressure has never sought out financial contributions from the city; all financial support comes from independent sources. The only support the city gives the festival is in allowed use of public spaces and in cooperation from the fire department. This means that Under Pressure won't fall victim to any budget cuts City Council may make. Under Pressure's independence from the city means that its organizers will still be able to defend graffiti culture against the increasing scrutiny and backlash by politicians.
The media tends to have a very negative slant when representing graffiti to the public. The stereotype of the hooded teenager with a can of spray-paint spraying obscenities all over public property is still prevalent. This depicts a very limited view of what graffiti culture is all about. Under Pressure, as a festival, aims to educate the public and expand the media's viewpoint. Graffiti is art and therefore can have a positive impact on society. Organizing the festival is not the only method used to demonstrate the positive aspects of graffiti as art.. A two-floor studio has been opened under the same name and is open year round to visitors as a gallery. "The goal of a space like [Under Pressure] isn't to promote the culture of graffiti," explains Downey; "The goal is to educate people on the fact that it exists, it's a big deal, and you need to understand it." If that isn't enough, there is also a magazine published under the same name that covers a broad range of topics related to graffiti culture.