Montreal, QC - March 14, 2022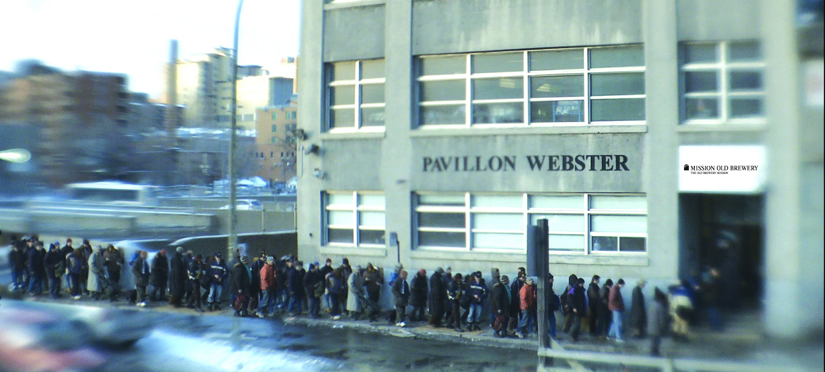 Blankfest Quebec, the music charity event that has been raising awareness and clothing for Montreal's homeless and shelter the Old Brewery Mission for the last four years are proud to announce they have raised nearly 800 clothing items and $281 at this year's 5th annual winter clothing and fund raising event.
Montreal is known for having one of Canada's harshest and coldest winters, and every year it's unfortunate that those who are homeless must endure the reality of living on the street. Blankfest Quebec was founded for that reason when event organizer Jon Asher heard about the original Blankfest created by Kenn Rowell (The Baghdaddios) 17 years ago in New York City.
Taking place this past Saturday on March 9th at the Piranha Bar, the event was supported by local bands Vinyl Hero, Fist of Freedom, Dissension and Forbidden Sin along with support from the Heavy Metal Music Association of Canada (H.M.M.A.C).
"I'm proud and thankful for everyone's help for the Old Brewery Mission. I believe that awareness, aiding with funds and clothing items for the homeless is a necessity in our community whether it is this cause or another. I want to thank the donors who came out to support the event, the musicians, H.M.M.A.C., Piranha Bar, Frite Alors, DungeonWorks, the ladies of the Steger Residence and their donation of knitted scarves and tuques and every volunteer who helped make this a successful clothing collection and fundraiser." comments event organizer Jon Asher.
In addition to the Blankfest Quebec V, the Heavy Metal Music Association of Canada also held a fundraising brunch at Frite Alors the morning of March 9th along with a panel discussion on the topic of How Music Helps Charity & How Charity Helps Music with panelists Johanne McDonald (Executive Director - Old Brewery Mission), Jon Asher (Blankfest Quebec), Jason Rockman (Slaves On Dope, CHOM 97.7FM), Norm Zimmerman (Steve's Music Store), Ray Howard (Vinyl Hero). 
With this year's total of 796 items collected, Blankfest Quebec has approximately surpassed 3200 clothing items collected for the homeless.
This year's Blankfest Quebec saw the following clothing items donated:
Steger Residence knitted scarves and tuques: 332
Shirts: 215
Sweaters: 75
Misc: 45
Pants: 35
Jackets: 22
Blankets: 18
Bags: 13
Socks: 11 pairs
Tuques: 11
Scarves: 7
Gloves: 5
Skirts: 4
Baby Clothes: 3
Total: 796
About: The Old Brewery Mission Soothing homelessness. Solving homelessness.
Founded in 1889, The Old Brewery Mission is the largest resource for homeless men in Quebec and for homeless women in Canada. This non-profit organization provides a range of services that respond to the needs of Montreal's homeless people as well as those at risk of becoming so, and endeavours to enable them to take control of their lives and assume their rightful place in the community. It is estimated that there are close to 20,000 homeless people in Montreal.
About: Blankfest Quebec is organized by Jon Asher, in collaboration with the Old Brewery Mission, and was launched after Jon read about his friend, New York City indie rock veteran Kenn Rowell of The Baghdaddios, who founded Blankfest in 1997 and has been organizing the annual blanket fundraiser in New York City for the past 17 years.
In the past, Rowell says, Blankfest NYC has raised more than 6,000 total donations that have been distributed to the homeless in the New York City area and has inspired similar efforts in New Jersey, Manhattan and Nottingham, UK. Among the many distinguished artists who have performed at past international Blank-Fests are: Rothberg (EMI), Buddy Cage (Grateful Dead), Marc Rizzo (Soulfly) and Meg Griffin (Sirius Radio).