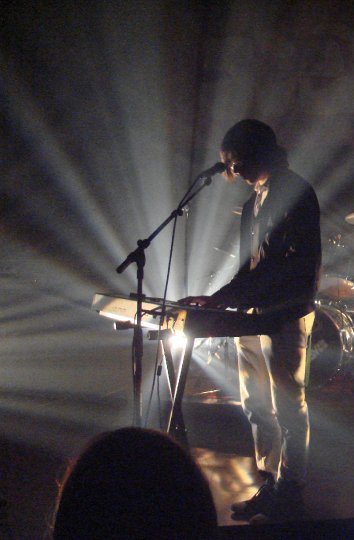 Upon entering the home of 17-year-old Brandon Mignacca, one of the first things you're likely to notice is the soothing sound of classical piano, serenading you as you approach the music room in which he spends hours a day practicing. That is, unless he's out unleashing a sonic hurricane with his band, Chair Warriors.

As the singer and keyboardist of the band, Brandon has gained a wealth of performing experience over the last 3 years, playing at all kinds of venues, from the minuscule Crobar to the grand Club Soda.
"I'd say my taste in music is pretty wide," says Brandon, brushing strands of stray hair from in front of his glasses. "I grew up playing classical, but my band is very "alternative rock," and on my own time I like listening to house and techno."
Brandon was thrust into music at an early age by his dad. "I was a musician when I was a kid," says his father, Bruno. "I wanted to give Brandon this gift, something he'd be able to hold on to for the rest of his life."
Although uninterested at first, Brandon quickly became hooked on playing piano and took lessons for the following 8 years, but he didn't start singing until he was in high school.
"I never considered singing until I signed up for the school play," recalls Brandon. "I was shocked that I passed my audition, and even more shocked when some older kids in my high school asked me to sing in their band."
This was to be the start of an incredible journey for Brandon, who at only 14 would be placed at the head of a band that would face some serious challenges in the coming years. Chair Warriors, as they were called, got together in the summer of 2008 and immediately started thinking of ways to get recognized. Their first move was to sign up for a province-wide battle-of-the-bands called Can Your School Rock. Having only been a band for a period of weeks, Chair Warriors outlasted 42 other high school bands and made it to the top 4 in the competition. They were eliminated in the final round.
Their defeat lit a fire under the group and the next year they auditioned again. This time the stakes were higher as the competition was expanded to include bands from Ontario and was to be aired as a mini-series on Global TV. With an extra year of experience under their belts, Brandon and the Chair Warriors took the title of Global TV's Can Your School Rock: Season 2 Champions. With this great victory, however began a period of turbulence for the band.
"On one hand, Can Your School Rock was a great experience for us," says Brandon. "It forced us to sit down and write music because we needed to play new material for each round of the competition. On the other hand, once we won we kind of sat back and waited for everything they promised us to happen... We're still waiting."
Among the bands winnings was supposed to be the recording of a full-length studio album. Unfortunately, business problems within the organization prevented this from materializing.
"I think we're past all that now," says Brandon on the matter. "We've wasted a lot of time waiting for people to deliver on their promises, but now we're taking matters into our own hands."
Today the band (down from 5 original members to just 3) feels stronger than ever. They have started independently working on their debut album with renowned Montreal producer Glen Robinson and are planning for an early 2012 release.
"It's really exciting," muses Brandon. "We're paying for this ourselves. No one is telling us what to do. What you're going to hear will be exactly what we are, what the three of us have become over the last 3 years."
It isn't hard to imagine the band's evolution over the years, but its more challenging to pin down Brandon's individual style as a musician.
"I try not to restrict myself by putting labels on myself as a musician," Says Brandon. "I love all kinds of music and admire vocalists like Matthew Bellamy from Muse and Jared Leto from 30 Seconds to Mars. I always just thought that the more music I listen to, the more unique my combination of influences will be and the more it'll show in my music."
Despite being the youngest member of the band, Brandon long ago earned the respect of his band mates in a big way. "We wouldn't have asked him to join if he wasn't that good," explains Chair Warriors drummer Ryan. "He's a talented kid and he continues to impress us. Our band definitely wouldn't be the same without him."
Although Chair Warriors are his main focus, Brandon has contributed his talents to a number of other local bands, playing keyboard live for Basement Superheroes and lending his voice in studio to Don't Ask Why.
"It can be refreshing to work with others," says Brandon. "If anything I think it makes me appreciate my band mates even more. All the bands I've worked with have a different way of doing things and it makes me realize what a unique thing we have going on. But Yeah, it's good to change up your atmosphere every once in a while, that's why I enjoy helping out other bands, it's a different experience."
When asked where he thinks his future in the music business is going Brandon answered with certainty. "Well I think that if you don't believe you can make it, there's no way you will. No one is going to believe in you if you don't believe in yourself first. That's the way I see it. I think we have what it takes to get somewhere with our music, but where exactly, only time will tell."
You can check our Chair Warriors videos on youtube

Like them on Facebook and follow them on Twitter @ChairWarriors