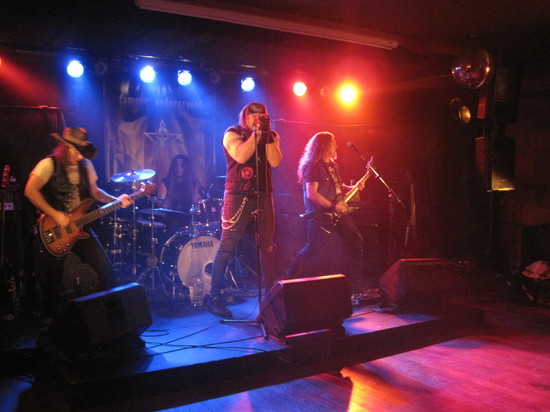 The members of Sleazy Way Out were kind enough to allow me to interview them during one of their rehearsal session. I got to sit in on part of their rehearsal time, enjoy their music, ask them a few questions and find out more about the band and the individuals who make up the band.
The band consists of: Stacey Sleaze on lead vocals, Cleve Hartwick on guitar and backing vocals, Dany Cardinal on drums and backing vocals and J-F Daigle on bass.
ML: You describe your style as sleaze metal, which bands would you say influence you?
SWO: Cinderella, Hardcore Superstar, Britney Fox, Motley Crue,  Dangerous Toys, L.A. Guns, Reckless Love
ML: Which band do you despise most in metal? No, NickelBack does not fit into this category!
That got the whole band laughing and they had to think about that one. 
Dany: I don't like Death, Gore, M-Core stuff like that, 
J-F: Speed metal, I hate speed metal. 
Cleve: Dillinger Escape Plan it's not our thing. Jazz metal and that kind of music is not for us either. 
Dany: Limp Bizkit as a band they don't like, but they argue it's not metal. 
SWO: We hate Korn, Linkin Park and Limp Bizkit, but those bands should not be considered metal.