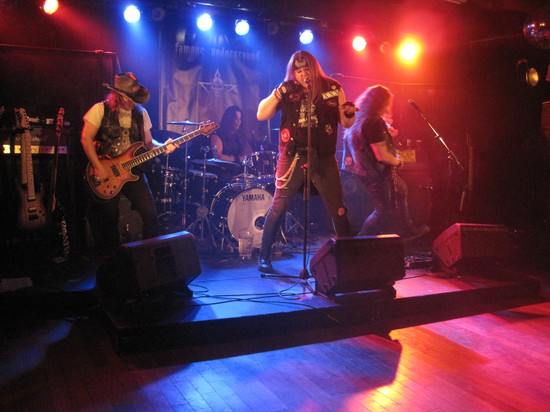 And you thought heavy metal of all sorts was dead and gone thanks to the rise of grunge music in the nineties? You couldn't be further from the truth! Glam metal, sleaze metal, hair metal, pop metal, those are all on the same branch of the heavy metal tree. It's also what you could say started the heavy metal trend.  It's also the most popular branch of heavy metal music with the most exposure. Glam metal had the most to lose when grunge bands started getting record deals.
Sleaze metal, what is it exactly? Sleaze metal was a born from a revival of glam metal in the nineties, some people say Sweeden is the birthplace of the genre. How would someone describe sleaze metal? It's a musical genre with roots in rock music and heavy metal. Don't call sleaze metal hair metal or you might offend someone!
We all thought grunge killed heavy metal, more precisely hair metal, back in the nineties, but lots of bands stuck around or have been reviving from the ashes of metal days.
Sleazy Way Out, a Montreal-based band, calls describes its sound as "Sleaze Metal", but what exactly is Sleaze Metal? Where does it originate? And most importantly, who is Sleazy Way Out?
Is a band who's done their homework. They have the recipe for making catchy tune and they are using it, with abusing it.
The band is made up of three musicians and one lead singer. They are: Stacey Sleaze as the lead screamer (as per their website); Cleve Hartwick on Guitar and backing vocals; J-F Daigle on bass guitar; and last but not least, Dany Cardinal on drums.
How did Sleazy Way Out come about? Cleve and Stacey ran into each other at a Saxon concert in Montreal in September 2012 (now, in case you are wondering, Saxon is a British metal band formed in the mid-seventies who are still rocking the metal scene). Cleve and Stacey discovered that they shared a passion for similar bands and that both were looking to start an original band. They got together shortly after and had their first jam (a jam in music is an improvised musical performance) with JF Daigle on bass. A few months went by before they finally found the perfect drummer at the beginning of 2013.
The band didn't sit still. They started recording songs and posting them on their Facebook page. Their fan base is close to 3500 in less than a year! Pretty impressive!
The strength of their self-recorded song drew the attention of Delinquent Records based in the United-States. They were offered to include a song on a compilation album. They recorded "Born to Booze" at Uplift Studio in Montreal with the help of producer Kevin Jardine (formerly of Slaves on Dope, you can read on article featuring Kevin discussing how difficult it is to break through in the music industry.
How woud you describe the sound of Sleazy Way Out? It's a mix of the best glam bands from the eighties (Motley Crue, WASP, Dangerous Toys and Cinderella), but with a heavier sound that one might expect from a sleaze metal band.
The band has a large repertoire of original songs as well as cover songs that they perform live. You can view some of their live performances on YouTube. They cover bands that were highly popular back in the heydays of glam metal such as Ratt, Guns 'n Roses, Cinderella, L.A. Guns, Skid Row, Faster Pussycat, WASP and Britney Fox. Those songs really get the crowds going! As for the original songs from Sleazy Way Out? They are in no way left behind during shows! They are high energy rock songs with catchy lyrics leaning heavily on the sleaze rock motto!
We can thank Bands like Sleazy Way Out for sticking it out and making sure the sound never dies and even progresses. Sleazy Way Out is not a lazy band who only play cover tunes, no, they actually write and record their own songs. You can listen to a excerpt of Born to Booze on the compilation album "Girls, Fire & Hairspray" on iTunes. You can learn more about Sleazy Way Out by visiting their website at : http://www.sleazywayout.com and you can see them live at Cafe Chaos on January 24, they are the headliners, scheduled to hit the stage at 10h30.
I do wish them all the best in getting an album out and getting their name known across borders. I do believe they have a chance at getting themselves known outside of Montreal. All they need is more exposure.